'Bride Of Frankenstein' Postponed; Is The Dark Universe Dead?
Well, that was quick. Days after director Bill Condon confirmed that pre-production on Bride of Frankenstein (the next film in the burgeoning "Dark Universe" series) was still on, Universal has announced that work has halted on the project. Is this the end of the Dark Universe?
It's (Not) Alive 
According to Deadline, pre-production on Bride of Frankenstein has been suddenly halted right when it was about to get going. Originally planned to begin filming in February 2018, Bill Condon and his team were hard at work on film in London. Now, that work has stopped.
In a statement released to Deadline, Universal Pictures said:
"After thoughtful consideration, Universal Pictures and director Bill Condon have decided to postpone Bride of Frankenstein. None of us want to move too quickly to meet a release date when we know this special movie needs more time to come together. Bill is a director whose enormous talent has been proven time and again, and we all look forward to continuing to work on this film together."
Per the Deadline story, the film's script will now be retooled while the pre-production crew goes home for the time being. A source claims that the actors will not depart the project, but rather wait for the new script. Javier Bardem is set to play the Frankenstein Monster, while Angelina Jolie has been rumored for the bride. However, Condon would not confirm if Jolie had been cast yet. It's also worth noting that the Deadline piece mentions Bardem has only been "in talks" to play the Frankenstein Monster, even though the actor had already seemingly been confirmed as part of the film via the official Dark Universe announcement that went out just before The Mummy hit theaters.
For his part, Condon seems committed to making a good monster movie and not just another notch in a franchise belt. Perhaps that bodes well for Bride of Frankenstein. Or like Frankenstein's Monster himself, the project is cursed.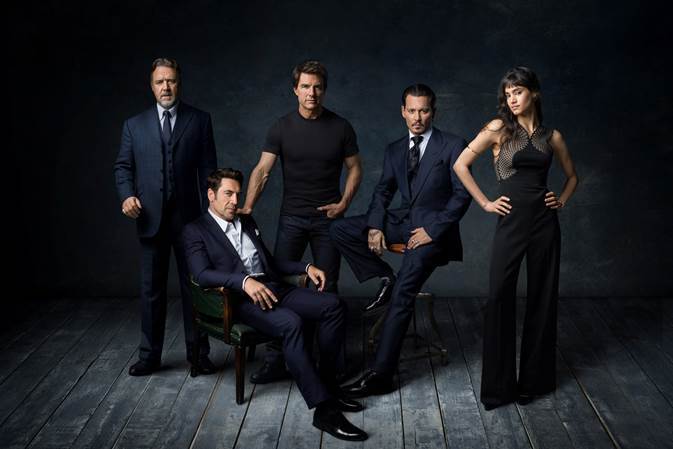 What Now For the Dark Universe?
With this latest news, the question must be asked: is the Dark Universe dead? I'm not saying Universal is going to completely abandon Bride of Frankenstein, but I'm starting to have serious doubts that their proposed franchise will continue on as planned. Especially after The Mummy, the Tom Cruise-starring first entry in the Dark Universe, underperformed at the (domestic) box office and was savaged by critics (yours truly included).
If you're not quite clear on just what the hell the Dark Universe even is (and if so, I don't blame you), here's the official breakdown that Universal released ahead of The Mummy:
Dark Universe films will be distinguished by performances from some of the most talented and popular global superstars stepping into iconic roles, as well as electric new talents whose careers are starting to break through.  While previously announced, the stars of both imminent and future Dark Universe projects are gathered for the first time in the attached photo: The Invisible Man and Frankenstein's Monster will be played by, respectively, blockbuster icon Johnny Depp and Academy Award® winner Javier Bardem, who appear together later this summer in Pirates of the Caribbean: Dead Men Tell No Tales.  Those actors join superstar Tom Cruise as soldier of fortune Nick Morton and Oscar® winner Russell Crowe as Dr. Henry Jekyll, who lead the all-star cast of The Mummy, along with Sofia Boutella, the actress who embodies the title role in that film.
At its organizing principle, Dark Universe films are connected by a mysterious multi-national organization known as Prodigium.  Led by the enigmatic and brilliant Dr. Henry Jekyll, Prodigium's mission is to track, study and—when necessary—destroy evil embodied in the form of monsters in our world.  Working outside the aegis of any government, and with practices concealed by millennia of secrecy, Prodigium protects the public from knowledge of the evil that exists just beyond the thin membrane of civilized society...and will go to any length to contain it.
That was the original idea, but who knows where it stands now? The failure surrounding The Mummy has likely raised a few eyebrows at Universal, and people working on these films might not be clamoring to claim allegiance to the concept anymore. More evidence that the Dark Universe may be dead, or dying, comes from Bride of Frankenstein director Bill Condon himself. Speaking with Collider, Condon said the following regarding Bride of Frankenstein's ties to the Dark Universe as a whole:
"I will tell you this — what I'm doing is 100% making a really good monster movie. It has nothing to do with anything else. Nothing. Zero."
That sounds like a fairly definitive statement regarding the Dark Universe. At this point, don't be surprised if Universal quietly retires the entire concept and attempts to make Bride of Frankenstein its own thing. If Bride of Frankenstein ends up bombing with audiences and critics alike, I'd expect any trace of the Dark Universe to be gone for good and for most of these announced films to return to the grave.
Sorry, people who were really excited for a Johnny Depp Invisible Man movie.