'Star Trek: Discovery' Shifts Its Season Around And Will Now Debut 9 Episodes In 2017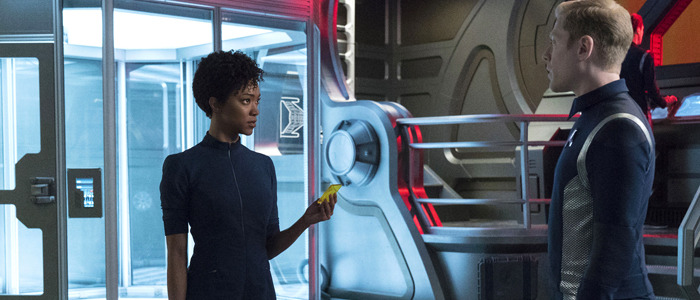 When a creator/showrunner bails on a show before it airs and its release date gets pushed back multiple times, those are normally pretty large red flags that a TV series may be in trouble. But despite the rocky start coming out of the space dock, it seems as if Star Trek: Discovery has leveled out nicely so far. The new series experienced excellent word of mouth after its premiere, and now CBS has decided to shift its first season around to include one more episode in 2017 before it takes a break and returns with the second half of season one.
Back in June when Discovery's final premiere date was announced, CBS planned to debut its fifteen episode first season in two parts, with eight episodes airing this year and the remaining seven debuting in January of 2018. But now that's changed: CBS has decided to make the first nine episodes available to air this year, with a new episode going online through the CBS All Access subscription streaming service on Sunday nights between now and November 12, 2017. The second batch of six episodes will still arrive in January as planned.
Whether this shift has anything to do with the show's positive reception so far (read two reviews of the premiere here and here) or whether it's simply the result of the showrunners and writers maneuvering their episode structure around to better tell their intended story is unclear, but I'm guessing it's the latter.
As much as I personally bristle at the requirement of subscribing to a new streaming platform specifically to watch this one show, it's a move that's apparently paid off for CBS. Variety says the network was "able to almost double the mobile subscription revenue" for All Access thanks to the premiere of Discovery, and the number of downloads of the All Access app grew by two and a half times after the premiere.
Marc DeBevoise, the president of CBS Interactive, proudly explained:
"Consumer response to the launch of Star Trek: Discovery has been tremendous. The build up to the show's premiere led us to a record-setting month, week and ultimately day of sign-ups. The second week of the series has also exceeded our expectations and is a credit to the brilliant and dedicated work of the show's entire creative team and cast. We can't wait for fans to see what comes next for the U.S.S. Discovery and its crew."
TrekMovie points out that CBS also praises Discovery as "the most streamed premiere of a CBS show across their digital platforms on record, measured against all CBS programming – both in front of and behind the CBS All Access paywall." Those may sound like impressive numbers, but really – how many people were downloading that app or subscribing to the service before this show came out anyway? I still think they made a mistake by not having this be a primetime broadcast series that everyone can watch, but we'll see if the show can continue to generate strong buzz even behind its paywall as its first season goes where no Trek series has gone before.