Good News, Everyone! 'Futurama' Is Coming To Syfy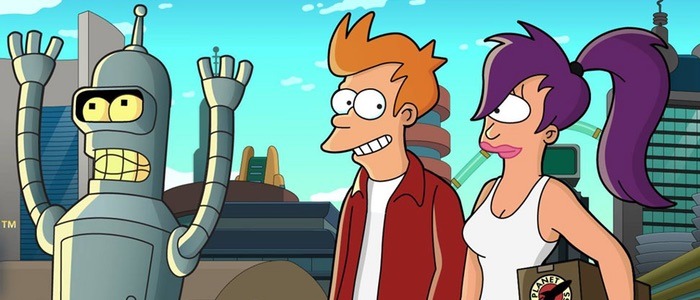 Crack open a can of Slurm in celebration – Futurama is coming to Syfy. The hit animated show from The Simpsons creator Matt Groening will make its way to the genre-centric channel next month.
After its premiere in 1999, Futurama became a cult hit – an animated series that didn't do as well in the ratings department as The Simpsons, yet still grew a devoted, downright obsessive fanbase. Set in the 31st century, Futurama followed a colorful cast of characters – humans, aliens, mutants, robots and more, as they dealt with everyday life in the very distant future. Juggling laugh-out-loud comedy and at times soul-crushingly emotional moments, the show endeared itself to an entire generation of fans. So much so that even after Fox cancelled the series in 2003, fan reaction to a series of popular direct-to-DVD follow-up films was enough to help the show find new life on Comedy Central in 2009. Comedy Central eventually cancelled the show again themselves in 2013, but the series had run its course by then.
For a while, Netflix had all of Futurama's episodes streaming, but in June the streaming platform removed every episode before season six – a bit of a blow since, like most long-running shows, the later seasons were never able to reach the heights of the earlier ones. If you're still itching for earlier Futurama episodes and not in the mood to purchase season DVDs, there's hope yet! Syfy has just announced they've inked a multi-year, non-exclusive deal that will include all 140 episodes of Futurama.
Syfy has been working hard to overhaul their brand in honor of the channel's 25th anniversary, with president of entertainment networks at NBCUniversal Cable Entertainment Chris McCumber saying:
"I can think of no better occasion than SYFY's 25th anniversary to get back to our roots, double down on premium original programming, and put fans at the center of everything we do. As the only television network dedicated to the genre 24/7, we're building the ultimate universe for this passionate community to call home."
Syfy has been giving the go-ahead to brand new shows, including the Superman prequel Krypton, George R.R. Martin's Nightflyers and Deadly Class from the Russo Brothers. Futurama will be the first fully-animated series in Syfy's new and improved line-up. Regarding the Futurama deal, McCumber said:
"We're continuing to invest heavily to give our passionate fans the very best in genre programming, and I can think of no better addition to Syfy's lineup than one of my personal favorites, Futurama."
Futurama will air on Syfy starting Saturday, November 11.