When Will 'Star Wars: The Last Jedi' Tickets Go On Sale? Our Educated Guess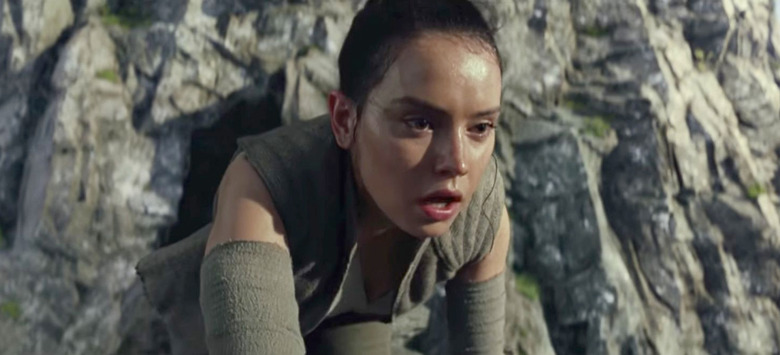 We like to tackle big questions at /Film. No, not stuff like "What is the meaning of life?" or "Where did we come from?" Those are for chumps. We address MUCH BIGGER questions...things that keep movie fandom awake at night, staring at their ceilings as the hours tick away and the wondering nearly drives them to the brink of insanity. Questions like: "Hey, when will Star Wars: The Last Jedi tickets go on sale?"
To narrow down the answer, let's take a look at the release strategy for the previous two live-action Star Wars films and see what we can glean from recent history.
Let's glance in the rearview mirror back to 2015 when tickets first went on sale for Star Wars: The Force Awakens. Fans could pre-order them on Monday, October 19, which was the same date a new trailer for the film debuted during halftime of ESPN's Monday Night Football (Disney owns ESPN, so that's a nice bit of corporate synergy for them). Considering Star Wars star Mark Hamill revealed in a now-deleted tweet that the newest trailer for The Last Jedi will air during Monday Night Football on October 9, 2017, that date seems like a good guess for when tickets for the new film will be made available.
Rogue One was a different story. Though it opened a few days earlier than The Force Awakens (December 10 vs. December 18), tickets for Rogue One went on sale much later; they were first made available on Monday, November 28 last year. Could that have been the result of Disney not being sure about the potential success of the first official Star Wars Story movie (one that went through an extensive reworking during post-production)? Possibly. But since The Last Jedi is a direct follow-up to one of the highest grossing movies ever made in The Force Awakens, the studio knows the interest is there this time – and not just from hardcore fans.
When tickets went on sale for The Force Awakens, servers crashed and many movie theater websites weren't prepared for the onslaught of pre-orders they received. Here's hoping they can handle the demand this time around.
If Disney does indeed follow the same model as The Force Awakens for The Last Jedi, it looks like tickets might go on sale sometime during the day on October 9, so prepare your group texts and make plans accordingly so you won't be taken by surprise. There's a chance the theaters could wait until the trailer is released before they make tickets available for pre-order, so stay vigilant. Good luck, and may the Force be with you.
Star Wars: The Last Jedi arrives in theaters on December 15, 2017.