A Hugh Hefner Biopic Starring Jared Leto Is Happening, Whether You Want It Or Not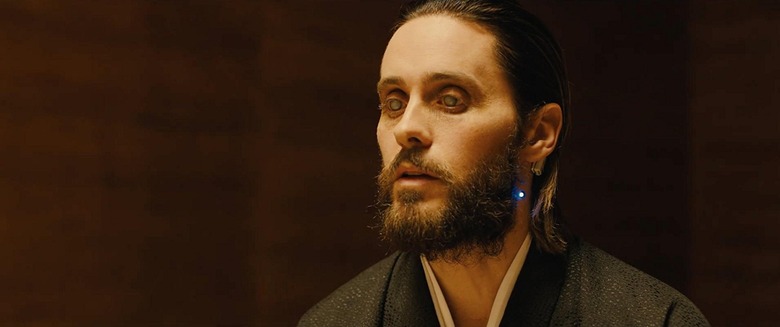 Mere days after the infamous Playboy founder passed away, leaving a torrent of articles dissecting his problematic legacy in his wake, it has been announced that the long-discussed Hugh Hefner biopic is officially chugging forward again.
Brett Ratner will be helming the biopic about the divisive lothario starring none other than the equally divisive actor Jared Leto.
Hefner passed away on September 27 at age 91, which means that Hollywood waited merely a week before announcing the upcoming biopic about the Playboy magazine publisher and businessman. Although to be fair, that's as much respect that Hefner granted to Marilyn Monroe after exploiting the actress to launch his multimillion-dollar magazine business, then buying the crypt next to her grave so he can be buried beside her.
Whatever your opinion about his legacy — as an all-American businessman, as an early advocate of women's reproductive rights, or as a lecherous creep who exploited women — you'll soon get to see every excruciating detail of it on the big screen.
Brett Ratner, known for directing the Rush Hour films and X-Men: The Last Stand, is developing the project at his studio RatPac Entertainment, according to The Hollywood Reporter. Ratner has been working on the film since 2007, which originally had Robert Downey Jr. attached to play Hefner. The runaway success of Iron Man and Downey's subsequent rising star status met the approval of Hefner, who was eager to see a biopic of himself hit the big screen. He told People at the time that "it would be my hope and dream."
But the long years of development without a script or progress took a toll on the production, which nearly fell apart several times after Ratner temporarily lost the film rights to Hefner's life to producer Jerry Weintraub at Warner Bros.. But after Weintraub's death in 2015, Ratner landed the rights again, and brought friend Jared Leto into the fold.
Ratner told The Hollywood Reporter:
"Jared is an old friend. When he heard I got the rights to Hef's story, he told me, 'I want to play him. I want to understand him.' And I really believe Jared can do it. He's one of the great actors of today."
Leto's casting was actually set a few months ago, with the director-producer bringing Leto to an event at the Playboy Mansion in April with the express intention of introducing the actor to his subject. However, Hefner was too ill at the time, and the meeting never occurred. "There's enough footage on Hef out there that Jared will be able to get as much information as he wants," Ratner said.