'Blade Runner 2049' Review Round-Up: A Dazzling Sci-Fi Spectacle That May Be Better Than The Original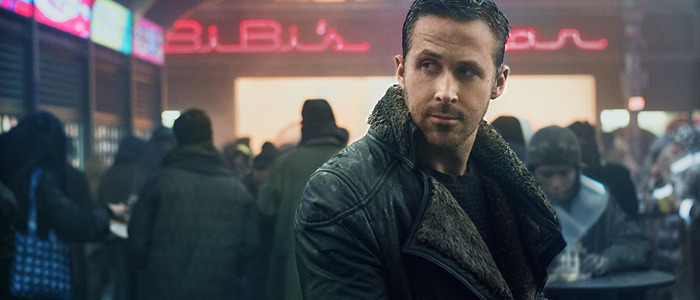 The wait was long but the reviews are in, and it's official: Blade Runner 2049 was worth the wait.
Critics have heaped effusive praise onto Denis Villeneuve's visually stunning sequel to Ridley Scott's 1982 Blade Runner, calling it enthralling, profound, moody, and (gulp) better than the original. While its near three-hour runtime can cause audiences to balk — and indeed, caused the film to lose some points among critics — Blade Runner 2049 is apparently one of the best sci-fi blockbusters of the decade.
Read some of the Blade Runner 2049 reviews below.
IGN calls Blade Runner 2049 the "rare breed of film that already feels like an instant classic."
Perhaps one of the greatest fears fans had about a Blade Runner sequel was that it would simply replicate (ahem) the innovative and influential visual style Ridley Scott established in that film, while filling it with some kind of standard good-vs.-evil Hollywood cop tale. It's a huge relief to see that Villeneuve and his team are well aware of what the original film was about and show enormous respect for it. Instead, 2049 plays off of the themes, plot, and characters of the 1982 movie without cannibalizing it or negating or retroactively ruining any of those elements. Rather, it organically expands and grows what came before. It's a deep, rich, smart film that's visually awesome and full of great sci-fi concepts, and one that was well worth the 35-year wait.
Empire warns audiences that the film is not an action flick that has been advertised, but "slow, deliberate and arguably ponderous," praising its "uncompromising and uncommercial" ambitions.
As bold as the original Blade Runner and even more beautiful (especially if you see it in IMAX). Visually immaculate, swirling with themes as heart-rending as they are mind-twisting, 2049 is, without doubt, a good year. And one of 2017's best.
ScreenCrush called Blade Runner 2049 "the most visually spectacular science-fiction film of the century," and claims it's even better than the original.
Ford's memorable performance is just one of the many ways Blade Runner 2049 surpasses the original film. Its clever and compelling storyline is another. And then of course there are Deakins' incredible images. He remains totally faithful to the look of the original film, with its skyscrapers spewing fire and massive, ominous urban pyramids, but he and Villeneuve find ways to greatly expand its world. K's quest takes audiences on a tour of his devastated future, which is jaw-dropping in its detail and ruined beauty. There are impressive new gadgets to ogle (like a character who could be described as the ultimate version of Alexa or Siri), and even the old future technology from the first Blade Runner gets cool upgrades; the flying "spinner" cars now have advanced drones housed in their hoods that can detach, hover above crime scenes, and collect evidence.
Indiewire gushed over the film's arresting visuals, though admitted that its "moody, polished storytelling" started to wear due to the movie's two-and-a-half-hour runtime and Jared Leto's underwritten villain. However, they also pointed to Harrison Ford's return as Rick Deckard as the saving point.
"Blade Runner 2049" may not reinvent the rules for blockbuster storytelling, but it manages to inject the form with the ambitions of high art, maintaining a thrilling intensity along the way. It also addresses many of the questions posed by the first movie, even as it dances around complete explanations, ending with a degree of closure while leaving the next phase of the story open-ended. It poses endearing big ideas — who's real, and what's reality, anyway? — without landing on any firm answers. The brilliance of "Blade Runner 2049" is that it makes the questions worth asking, positioning them in a menacing universe that's nevertheless a joy to revisit.
Meanwhile, Mashable's review said that Blade Runner 2049 was such a successful, and superior, follow-up to Blade Runner that even the film's weak point shines.
Even Villeneuve's constant interface with the 1982 original Blade Runner is harmonious, heartbreaking and additive. My god, I can't believe I'm saying this, but Blade Runner 2049 makes Blade Runner a better movie.
And here's a glowing quote you won't see on a movie poster: Blade Runner 2049 is so grandly awesome, so fully developed and dialed-in, even Jared Leto's koo-koo bad guy kinda works.
While comparisons to the original film were rampant, Variety assures that viewers don't need to have seen the original Blade Runner to appreciate this "visually breathtaking, long-fuse action movie."
Whereas it took five different versions for Ridley Scott to satisfyingly answer the question raised by Philip K. Dick's speculative-fiction novel, "Do Androids Dream of Electric Sheep?" (four of which suggest the director himself didn't quite recognize what was most fascinating about his own film), Villeneuve gets it right on his first attempt, operating from the premise that when androids dream, their innermost desire is to be human. Following that thread to its natural conclusion, Villeneuve has crafted a slick, 21st-century Pinocchio story, in which a replicant yearns to be a real boy — although that's just one facet of the film's many dimensions. Make no mistake: Whereas the original "Blade Runner" was (eventually) embraced for its unrealized potential, its sequel ranks as one of the great science-fiction films of all time.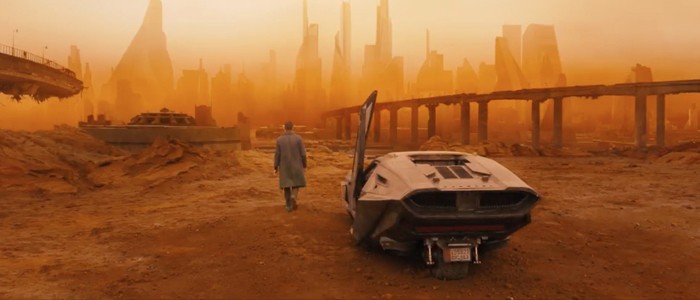 Entertainment Weekly commended Villeneuve for being a singularly talented director, even though his skills were nearly overtaken by the movie's bulky length.
Villeneuve, one of the few filmmakers working today for whom the word auteur doesn't sound like an unearned affectation, may have fallen a little too in love with his own creation; at two hours and 40 minutes, aesthetic shock and awe eventually outpace the narrative. But how could he not, when nearly every impeccably composed shot — a surreal six-handed love scene; a shimmering hologram of Elvis, hip-swiveling into eternity; a "newborn" replicant, slick with amniotic goo — feels like such a ravishing visual feast? Even when its emotions risk running as cool as its palette, 2049 reaches for, and finds, something remarkable: the elevation of mainstream moviemaking to high art.
While The Hollywood Reporter was impressed by the film's "voluptuous mood bath" visuals, the lengthy runtime did prove to be a breaking point for critic Todd McCarthy.
There's welcome time spent on the dark streets of L.A. that both remind of and expand upon similar scenes in the original film. The now-retired Paull's extraordinary work on the original has been expanded upon by the resourceful present production designer Dennis Gassner and his team with what looks like more extensive sets here — plus a much denser skyline and several detailed interiors that reflect both noir and modernist notions pushed to the brink, all captured by Deakins with one brilliant through-a-lens-darkly composition after another.
Still, after about an hour of this, you begin to wonder where it's all going and how long it's going to take to get there; the answer to the first question is somewhere interesting, but it's going to take a quite a while. In stories with complicated narratives, epic scope and/or plentiful engaging characters, extended running times are welcome; otherwise, if a filmmaker doesn't keep his or her eyes on the clock, the viewer may well do so instead.
io9's review has a humorous anecdote for watching the "gorgeous and thought-provoking," but "pretentious" and overly long film:
Blade Runner 2049 is like staying up all night to finish a 150,000-word fanfic that you started reading, thought was good but not great, and then just kept reading because you'd committed to it, goddammit. And then the next morning, as you struggle bleary-eyed through the work day, you keep wondering if it was worth it.
However, the Guardian had only praise for the film's "pure hallucinatory craziness" that doubled as a philosophical exercise.
With this visually staggering film, director Denis Villeneuve brings us to a kind of Ozymandias moment. It just has to be experienced on the biggest screen possible. Blade Runner 2049 is a narcotic spectacle of eerie and pitiless vastness, by turns satirical, tragic and romantic.
The Playlist calls Blade Runner 2049 an enthralling "philosophical provocation" that cements Villeneuve as one of the best filmmakers today.
But '2049' makes the case that Ridley Scott should step aside for new talents more than capable of dreaming within the moody world that Dick birthed, and the filmmaker delivered to the screen. Because through the nearly impeccable execution of "Blade Runner 2049," French Canadian director Denis Villeneuve further cements his name as one of the best and most striking filmmakers working today. At the helm and in complete command of his movie with dark, ambient magic, Villeneuve crafts a mysterious noir thriller that pushes existential boundaries, and nails the essence of the "Blade Runner" spirit.
USA Today calls Blade Runner 2049 the best movie this year so far, praising its cast and Villeneuve's vision.
But the new Blade Runner amazes because every aspect is top notch: Hampton Fancher's story is surprisingly emotional, Benjamin Wallfisch and Han Zimmer's pounding soundtrack is just as integral as Vangelis' ethereal original score, and cinematographer Roger Deakins will get his first Oscar if there's any justice. The sequel takes the futuristic action out of L.A., into the literal dump that is San Diego and Las Vegas' radioactive wasteland, and the stunning visuals add to the enjoyably visceral experience.
***
Blade Runner 2049 sounds like a visual and narrative triumph, more than living up to the legacy of the original to become one of the best science-fiction films of the year, if not this decade. While viewers who are expecting a standard action flick should be wary, those who are hoping for the cerebral musings on the human condition and soul that the original Blade Runner explored — and that Villeneuve himself has pondered in his previous films Arrival, Sicario, and Prisoners — will be ecstactic.
I, for one, could not be more excited reading these reviews. While I found the first film to be admirable but tedious, I agree with the sentiment that Villeneuve is one of the most talented auteurs today — truly deserving of that oft-overused adjective "visionary" — and that whatever he and master cinematographer Roger Deakings have cooked up with Blade Runner 2049 will more than live up to these reviews and the steadily building expectations.
Blade Runner 2049 hits theaters October 6, 2017.