Tom Hanks Will Star In A David S. Pumpkins Animated Special. Any Questions?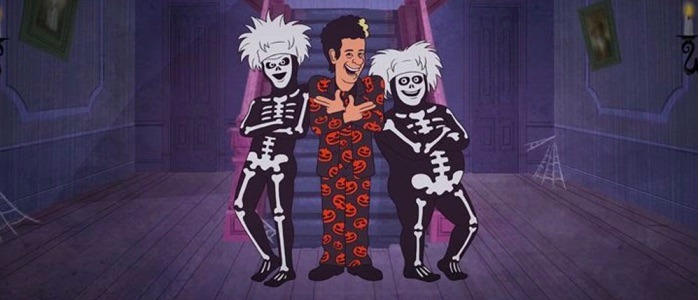 David S. Pumpkins, arguably one of the most popular Saturday Night Live characters in recent memory and unquestionably the most famous character of Tom Hanks' entire career, was too good to be a one time thing. At least according to NBC, who have given the go-ahead to a David S. Pumpkins animated special to air this October. And yes, Hanks will return to voice everyone's favorite pumpkin-suited ghoul. Any questions? Oh, there are? Glad you asked! Read more about the David S Pumpkins animated special below.
Earlier this month, Tom Hanks tweeted a script page that seemed to tease the return of his SNL character David S. Pumpkins. While some assumed this hinted at another SNL appearance from the character, it looks like NBC and SNL had bigger things in mind. Namely, The David S. Pumpkins Halloween Special, which will air on NBC on Saturday, October 28 at 11:30 p.m. 
Variety confirms that Hanks will reprise his role as the altogether confusing David S. Pumpkins, a man in a suit speckled with pumpkins who appears to be the main attraction at a local "haunted elevator" Halloween haunt. Pumpkins and two skeleton backup dancers, played by Mikey Day and Bobby Moynihan, appeared on various floors of the elevator ride, offering only confusion to its riders. Day and Moynihan (two of the sketch's three co-writers) will also provide voiceover roles for the special, as will Game of Thrones' Peter Dinklage.
Let's all rewatch the skit now and relive the glory days of October 2016.
Haunted Elevator (ft. David S. Pumpkins)
Per Variety, the half-hour animated special is set in a small suburban town on Halloween, and "centers on David Pumpkins and his skeleton sidekicks who show a young boy and his sister the true meaning of Halloween, answering none of their questions along the way."
"It's scary how quickly the original 'SNL' sketch caught on, and we're thrilled that Tom Hanks is back to keep the fun going," said George Cheeks, president of business operations and late night programming for NBC.
While the character has become a fan-favorite in regards to Hanks' SNL appearances, the actor was apparently not entirely on board when making the skit. In an interview with Seth Myers, Moynihan confirmed that Hanks had reservations about the strangeness of material, and thought perhaps he wasn't right for the part, and suggested that maybe the host for the following week's episode might be a better fit. "Tom Hanks, in-between dress and air: not a fan of the sketch, thought it was very bizarre," Moynihan said (via EW). "[He] was like, 'Hey, I think Chris Hemsworth would make a great David Pumpkins.'"
Chris Hemsworth probably would make a great David Pumpkins, but multiple Academy Award winning actor Tom Hanks isn't such a bad choice either.