'Hunger Games' & 'John Wick' Rides And A 'Mad Men' Bar Coming To Times Square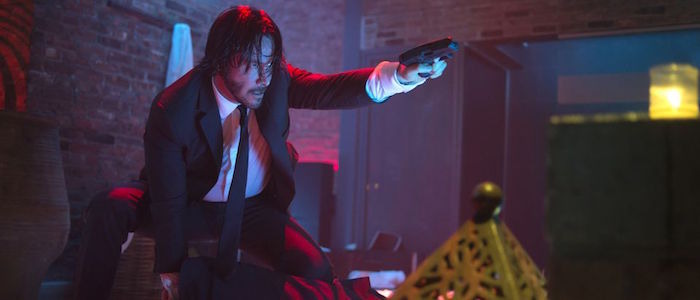 Lionsgate is teaming with Parques Reunidos to bring a Lionsgate-branded indoor entertainment center to New York City's Times Square in 2019. Lionsgate Entertainment City will feature 13 different attractions aimed at teens and young adults.
Among the offerings featured, there will be:
a Mad Men themed "dining and lounge experience."
a Hunger Games flying simulator attraction
a Divergent-themed obstacle course
a John Wick: Chapter Two shooting ride where fans will fire fake guns at a series of assailants
a 4D film and live theater (which I'm assuming could be easily switched out with new content)
a Hunger Games-inspired Peeta's Bakery and The Capitol Confectionery
the first-ever Lionsgate Studio Store
and virtual reality entertainment, including a Nerve VR motorcycle experience.
Find out more about Lionsgate Entertainment City, after the jump.
Lionsgate and Parques Reunidos have signed a 15-year lease on the space on the southeast corner of 42nd and Eighth in Manhattan. New York Post broke the news of this new entertainment complex last week, and it was officially announced this morning (via Deadline). The build-out is expected to take two years and cost around $30 million, with the 15-year lease alone estimated to start at $7 million a year.
The Spanish firm operates dozens of entertainment venues including amusement parks, water parks, and zoos, and this is apparently the first of a planned roll-out of Lionsgate Entertainment Centers in major tourist spots in the U.S. and Europe. In addition to the centers, they have already announced various planned attractions in U.S., Europe, the Middle East and Asia, including an outdoor theme park Lionsgate Movie World at Jeju Island, South Korea; an indoor theme park Lionsgate Entertainment World in Hengqin, China; and the Lionsgate Zone of the Motiongate theme park, which is slated to open in Dubai in the fall.
Said Fernando Eiroa, CEO of Parques Reunidos, commented:
"We are very excited to collaborate with Lionsgate in this new project, which is a big milestone for our strategy to develop Indoor Entertainment Centers in shopping malls and landmark buildings. Lionsgate Entertainment City will be our sixth IEC, following the five we announced in 2016 which are underway in Europe. We hope that, through this strategy, we will develop 20 other centers in the coming years and we will become a worldwide leader in this form of entertainment."
One of the most exciting things about other companies getting into the themed entertainment space is that we'll be getting more attraction options aimed not just at children but adults. I'm personally excited to try out this John Wick ride. I imagine it will be a beefed-up version of Disneyland's Buzz Lightyear ride or Universal's Men in Black attraction.