ABC Wanted To Cancel 'Agents Of S.H.I.E.L.D.' After Season 4, But Disney Refused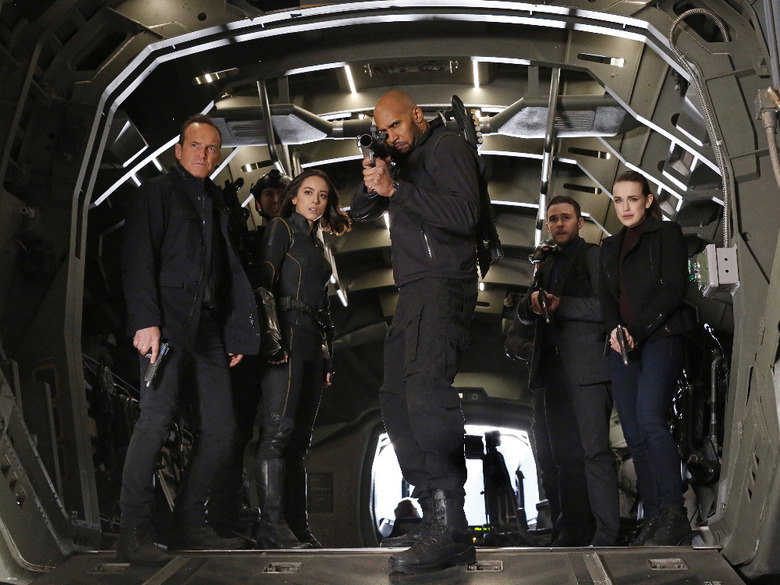 Agents of S.H.I.E.L.D. had long been the red-headed stepchild of the Marvel Cinematic Universe — viewed as a dull but obligatory companion to the much more compelling snarky films and gritty Netflix series. That's not the case anymore with Iron Fist receiving near-universal criticism, and the upcoming Inhumans racking up some of the most colorful critical slams I've ever seen.
And something happened in the past few seasons of Agents of S.H.I.E.L.D. After treading water for nearly a season, the events of Captain America: The Winter Soldier disintegrated S.H.I.E.L.D. as we knew it, kicking the series into the high-gear spy show it was always meant to be. It's has had its ups and downs, but ironically as Agents of S.H.I.E.L.D. becomes more detached from the MCU, it has delivered some of its best and most compelling writing – the most impressive of which took place in the latter half of season 4, which took S.H.I.E.L.D. to a crossroads both in and out of the show. As Agents of S.H.I.E.L.D. did a riff on "the darkest timeline" trope, ABC was mulling dropping the axe on its struggling Marvel show. Until Disney stepped in.
According to a new report from Variety, ABC was facing an overall "ratings rut" and was ready to make some cuts, namely by cancelling Agents of S.H.I.E.L.D. after its fourth season. But Disney overruled that decision and ordered the show's renewal, as well as a fifth season that's on its way and set to begin airing in late 2017 on Fridays after Inhumans' limited eight-episode run.
As one of the few remaining regular viewers of Agents of S.H.I.E.L.D., run by Jed Whedon, Maurissa Tancharoen, and Jeffrey Bell, I'm grateful Disney stopped the cancellation when it did. While the series has a tendency to lull between arcs — really, its biggest crime is that it can get boring — Agents of S.H.I.E.L.D. has some of the tightest, coherent writing for a Marvel series, which is remarkable for a 22-episode primetime show. And though it can get bogged down sometimes by the requisite world-building — Inhumans, Doctor Strange sorcery, Ant-Man's quantum realm, half-assed tie-ins to the latest Thor — Agents of S.H.I.E.L.D. is not afraid to go for broke in service of ambitious storytelling.
The Hive arc in the third season was the series at its best, with the show's first truly daunting villain taking over one of the series' most complex characters, and standalone episodes like Jemma's (Elizabeth Henstridge) stranded-on-an-alien-planet arc in "4,722 Hours." While season 4 struggled to find its footing after the scene-stealing performance of Gabriel Luna as Ghost Rider, Agents of S.H.I.E.L.D. outdid itself again with a bold half-season arc that trapped its characters in an alternate dimension.
Yes, Agents of S.H.I.E.L.D.'s large ensemble of characters are sometimes lacking – both personality and performance-wise – but the series is still one of the few Marvel series and movies that boast a main cast with so many people of color, not to mention the presence of an Asian-American superhero with half-Chinese actress Chloe Bennet as Quake. And rarely do you get to see an Asian actress over 40 kick ass on a weekly basis like Ming-Na Wen does as Melinda May.
Agents of S.H.I.E.L.D. returns with season 5 on ABC in late 2017.