New 'Darkest Hour' Trailer: Gary Oldman's Winston Churchill Faces Dunkirk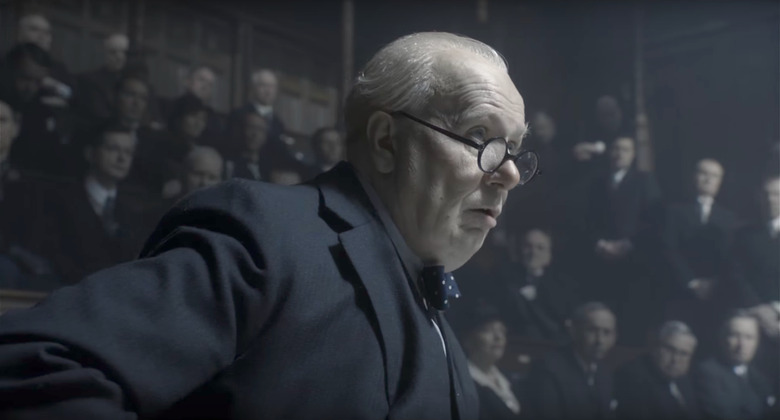 Dunkirk will soon be back on the big screen, but not as Christopher Nolan's expansive battle movie. This time we'll be seeing it on the other side of the English Channel in Darkest Hour, the tense Winston Churchill biopic starring an unrecognizable Gary Oldman.
The newest Darkest Hour trailer has Churchill beaten back by detractors and critics who don't think he's right for the job of prime minister as an onslaught of German troops beat back weary British soldiers in World War II. And soon after his appointment, Churchill is faced with his most daunting hurdle yet: the Dunkirk evacuation.
Darkest Hour Trailer
Gary Oldman's chameleonic performance as Winston Churchill draws you into the trailer for Darkest Hour, which shows flashes of Churchill struggling in his early days in office as politicians whisper about replacing him already, alongside bold text that declares, "No one believed in him...With the world at war...One man took a stand that changed the world."
It's all quite melodramatic, but with Dario Marianelli's rapidly building score punctuated by clock ticks — borrowing, it seems from Nolan's Dunkirk trailer — and Oldman's jowled, intense performance, it just works.
/Film's Chris Evangelista saw Darkest Hour at the Toronto International Film Festival, and said
that director Joe Wright — who has touched on the events of
— brings enough stylistic flair that the film doesn't risk "falling into standard historical drama territory." Chris had only praise for Oldman's performance, writing, "the power in Darkest Hour rests on Gary Oldman and how he uses Churchill's words."
Here's the official synopsis for Darkest Hour:
A thrilling and inspiring true story begins on the eve of World War II as, within days of becoming Prime Minister of Great Britain, Winston Churchill (Academy Award nominee Gary Oldman) must face one of his most turbulent and defining trials: exploring a negotiated peace treaty with Nazi Germany, or standing firm to fight for the ideals, liberty and freedom of a nation. As the unstoppable Nazi forces roll across Western Europe and the threat of invasion is imminent, and with an unprepared public, a skeptical King, and his own party plotting against him, Churchill must withstand his darkest hour, rally a nation, and attempt to change the course of world history.
The trailer comes with a new Darkest Hour poster, seen below.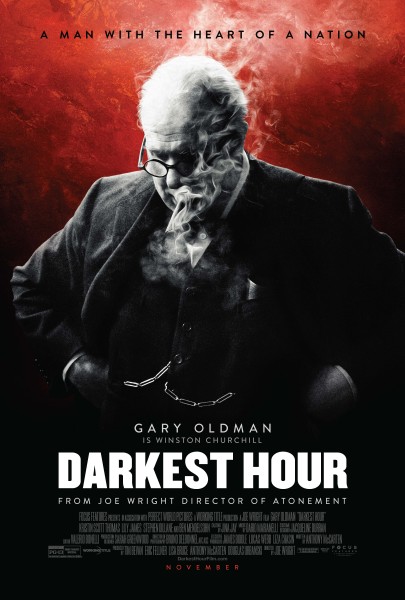 Darkest Hour also stars Ben Mendelsohn, Kristin Scott Thomas, and Lily James.
Darkest Hour is set to be released in the U.S. on November 22, 2017, and in the U.K. on January 12, 2018.