'Inhumans' Trailer: Marvel TV Wants To Make You A Believer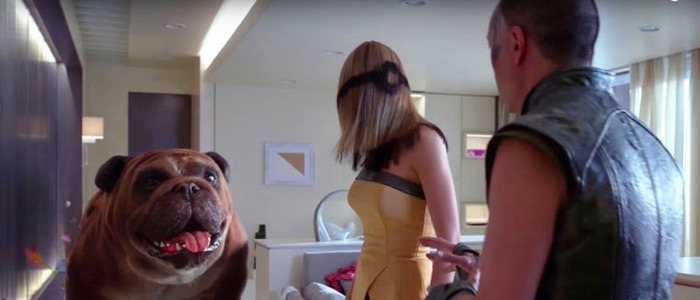 Inhumans! It's definitely a real show that is really going to be on the air very soon. And to prove it, a new Inhumans trailer has arrived to try to sell audiences one last time on the potentially confusing mythology on display. Most of all, though, this trailer knows the one very specific thing that might convince people still on the fence to watch: that big CGI dog, who gets his own little intro before the Marvel TV logo starts. Watch the new Inhumans trailer below.
Marvel originally planned Inhumans as a film before eventually retooling as a TV series. The first two episodes of the series were shown in IMAX theaters, as if to underline the fact that the show was meant to be big and cinematic. It didn't go over too well, with one review from Indiewire calling it the "worst thing Marvel has done in decades." The series focuses on the Inhuman Royal Family, descendants of a group of humans experimented on by an alien race who wanted to transform humans into weapons. Starring Anson Mount, Serinda Swan, Ken Leung, Eme Ikwuakor, Isabelle Cornish, Ellen Woglom and Iwan Rheon, the show has always been a bit of a tough sell.
Marvel's Inhumans Trailer
Our own Ethan Anderton got a look at the series at Comic-Con, and was none too impressed:
Inhumans doesn't look like anything special. The series feels like it's trying to have a compelling power struggle, but it doesn't come through in the performances seen in the footage from the pilot episode. It feels more in line with something like Hercules with Kevin Sorbo or Xena: Warrior Princess. Those shows have their fans for what they are, but one would have hoped that something a little less hokey would have come from Marvel Studios. Maybe the show just needs time to grow.
Needless to say, the show seems to be facing an uphill battle. So uphill that even though the show premieres this Friday, there's little to no buzz about it – something almost unheard of for a Marvel property. This final trailer pushes the adventure aspects of the show, showcasing big action beats and strange special effects, like when a character beats up some people with her CGI hair. At this point, it's more than likely that if you aren't sold on watching this show, this trailer won't sway you much.
That said, this trailer does make prominent use of the giant bulldog Lockjaw, who is instantly my favorite character on this show. According to the always accurate Wikipedia, Lockjaw possesses the following powers: Super-canine strength in his jaw, teleportation, precognition, and matter ingestion. Even one of those things would be impressive for a dog, but to have all of them? That is a very good dog. So look, if Inhumans flops and gets cancelled, I really hope Marvel considers a Lockjaw spin-off. I would definitely watch that.
Inhumans premieres Friday, September 29, 2017.