'Deadly Class' Syfy Pilot Coming From The Russo Brothers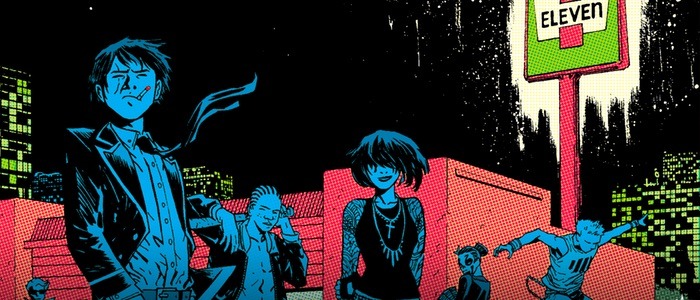 Well, it looks like those Russo Brothers are at it again. Avengers: Infinity War helmers Joe and Anthony Russo will executive produce a new pilot for Syfy based on the comic Deadly Class. The Image Comic series is set in the "most brutal high school on Earth, where the world's top crime families send the next generation of assassins to be trained." Learn more about the Russo Brothers Syfy pilot below.
According to THR, Deadly Class writers Rick Remender and Wes Craig will adapt their own comic for the Syfy show, which the Russo Brothers will executive produce along with Mike Larocca (Rise of the Planet of the Apes), Adam Targum (Banshee, CSI: NY), and Lee Toland Krieger (The Age of Adaline). Kreiger will also direct, with Targum serving as showrunner. This is the latest series for the ever-growing Syfy, who have recently begun rebranding and snapping up more shows, including a series based on George R.R. Martin's Nightflyers and the Superman prequel series Krypton. The Syfy rebranding came on the heels of the 25th anniversary of the channel, with president of entertainment networks at NBCUniversal Cable Entertainment Chris McCumber saying:
"I can think of no better occasion than SYFY's 25th anniversary to get back to our roots, double down on premium original programming, and put fans at the center of everything we do. As the only television network dedicated to the genre 24/7, we're building the ultimate universe for this passionate community to call home."
As for Deadly Class, THR reports the series will follow a "disillusioned teen recruited into a storied high school for assassins. Maintaining his moral code while surviving a ruthless curriculum, vicious social cliques, and his own adolescent uncertainties may prove fatal. Set against the backdrop of late '80s counter culture, the drama is described as a unique coming of age journey."
For more details, dig the official comic synopsis:
It's 1987. Marcus Lopez hates school. His grades suck. He has no money. The jocks are hassling his friends. He can't focus in class, thanks to his mind constantly drifting to the stunning girl in the front row and the Dag Nasty show he has tickets to. But the jocks are the children of Joseph Stalin's top assassin, the teachers are members of an ancient league of assassins, the class he's failing is "Dismemberment 101," and his crush, a member of the most notorious crime syndicate in Japan, has a double-digit body count.
Welcome to the most brutal high school on Earth, where the world's top crime families send the next generation of assassins to be trained. Murder is an art. Killing is a craft. At King's Dominion High School for the Deadly Arts, the dagger in your back isn't always metaphorical, nor is your fellow classmates' poison.