'The Death Of Stalin' Trailer: 'Veep' Creator Armando Iannucci Delivers Another Raucous Comedy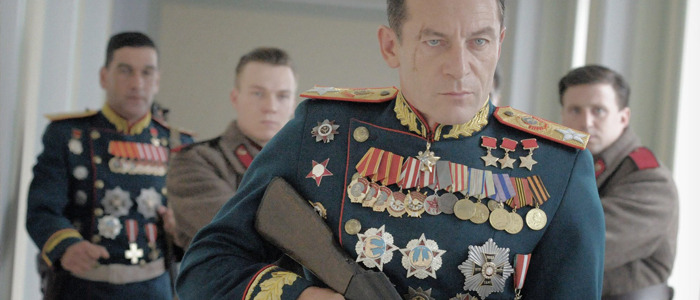 Anyone who's seen HBO's Veep, the 2009 film In The Loop, or the British TV series The Thick of It knows that writer/director Armando Iannucci has a biting and unique take on political comedy. His characters have a way of speaking that could be referred to as melodiously offensive, and it looks like he's done it again with The Death of Stalin, which is only his second feature film. The movie earned rave reviews earlier this month at the Toronto International Film Festival, and now a new trailer has arrived to show us his caustic imagining of the fall of one of the world's most brutal dictatorships.
The Death of Stalin trailer
Can something be a real trailer if it's only 52 seconds long? Seems like more of a teaser, doesn't it? Which is slightly strange, since the first trailer has already come out and is much longer...this is practically a TV spot. But in any case, the movie looks like a tremendously funny spin on what happens when Soviet dictator Joseph Stalin dies and the vacuum he leaves behind suddenly turns into a whirlpool of chaos while his minions struggle to retain relevance and power.
Iannucci is a master at poking holes in the details of the political process, and from all accounts he's done it again with this film, which /Film's Chris Evangelista said "might be one of the most hilarious films of the 21st century" in his TIFF review. That's high praise, but having seen some of Iannucci's earlier work, it's easy to believe the filmmaker could pull off such an impressive feat.
Meanwhile, Russia is reportedly considering banning the movie entirely because the film "could be part of a western plot to destabilize Russia by causing rifts in society." So I'm guessing Russian citizens won't be able to laugh at this any time soon.
Here's another quote from Chris's review:
There are an abundance of horrors here – innocent people rounded up and murdered, threats of torture, and more; and while Iannucci finds ways to make these massacres morbidly amusing by the way he shoots them (they're often taking place in the backgrounds of mundane conversations), the reality slowly begins to set in: this is crazy and it actually happened.
Adrian McLoughlin plays Stalin, and the movie's ensemble cast includes Rupert Friend, Steve Buscemi, Jason Isaacs, Andrea Riseborough, Olga Kurylenko, Jeffrey Tambor, Paddy Considine, and Michael Palin. Here's the film's official synopsis:
The internal political landscape of 1950s Soviet Russia takes on darkly comic form in a new film by Emmy award-winning and Oscar-nominated writer/director Armando Iannucci. In the days following Stalin's collapse, his core team of ministers tussle for control; some want positive change in the Soviet Union, others have more sinister motives. Their one common trait? They're all just desperately trying to remain alive.
The Death of Stalin arrives in UK cinemas on October 20, 2017, but doesn't have a US release date scheduled yet.