'Annihilation' Teaser Trailer: Natalie Portman Breaks On Through To The Other Side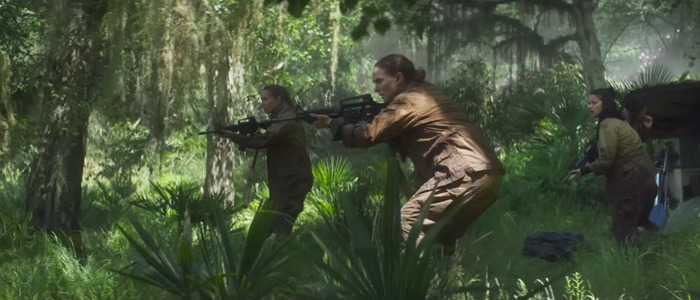 Hot on the heels of yesterday's official first look photo, Paramount Pictures has unveiled the first teaser trailer for Annihilation, Ex Machina director Alex Garland's film adaptation of Jeff VanderMeer's best-selling novel. I've been looking forward to this movie ever since it was announced, and thankfully, this trailer makes that anticipation seem warranted: this movie looks fantastic.
Annihilation teaser trailer
I'm always cautious about being suckered by a great trailer, but this looks truly spectacular. After the quiet greatness of Ex Machina, this would be worth getting excited about if the only thing I knew about it was that it was written and directed by Alex Garland. But with a cast that includes Natalie Portman, Jennifer Jason Leigh, Gina Rodriguez, Tessa Thompson, Tuva Novotny, and Oscar Isaac, I'm ready to say that Annihilation might end up being one of my favorite movies of next year.
Based on the first book in Jeff VanderMeer's Southern Reach trilogy, the film follows a biologist (Portman), a psychiatrist (Leigh), and a surveyor (Thompson) who travel into Area X, a mysterious, uninhabited area that has been engulfed by nature...and maybe something otherworldly. The movie tracks the twelfth expedition into the zone, and since the previous teams who went in didn't exactly have successful missions, the stakes are high.
I picked up on some shades of Arrival and The Abyss as the team slipped through a bubble-like wall and Portman is later interrogated by guys in hazmat suits about what she saw on the other side. But nature looks like it works differently in Area X, interacting strangely with those who encroach upon the region, and that's when things really start to get wild: the speed of the editing ramps up, and we only get quick glimpses of what's going down. Looks like things aren't going well for our heroines: at one point it seems as if they're captured (by whom...or what?), and as this teaser's surreal imagery is intercut with interactions between Portman and her husband (Isaac), I'm wondering how much of this is in her character's mind and how much of it is actually happening. I can't wait to find out. And don't forget about that mutant alligator from yesterday's photo: these characters are in for more than one surprise in Area X.
Annihilation arrives in theaters on February 23, 2018.