'The Killing Of A Sacred Deer' Trailer: Yorgos Lanthimos Takes You On The Most Disturbing Playdate Ever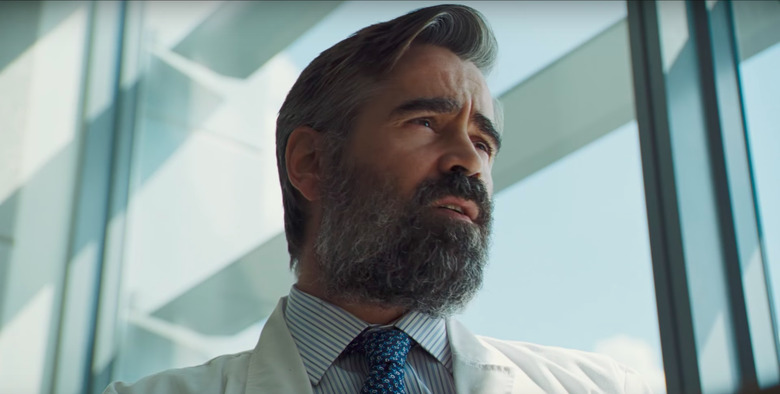 It seems that auteur filmmakers are all about pushing audiences to their limits these days. Darren Aronofsky's mother! is infamously pushing audiences to the point of leaving the theater, and now The Killing of the Sacred Deer presents a disturbing follow-up to director Yorgos Lanthimos's bleak The Lobster.
A new trailer highlights the anxiety and dread replete within The Killing of a Sacred Deer, which made waves at the Cannes Film Festival in May and continued to gather buzz at the Toronto International Film Festival and Fantastic Fest. But be warned, this trailer seems to say: things are about to get messed up.
The Killing of a Sacred Deer Trailer
Eschewing vague dread for unrelenting tension, the new The Killing of a Sacred Deer trailer is much more upfront about what kind of movie this will be: a harrowing piece of psychological horror. While before we were introduced to Colin Farrell's character as the uneasy figure with dangerous secrets, it's clear that it's the young Barry Keoghan who becomes a menacing figure to Farrell's Dr. Steven Murphy and interrupts his idyllic family life with his wife (Nicole Kidman).
The new The Killing of a Sacred Deer trailer acts as a sort of warning sign to audiences about the depths of its misery, amping up Keoghan's creepy powerhouse of a performance. The paralysis and bleeding eyes that we saw in the first trailer seem to implicate Keoghan's mysterious teen Martin as well, who seems to threaten Dr. Murphy's family, monotonously intoning, "They will all get sick and die..." The steady escalation of horrors is punctuated by Kim's (Raffey Cassidy) singing of the scales.
In his TIFF review of Yorgos Lanthimos's follow-up to his similarly disturbing The Lobster, /Film's Chris Evangelista says that the filmmaker's newest movie "pushes audiences to the point" of wondering how much horror the human mind can take. He writes:
To be clear, The Killing of a Sacred Deer is a finely crafted film. With icy blue cinematography from Thimios Bakatakis, the film looks stunning, and the film's score, comprised less of music and more of loud, heart-stopping sounds, is guaranteed to give you a touch of anxiety. But when all's said and done, you might come away thinking that Sacred Deer was little more than a hollow exercise in cruelty.
Here's the official synopsis for The Killing of a Sacred Deer:
Dr. Steven Murphy is a renowned cardiovascular surgeon who presides over a spotless household with his wife and two children. Lurking at the margins of his idyllic suburban existence is Martin, a fatherless teen who insinuates himself into the doctor's life in gradually unsettling ways. Soon, the full scope of Martin's intent becomes menacingly clear when he confronts Steven with a long-forgotten transgression that will shatter his domestic bliss forever.
The Killing of a Sacred Deer hits theaters on November 3, 2017.