Watch: 'Blade Runner Black Out 2022' Anime Short Film Is Stunning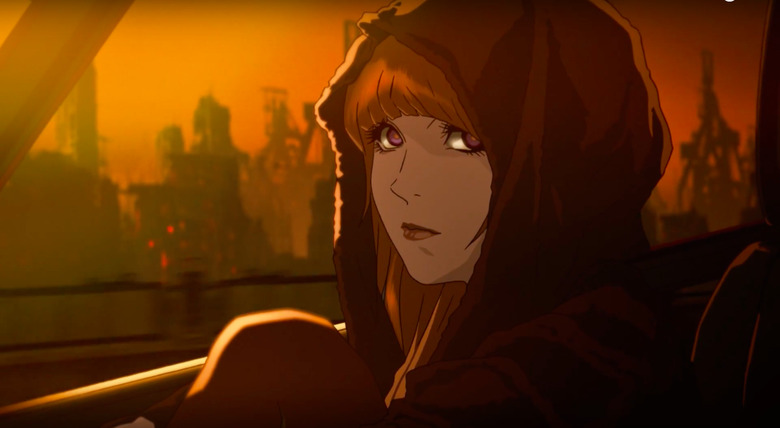 The third and last prequel short leading up to Denis Villeneuve's Blade Runner 2049 is out, and it's a gorgeous testament to the boundless possibilities of anime.
Directed by Samurai Champloo and Cowboy Bebop director Shinichiro Watanabe, the short — in addition to the other two previously released shorts focusing on different time periods — helps fill in the gaps between Ridley Scott's original Blade Runner and its sequel which takes place 30 years later. While Watanabe's anime short is the last to be released, it is set at the earliest time period, merely three years after the original film. Titled Blade Runner Black Out 2022, the short covers the events of a brief replicant rebellion that resulted in their production being banned for a decade before Jared Leto's Wallace Corp. steps in.
Blade Runner Black Out 2022 Short
The short film follows two replicants, Iggy and Trixie, as they evade angry mobs of humans who have militarized against replicants. Tensions between humans and replicants have reached a boiling point, with people disgusted by the genetically engineered beings' inhuman natures taking it upon themselves to use the Replicant Registry to hunt down stray replicants. But with the help of sympathetic human Ren, who is enamored with Trixie, a few replicants plot to plunge the city of Los Angeles into a black out "like the humans had never seen."
The result is catastrophic, with the falling cars and vehicles wreaking havoc on the cityscape, and causing replicant manufacturing to be banned, causing the end of the all-powerful Tyrell Corporation from the first film. Until the daunting Wallace Corp. takes its place a decade later.
The animation is nothing short of stunning, with Watanabe's signature fluid and lanky animation style making the characters pop against meticulously detailed settings and landscapes. It's not all hard edges and garish neon either — at one point, there is a smooth transition to Iggy's flashback, in which we see the perspective from the replicant soldier, struggling against a torrent of sand and wind, of a foggy and surreal vision of the desert. It's art. The dreamlike atmosphere is aided by a kinetic, electronic score from Flying Lotus, an experimental producer who earlier posted a snippet of his demo on Instagram.
here is a snippet of my rejected (or ignored) blade runner 2049 trailer score. honestly even being asked to demo it up was an honor. all synths done on the yamaha cs80, which as you may know is the same synth vangelis used for the original.
Anime gets knocked for its lewd depictions of women and young girls, but it's shorts like these — and the works of master animators like Watanabe, Satoshi Kon, and Hayao Miyazaki — that really push the limits of filmmaking. There are some feats of visual storytelling that can only be done through animation, and it is encouraging to see animators like Watanabe still doing work like this when the anime industry is steadily cutting back on budget and animation quality.
The full short is available on Crunchyroll.