Movie Mixtape: 6 Movies To Watch Before Seeing 'Battle Of The Sexes'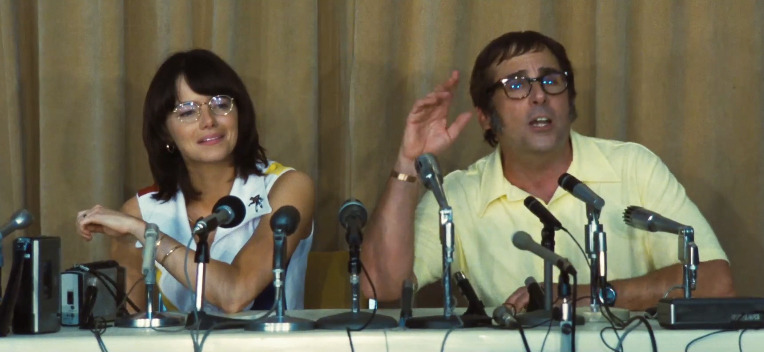 There is no quintessential tennis movie. Baseball has The Natural. Football has Friday Night Lights. Soccer has the Goal! trilogy. But tennis is woefully underrepresented on the big screen. Are there more golf movies than tennis movies? Maybe. Regardless, the landscape — whether clay or grass — isn't pretty.
But now we've got a slew of them cropping up like fuzzy ball-based Armageddons and Deep Impacts. There's Battle of the Sexes, which in wide release this weekend, Borg/McEnroe, and the documentary Love Means Zero. We're about to be awash in tennis, and if Battle of the Sexes delivers the kind of Oscar hope it's hyped to, it might kick off an even bigger trend.
So finding more tennis movies to play doubles with, let alone quality ones, was a challenge, but it's exactly the kind of high stakes, do-or-die challenge I live for.
When Billie Beat Bobby (2001)
Before Battle of the Sexes, there was the TV movie version of the same, real-life story of Billie Jean King and Bobby Riggs squaring off in a surprisingly profound publicity stunt. Written and directed by Jane Anderson (who also wrote Olive Kitteridge, wrote for Mad Men and The Wonder Years), it's a solid biographical drama that digs its heels into the man's world of the 1970s. Ron Silver does great work as Riggs despite not throwing himself too far into left field, but the real stand out is Holly Hunter, who radiates every second she's on screen as King.
Strangers on a Train (1951)
The Alfred Hitchcock classic about two men considering swapping murders so each can get away made a smart change from the Raymond Chandler novel, changing Guy (played by Farley Granger) from an architect into an amateur tennis star. A master of using the familiar to expose the sinister, Hitchcock and DP Robert Burks captured a stirring, iconic scene where psychopathic killer Bruno (Robert Walker) doesn't keep his eye on the ball.
The film uses the sport both for its visual cues, and as a plot mechanism for Guy to outsmart the police who are tailing him constantly.
Hard, Fast and Beautiful (1951)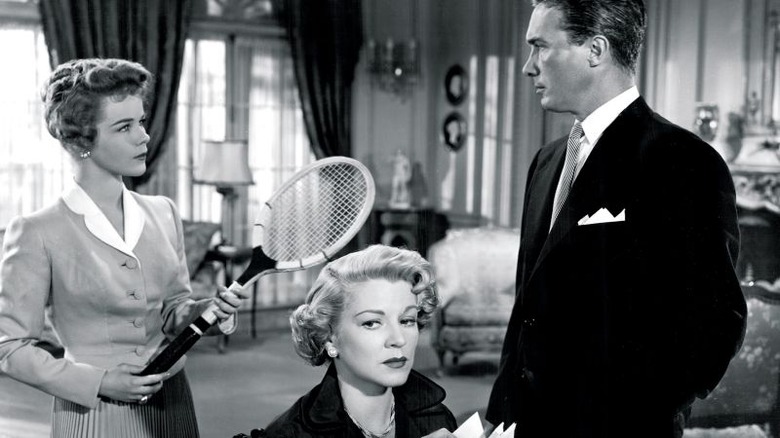 Florence (Sally Forrest) is a tennis prodigy who chances her way into 1) meeting a young man named Gordon (Robert Clarke) who she falls for 2) beating the snot out of him at tennis at his country club 3) getting invited to the national junior championship because the right people see her beat the snot out of him.
The only hitch in her meteoric rise in the sport is her mother, who has designs on skyrocketing up the social ladder by marrying her daughter off to whatever wealthy, y-chromosome-owning crew cut she can find. Bad news for Gordon and twoo wuv. As you can probably see, Wimbledon borrowed a bit of its plot DNA from this, but HF&B works far better because of the artistically symbiotic relationship between Forrest and director Ida Lupino.
The Royal Tenenbaums (2001)
Does taking both shoes and one sock off help you play better? Signs point to No. Richie Tenenbaum's (Luke Wilson) court breakdown after the love of his life marries someone else. Nothing that living on a cruise ship and traveling the world can't cure. Except it doesn't.
Wes Anderson's melancholy family is still his most depressive overall. What's really wonderful is that Richie, who is defined almost solely by the schtick of being a tennis player, doesn't return to playing as rainbows fly out across the sky once he and Margot (Gwyneth Paltrow) confess their love for each other. He reaches a kind of personal peace, but that chapter of his life is over. Instead, he starts teaching young people to play.
The Seven-Per-Cent Solution (1976)
We all know that Sherlock Holmes is a genius detective who solves the world's most confounding cases. We all know that Holmes was a big fan of hard drugs. What this Herbert Ross film supposes is...maybe cocaine addiction is bad for you? The excellent conceit behind this film comes from Nicholas Meyer's novel and script (he also directed Time After Time), which invents a time in Holmes's (Nicol Williamson) career when Watson (Robert Duvall) has to save his friend by tricking him into jetting over to Vienna to meet with Sigmund Freud (Alan Arkin).
It's a psychological exploration of Holmes (can't he just leave that poor, innocent Moriarty alone!) and an engaging mystery. Plus, they play a sport that looks like tennis! It's real tennis, and it's close enough to the thing Billie Jean King plays to use an excuse to pitch this great movie.
7 Days in Hell (2015)
Speaking of cocaine and psychological drama, this mockumentary starring Andy Samberg and Kit Harington (whose character knows nothing) is essentially a send up of the Battle of the Sexes with a mop-haired British guy instead of a woman. Samberg plays the has-been bad boy of tennis Aaron Williams, who grew up with Venus and Serena Williams, whose antics stole him far away from the limelight at Wimbledon. Harington plays the rising star Charles Poole who claims to be a better player than Williams, drawing the egotistical freak back to tennis, aided by a Wimbledon committee hoping his return and the subsequent showdown will spike the ratings.
Little does anyone know that the two players will be locked in a single match for one hellacious week. We know it because it's right there in the title. But still. Drama.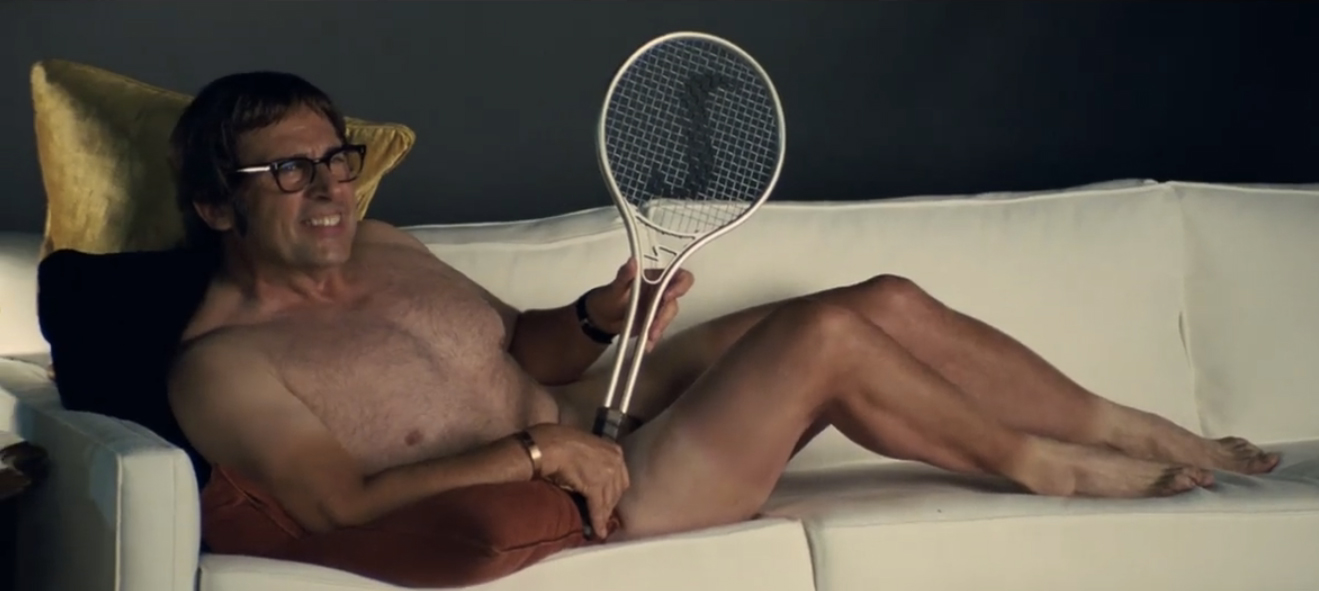 The Mix
It's possible that tennis is finally having its cinematic moment, which could be good for the sport and good for sports movies in general because it offers a new playing field to explore. There's probably another truly great football or baseball movie left in the barrel, but turning to tennis could give competitive cinema some fresh blood.
So far it's mostly made cameo appearances. The Hitchcock entry is the most telling because the sport is treated solely as a casual plaything of the hoity toity class. Ironically, it's given a more populist treatment in the Lupino movie about social climbing and elite tennis clubs, ultimately determining that you can be a great player without needing to participate in the wealthiest caste. Maybe that shift is why we're gaining narrative interest in the sport, or maybe we're interest in something outside the sport altogether. After all, Battle of the Sexes represents something far greater than a single game.