Cool Stuff: Andrew DeGraff's 'Cinemaps' Takes You To The Locations Of Your Favorite Films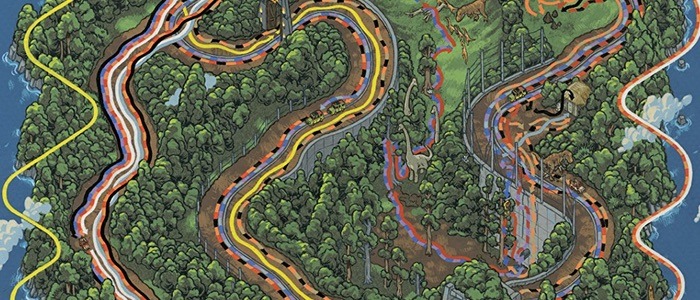 Have you ever wanted to live inside a fantastical movie? Or at the very least, have a better understanding of the geography of the landscape presented in films? Philadelphia based artist Andrew DeGraff has found a way to transport you directly into the terrain of your favorite films with gorgeous hand-painted maps. And now he has a hardcover book collecting those maps in one place, Cinemaps: An Atlas of 35 Great Movies. See the details of Cinemaps below.
In Cinemaps: An Atlas of 35 Great Movies, DeGraff presents hand-drawn maps of locations from films such as King Kong, North by Northwest, The Princess Bride, Fargo, Pulp Fiction and more. DeGraff has created maps for the Star Wars Trilogy and more, many of which have appeared in several gallery shows. Now you can have these maps in your hands in an 11-by-14-inch format, featuring key details enlarged for closer inspection, and essays by film critic A. D. Jameson, that highlight the unique geographies of the films in question.
Regarding movie mapmaking, DeGraff told HuffPost:
When I started as a professional illustrator, I got a few jobs creating maps for travel magazine illustrations, and had a lot of fun doing them. I realized I really loved doing architecture and landscape. At the time I was also showing in some pop-culture shows, and I noticed that a lot of the work was based on character portraits, characters in scenes, or the characters re-contextualized. There's nothing wrong with that — and I love a lot of that work, but it's often one character from one part of the movie. I wanted to do something that was more complete, maybe the whole film if I could. I thought I'd try to take all the characters out and just use the sets and locations, and I replaced the characters with colored arrows that followed their action in the movie. I was really happy with the result, and people seemed to really like them. At a glance the movie maps were a snapshot of the complete film, and up close you could follow the actions and interactions of nearly everything that happens.
From the book jacket:
Acclaimed artist Andrew DeGraff has created beautiful hand-painted maps of all your favorite films, from King Kong and North by Northwest to The Princess Bride, Fargo, Pulp Fiction, even The Breakfast Club—with the routes of major characters charted in meticulous cartographic detail.
Follow Marty McFly through the Hill Valley of 1985, 1955, and 1985 once again as he races Back to the Future. Trail Jack Torrance as he navigates the corridors of the Overlook Hotel in The Shining. And join Indiana Jones on a globe-spanning journey from Nepal to Cairo to London on his quest for the famed Lost Ark.
Each map is presented in an 11-by-14-inch format, with key details enlarged for closer inspection, and is accompanied by illuminating essays by film critic A. D. Jameson, who speaks to the unique geographies of each film. This beautifully designed atlas is an essential reference for anyone who loves great art and great films.
The 160 page hardcover will be published on October 24, 2017.