'Kingsman: The Golden Circle' Tops Box Office, Kicks 'It' Back Into The Sewer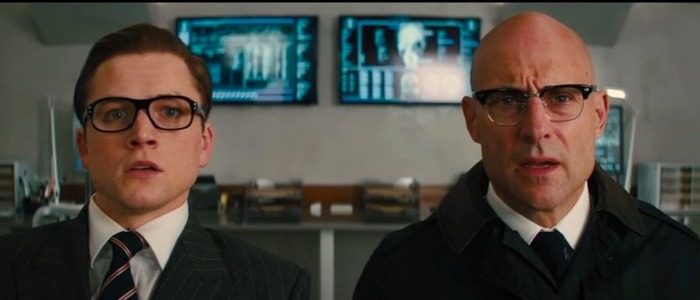 Well, you've done it, theater goers. Like the plucky kids of Losers Club, you've defeated Pennywise the Clown and sent him scurrying back into the sewer as Kingsman: The Golden Circle ended It's top-of-the box office reign over the weekend. Per Variety, Matthew Vaughn's latest Kingsman sequel took in $39 million domestically and $61.2 million overseas for a worldwide total of over $100 million. Read more about the Kingsman box office – plus how the film removed multiple references to Donald Trump – below.
While $39 million is certainly not chump change, it's slightly off from early projections, which had the spy sequel opening domestically around $40 million to $45 million. However, the domestic take is slightly up from the first film, Kingsman: The Secret Service, which took in around $36.2 million on its opening weekend. Either way, Kingsman is the first film to dethrone the adaptation of Stephen King's It from the number one spot, where it has comfortably sat since its September 8 opening weekend. I don't think the producers of It will be too bent out of shape over this latest turn of events, though, since It is closing in on $500 million worldwide.
Matthew Vaughn's over-the-top sequel earned some rather mixed reviews, with most critics seeming to agree that if you liked the first film you'll probably like this one too, even though it is a bit overlong. Vaughn, for his part, has said he hopes to make at least one more Kingsman sequel before launching possible spin-offs. Whether or not he gets his wish remains to be seen.
As for Kingsman: The Golden Circle, Vaughn revealed a somewhat surprising bit of info to EW: two references to current President Donald Trump (ugh) were removed from the film. Speaking with EW (by way of io9), Vaughn said the references to Trump were removed because he wanted the film to serve as escapism rather than a reflection on troubling current events:
"I think America's going through a pretty interesting and rough ride at the moment and I wanted this movie to be escapism. And that means not suddenly have half the audience going, 'That's not cool, that's not funny!' as the other half is cheering...I think my instinct was right. If you go too far—if movies get political when they're meant to be fun—then it weighs everything down a bit too much."
Of course, this line of thinking didn't stop Vaughn from including a scene in the first Kingsman depicting the exploding head of then-President Barrack Obama. Perhaps mocking Trump just wasn't edgy enough for such an exxxxxtreme film. Kingsman: The Golden Circle, starring Colin Firth, Taron Egerton, Mark Strong, Sophie Cookson, Julianne Moore, Halle Berry, Pedro Pascal, Elton John, Channing Tatum, and Jeff Bridges, is now playing in theaters everywhere.