'Blade Runner 2049' Behind-The-Scenes Clips Take Us To A Stylized Future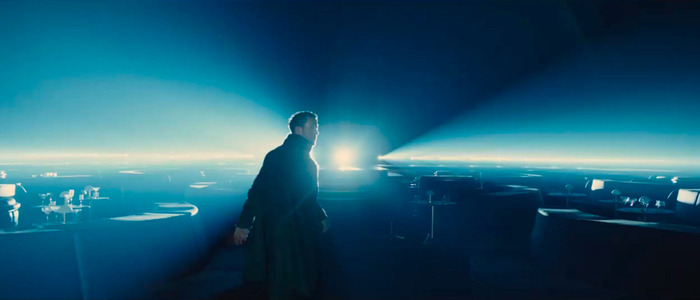 Blade Runner 2049 is getting closer and closer to its release date, yet much of the film is still shrouded in secrecy. In an era where most high-profile films have almost their entire plot-lines spoiled before they hit theaters, it's fairly impressive that director Denis Villeneuve and company have managed to play things so close to the vest.
Now, a series of behind-the-scenes features totaling over 20 minutes have arrived to give us our best look yet at the futuristic world Villeneuve has created. See the extensive Blade Runner 2049 behind the scenes clips below.
I'll admit that I've grown somewhat cold on Blade Runner 2049 since it was announced. While I'm a fan of the original, a fan of Villeneuve's work, and a big fan of cinematographer Roger Deakins, most of the marketing material released hasn't done much for me. So I'm pleased to say this series of behind-the-scenes clips has drastically changed that. I'm excited for this film again, and that's mostly due to the details revealed in these clips, and how they reveal the precise level of detail the filmmakers have put into this thing.
Vice's Kim Taylor Bennet visited the Blade Runner 2049 set in Budapest and recorded two in-depth videos (via Nerdist) about the production. The first details how meticulously crafted the new film is. "By far the longest shoot of my life," says Villeneuve. The behind-the-scenes video stresses that the filmmakers hoped to "create a universe that is faithful to the original but still stands alone."
The focus of this video is primarily on how practical all the sets were – Villeneuve was determined to not overly-rely on green screen for everything, and wanted to build as much as he possibly can, resulting in massive practical sets. Star Ryan Gosling talks about how one of the hardest challenges in making the film was trying to not seem impressed by all the huge, practical sets, because his character takes them for granted since he's grown up among them. Also revealed: the world has evolved since the first film due to some "seismic events," creating toxic environments. As an added bonus, food shortages have lead to people eating worms for protein. The future seems fun, doesn't it?
The best moment in the video comes at the end, where Harrison Ford says he and original Blade Runner director Ridley Scott have settled their on-going argument about whether or not Ford's character Deckard is a replicant. Ford claims that the issue has been resolved, but when Bennet presses him for the answer, he declines to provide it in that gruff, no bullshit manner that makes Harrison Ford Harrison Ford.
The Cast and Crew of Blade Runner 2049 on the Original Film
The second Vice video is more of an appraisal of the original film, with Ford, Ridley Scott, and more talking about how influential Scott's future-noir was, and how seemingly every sci-fi film made after it stole some elements from it. It's less about the new film than the old, but it's a thorough explanation as to what makes the original film such a classic. When it comes to Blade Runner 2049, Gosling says he wanted to know what happened to the characters and the world of the original film, and that was the concept that drew him to this sequel.
The World of Blade Runner 2049
The final two videos (via The Playlist) are slightly more generic and closed-mouth, which is by design. "It's challenging to talk about this film without saying anything about it," Gosling comments. These two videos shed as much light on the film's plot as they possibly can, without really telling us much. Gosling says the film starts with his character going about an ordinary day on the job when he suddenly uncovers a mystery that changes everything. Ford says that what he was looking for in a sequel was a "story that flowed naturally out of the first," and Blade Runner 2049 presumably does just that.
Blade Runner 2049 opens on October 6, 2017.