'1922' Trailer: The Stephen King Adaptation Train Keeps On Rolling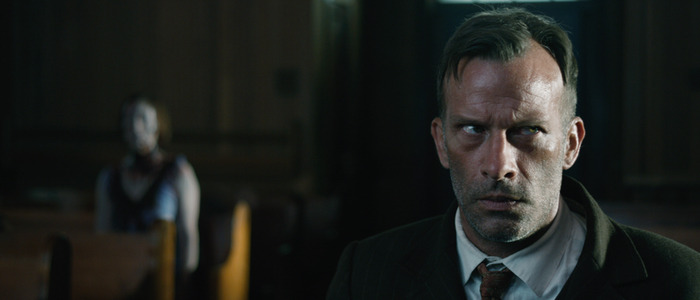 Stephen King is everywhere these days. In fact, he's sitting right behind you as you read this. Okay, maybe that's not true. But adaptations of King's work have increased tenfold in the last year, and that was before It went ahead and made all the moneys. With It taking in boffo box office, expect even more King adaptations to be announced. For now, though, there's 1922, which is one of two different Netflix King adaptations on the horizon. The first 1922 trailer is below.
Netflix has both Gerald's Game and 1922 hitting their streaming platform in the next few weeks, and both films are playing Fantastic Fest in the next few days (look for reviews of both on this very site!). Both these tales may not be the best-known as far as King's work goes, but that doesn't mean they're not worth getting excited about.
1922 Trailer
1922 appeared in King's 2010 novella collection Full Dark, No Stars. It's a bleak tale that begins as if King is channelling John Steinbeck – and then things get spooky. The Netflix adaptation comes from These Final Hours helmer Zak Hilditch, and based on this trailer, it looks kind of creep-tastic. Thomas Jane plays Wilfred James, a poor farmer who murders his wife (Molly Parker) rather than let her leave him. If Jane's character thinks that's the end of it, he's sorely mistaken, because apparently his dearly departed wife doesn't plan on staying departed for long.
The 1922 trailer is moody as hell, and I mean that in the best possible way. Hilditch looks to be bringing style to the story, and there are a handful of moments on display here that I found genuinely creepy – and that was before the rats started showing up. I'll confess that even though I'm a Stephen King superfan, I wasn't a huge fan of the short story that inspired this film. In fact, almost none of the stories in Full Dark, No Stars did much for me. But 1922 looks like it might be that rare exception of a film adaptation that improves on the source material. Dig the synopsis below:
1922 is based on Stephen King's 131-page story telling of a man's confession of his wife's murder. The tale is told from from the perspective of Wilfred James, the story's unreliable narrator who admits to killing his wife, Arlette, with his son in Nebraska. But after he buries her body, he finds himself terrorized by rats and, as his life begins to unravel, becomes convinced his wife is haunting him.
1922 also features Neal McDonough, Brian d'Arcy James, and Dylan Schmid. It arrives on Netflix on October 20, 2017.