Luke Skywalker And Cersei Lannister Join Guillermo Del Toro's 'Trollhunters' Season 2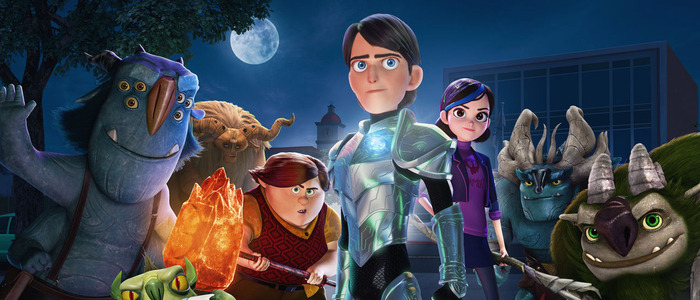 Guillermo del Toro is one of the busiest filmmakers working right now. It seems almost every other day the extremely talented visionary Crimson Peak director announces a new project. He has the excellent The Shape of Water hitting theaters soon (read our review), and he has the second season of his animated series Trollhunters currently in production at Netflix. And now two very familiar names have joined the Trollhunters cast: Luke Skywalker and Cersei Lannister. Okay, actually it's Mark Hamill and Lena Headey. Hamill, Headey, and fellow Game of Thrones actor David Bradley have all been added to the Trollhunters season 2 cast.
Trollhunters focuses on three best friends who discover a hidden battle between good trolls and bad. The late Anton Yelchin plays one of the three friends, with the rest of the cast including Charlie Saxton, Kelsey Grammer, Fred Tatasciore, Lauren Tom, Clancy Brown, Tom Hiddleston, James Purefoy, Anjelica Huston, Amy Landecker, and frequent del Toro player Ron Perlman. 
Now Hamill, Headey and Bradley have come aboard the show. Hamill will voice the "unknown older brother to a member of the Trollhunting team"; Headey will play "an extremely powerful and evil sorceress who must be stopped at all costs"; while Bradley voices "a mysterious figure known to have great magical powers."
Del Toro is a fascinating figure who has an engrossing way of talking about any project he's working on, and Trollhunters is no exception. Speaking with Collider, he stressed the ambitious nature of the project:
We tried to, within the fantastic, we tried to emphasize the real. We did it also in the sense that one of the main antagonists in the series becomes a good guy at the end. He doesn't become a complete good guy, but he's a guy who changes his heart. We do it visually by lighting the series like a live-action movie, we do it in animation by making the characters ... we animate the characters making mistakes. They try to close a microwave oven, they fail, they do it again and they get it. Jim tries to get a pea in his mouth and he fails. The series is full of those moments. All of that adds up to it feeling alive and not being a series dictated by comedy.
When you watch [Hayao] Miyazaki or a beautiful animated movie like A Letter to Momo, this is something that the Japanese do a lot in the higher quality animation, which I think Miyazaki calls "Ma." When you do Ma, the characters seem a little more alive. These are decisions that affect the quality of a series without affecting it to go over budget; you can stay on-budget but be creatively a little crazier, and the result is actually a little better.
Trollhunters season 2 will arrive on Netflix later this year.