Matthew Broderick Is Playing Old Ralphie In Fox's 'A Christmas Story' Live Musical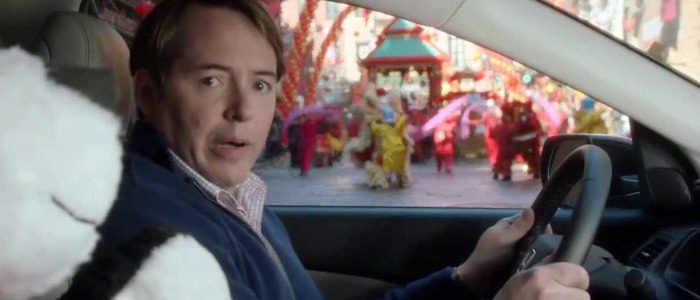 Hopefully, when you read this A Christmas Story Live casting news, you won't want to shoot your eye out. Matthew Broderick (Ferris Bueller's Day Off, Election, Glory) has been hired to play the adult version of Ralphie Parker, the young protagonist of the 1983 holiday movie and the subsequent Broadway musical. Like in those productions, Broderick will provide the narration for Fox's live TV take on the Christmas tale.
Fox sent us a press release announcing the casting of Broderick, a two-time Tony Award winner, as the old Ralphie, "who looks back with love and humor on his favorite childhood Christmas." He's taking over the role voiced by Jean Shepherd in the '83 film (bonus trivia: Shepherd co-wrote the movie based on his own semi-autobiographical life experiences), and Broderick joins the previously-cast Maya Rudolph (Saturday Night Live, Bridesmaids) who will play Ralphie's mother, taking over the film role from Melinda Dillon.
The last thing I saw Broderick in was last year's Manchester by the Sea, in which he had a distracting role that played against the amiable characters for which he's best known. He's still a fine actor, and he's a fascinating choice for this part precisely because of his history playing roles like Ferris Bueller; the audience has seen him play tons of young, stubborn characters on screen before, so there's a meta aspect to his casting that should translate well to his narration.
I haven't seen the Broadway version of A Christmas Story, but here's a video of some of the highlights of the show:
And this performance from the 2013 Tony Awards gives us a better idea of Broderick's potential involvement: he won't be standing backstage reading off of cue cards, but he'll be out in the middle of the action, and even by the look of this clip, dressed just like young Ralphie:
Since I haven't seen the musical version myself, I can't say with certainty if Old Ralphie has to do too much singing himself in the live show, but if he does, Broderick is more than capable. He's appeared in tons of stage musicals in his career, and a veteran performer like him should be readily equipped to handle the pressure of a live televised performance.
The three-hour A Christmas Story Live features songs from the songwriters of La La Land, and is set to air on Fox on Sunday, December 17, 2017, from 7:00pm-10:00pm ET, and will air on a tape delay throughout the rest of the US time zones.