'Voltron: Legendary Defender' Season 4 Trailer: More Voltron Action, More Razzle-Dazzle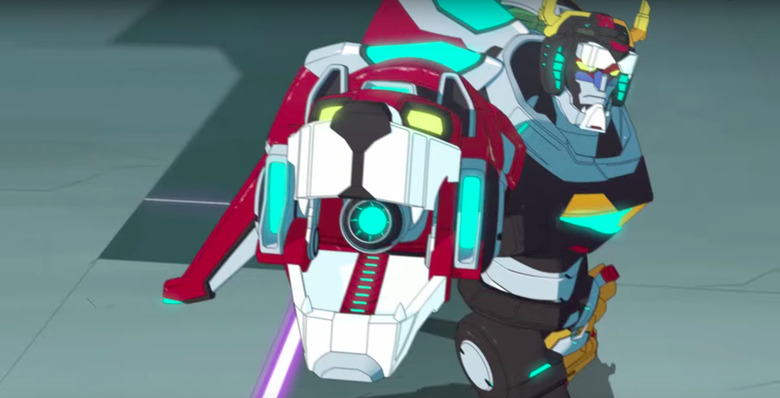 Merely two months after the third season of Voltron: Legendary Defender premiered on Netflix, a new trailer has already been released, teasing a fourth season that's even closer on the horizon.
Anxiety over the missing fifth Paladin and a new Big Bad have evaporated — for the most part — with the team back together again and ready to give the war against the Galran Empire the 'ole razzle dazzle. Those are Lance's words, not mine.
The Paladins are all back together again, and it couldn't come a minute sooner! I say that facetiously, because wow, that was fast. The Voltron Legendary Defender season 4 trailer hit the internet merely two months after the third season aired its seven episodes on Netflix, in anticipation of an October premiere. And for those who haven't caught up with those seven episodes (guilty) well, bad luck for you, as the trailer spoils Shiro's (Josh Keaton) fate in the first 10 seconds. TLDR: He's fine.
Now that Voltron can finally be formed with all five Paladins, the war against the Galra Empire is back on. The Paladins continue their mission of goodwill throughout the galaxy, gathering allies and strongholds against Prince Lotor. Lotor is stronger than ever, becoming an even greater menace to the Paladins, Princess Allura (Kimberly Brooks), and Coran (Rhys Darby).
It's rare to see a cult animated show like Voltron: Legendary Defender (which more people should be watching) enjoy such stability on television, streaming or not. Whenever a children's show maintains more mature themes and veers away from the family-friendly merchandising, that often spells its doom. Young Justice, He-Man, and Green Lantern: The Animated Series all fell victim to this poor, misguided strategy. But amazingly, Voltron — which ironically, is a reboot of the much-merchandised 1980s series as well as the Beast King GoLion anime series — has held strong. Dark themes have been a constant in this series, with death, slavery, and oppression acting as constant companions to the bushy-eared, quirky Paladins. Friendships are tested and pushed to the limit, especially in the angsty third season, which explored some phenomenal character-building that animated shows (that aren't Rick and Morty or Adventure Time) usually eschew.
Thankfully Netflix and Dreamworks TV have given a chance to this series from Joaquim Dos Santos and Lauren Montgomery, former of Legend of Korra, another animated series that pushed the narrative limits of children's animated TV. Who knows what else they have in store for Voltron season 4?
Voltron also stars Steven Yeun, Jeremy Shada, Bex Taylor-Klaus, and Tyler Labine.Voltron: Legendary Defender season 4 is set to premiere on Netflix on October 13, 2017.