The New Blu-Ray Releases You Should Check Out This Week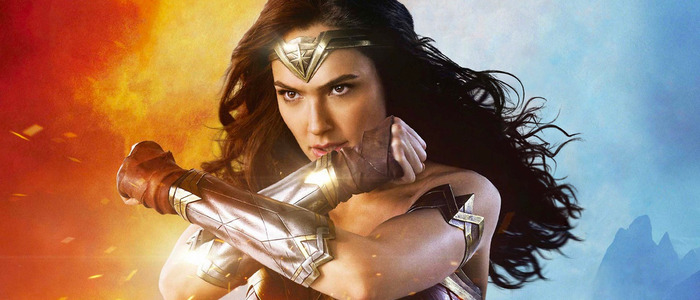 (Welcome to Not Dead Yet, a feature dedicated to what's new on Blu-ray and what special features you should be excited about. Because yes, some of us still like to own physical copies of our movies.)
Remember physical media? It still exists! I swear! And while streaming is great, there's something to be said for a Blu-ray release, especially considering not everything is available via streaming. So we're going to dust off our physical media release column and take it around the track. There's still life in this one yet. Join me, won't you?
This week on Blu-ray we have the best film in the DCEU, a charming rom-com, a Steven Spielberg classic, and a beautiful film where Kristen Stewart eats a sandwich.
Wonder Woman
Wonder Woman single-handedly saved the DCEU and Patty Jenkins' highly entertaining flick drops on Blu-ray this week. Everything that DC had gotten wrong up to this point is quickly reversed thanks to a film that eschews misery for hope. That's not to say Wonder Woman is perfect – the last half hour of the film descends into the kind of mindless destruction that permeated all throughout Batman v Superman: Dawn of Justice. Yet it's easy to overlook the messy ending for all the good that comes before it.
Special Features: The Wonder Woman Blu-ray is jam-packed with features, so many in fact that you might need multiple days to get through them all. The most informative of the lot are a series of shorts dubbed "A Director's Vision", where director Patty Jenkins walks us through several scenes in the film. A full-length commentary with Jenkins would've been better, but this will do. Just spending a few minutes with Jenkins reveals how concise a vision she had for the film. There are also some extended scenes here, none of which add too much overall, and a blooper reel that highlights how often star Gal Gadot cracks up during takes. The full list of features is below:
Epilogue: Etta's Mission – Etta Candy gets the boys back together for a secret mission that could impact humanity's future.
Crafting the Wonder – Wonder Woman finally comes to life in her first, breathtaking solo film. Explore the journey to create an adventure worthy of DC's greatest warrior.
A Director's Vision: Themyscira: The Hidden Island
A Director's Vision: Beach Battle
A Director's Vision: A Photograph Through Time
A Director's Vision: Diana in the Modern World
A Director's Vision: Wonder Woman at War
Warriors of Wonder Woman – Witness the creation of the Amazon army as the women of "Wonder Woman" transform emotionally and physically into the world's most powerful and heroic warriors.
The Trinity – Filmmakers and comic book creators explore the legend of Wonder Woman and how she stands shoulder to shoulder with Superman and Batman to create the pillars of the DC Universe.
The Wonder Behind the Camera – Meet the women behind the wonder as they welcome a group of aspiring filmmakers on set for an exclusive, once-in-a-lifetime experience.
Finding the Wonder Woman Within – Feel the power of Wonder Woman as award-winning poets and inspiring public figures reveal the impact and importance of DC's greatest heroine.
Close Encounters of the Third Kind
One of Steven Spielberg's very best films, Close Encounters of the Third Kind, arrives this week in both Blu-ray & 4K Ultra HD forms. Spielberg was only 31 when he made Close Encounters, and he had already directed Jaws before that (just in case you want to feel extra lazy). Richard Dreyfuss is a family man who shuns his family to go hang out with some musical aliens. That plot really shouldn't work as well as it does, but Spielberg, being Spielberg, finds a way to make it all seem magical.
Special Features: This release has not one but three different versions of the film: 1977 Theatrical Version, 1980 Special Edition & 1997 Director's Cut. Beyond that, it includes some wonderful interview with Spielberg, in which he talks about the legacy of the film; there are also interviews with JJ. Abrams and Denis Villeneuve, who both wax rhapsodically about Close Encounters and Spielberg's influence. The full list of features is below:
All three versions of the film: 1977 Theatrical Version, 1980 Special Edition & 1997 Director's Cut
ALL-NEW: "Three Kinds of Close Encounters" Featurette
New interview with Director Steven Spielberg on the legacy of the film, as well as new interviews with directors J.J. Abrams (Star Wars: The Force Awakens) and Denis Villeneuve (Arrival) about the impact of Close Encounters.
ALL-NEW: "Steven's Home Movies & Outtakes"
Rare never-before-seen home movies & gags from the set of Close Encounters.
Close Encounters of the Third Kind Making-of Documentary
"Steven Spielberg: 30 Years of Close Encounters" Featurette
1977 Featurette "Watch the Skies"
Storyboard to Scene Comparisons
Certain Women
Kelly Reichardt's deliberately paced, beautifully acted Certain Women gets the Criterion Collection treatment this week. The film is a triptych focusing on several (or certain, if you will) women living across Montana. Laura Dern is a lawyer dealing with a troubled client; Michelle Williams is a woman trying to convince a man to let her use some of the sandstone on his land to help build her dream home; Lily Gladstone is a ranch hand who finds herself drawn to night school teacher Kristen Stewart. These are all actresses at the top of their game, but the standout is Gladstone, who gives a quite, heartbreaking performance. Also, there's a scene where Kristen Stewart eats a sandwich at a diner that is pure CINEMA.
Special Features: Criterion always puts together thoughtful features, and Certain Women is no exception, including an interview between Reichardt and Certain Women executive producer Todd Haynes. There should be more, though; more interviews with the cast, particularly Gladstone, would've been welcomed. The full list of features is below:
New 2K digital transfer, supervised by director Kelly Reichardt and cinematographer
Christopher Blauvelt, with 5.1 surround DTS-HD Master Audio soundtrack on the Blu-ray
New interviews with Reichardt and executive producer Todd Haynes
New interview with Maile Meloy, author of the stories on which the film is based
PLUS: An essay by critic Ella Taylor
A Fish Called Wanda
A Fish Called Wanda, one of the funniest films ever made, receives a new Blu-ray from Arrow Video.  John Cleese, Jamie Lee Curtis, Kevin Kline, Michael Palin star as characters stuck in a comedy of errors, involving a diamond heist, seduction and a series of mishaps. Kline won a much-deserved Academy Award for Best Supporting Actor for his work as a dim-witted weapons expert.
Special Features: Many of the features here are imported over from other editions, but this release does feature a new 4K restoration from the original negative, giving you the most crystal-clear Blu-ray release of the film yet. The full list of features is below:
Brand-new 4K restoration from the original negative, produced by Arrow Films exclusively for this release
High Definition Blu-ray (1080p) presentation
Original English mono audio (uncompressed LPCM)
Optional English subtitles for the deaf and hard-of-hearing
Commentary by writer and star John Cleese
Brand-new appreciation by Vic Pratt of the BFI National Archive
Brand-new interviews with composer John Du Prez, production designer Roger Murray-Leach, executive producer Steve Abbott and makeup supervisor Paul Engelen
John Cleese's Final Farewell Performance, a 1988 documentary on the making of A Fish Called Wanda featuring interviews with actors Cleese, Jamie Lee Curtis, Michael Palin, Kevin Kline and director Charles Crichton
Something Fishy, a 15th anniversary retrospective documentary featuring interviews with Cleese, Curtis, Kline and Palin, executive producer Steve Abbott and director of photography Alan Hume
Fish You Were Here, a documentary on the film's locations hosted by Robert Powell
24 deleted/alternative scenes with introductions by Cleese
A Message from John Cleese, a tongue-in-cheek introduction recorded for the film's original release
The Big Sick
The real-life romance between Kumail Nanjiani and Emily V. Gordon gets the rom-com treatment in Michael Showalter's charming The Big Sick. Nanjiani plays a fictionalized version of himself and Zoe Kazan stands-in for Gordon in a story that encompasses the beginning of a relationship that eventually takes a turn for the worse when Kazan's character comes down with a sudden illness. Everyone is pretty wonderful here, but the big surprise is Ray Romano, who is hilarious as Kazan's father.
Special Features: A fun but slightly haphazard commentary track featuring Nanjiani, Gordon, Showalter and producer Barry Mendel is definitely worth a listen. There are also not one but two different features that go into the real story that inspired the film, and how the film came together. Both features are good, but it might've been wiser to edit them together into one concise bit. The full list of features is below:
"A Personal Journey: The Making of

The Big Sick

" Featurette
"The Real Story" Featurette
2017 SXSW Film Festival Panel
Cast & Filmmaker Commentary with Actor-Writer Kumail Nanjiani, Writer Emily V. Gordon, Producer Barry Mendel and Director Michael Showalter
The Big Sick

: The Other Stuff
The Bigger Sick: Stick Around for More Laughs