'Breathe' Trailer: Andrew Garfield And Claire Foy Star In A True Story From Director Andy Serkis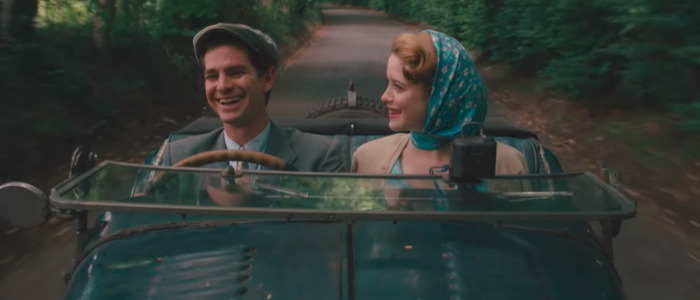 Andy Serkis is best known for his work in front of the camera, imbuing visual effects-driven characters like Gollum and Caesar with weight and inner life using performance capture technology. But he has some experience behind the camera as well, having directed the second unit of all three of Peter Jackson's The Hobbit films.
Now the actor is making his official directorial debut with Breathe, an inspiring true story starring Andrew Garfield (The Amazing Spider-Man) and Claire Foy (The Crown) as a couple who must overcome incredible odds just to regain the semblance of a normal life together after one of them contracts polio. The movie's second trailer has arrived, so check it out below and see what you think about Serkis's potential as a director.
Breathe trailer
I find myself in the difficult position of balancing a desire for Hollywood to tell inclusive stories about all different types of people with a personal disdain for biopics that contain a stalwart wife doing little more than serving as support for her husband. Breathe seems to fall somewhere in the middle, but our review from the Toronto International Film Festival praises the performances from both Garfield ("[he] nails the immediate micro-level specificity necessitated by portraying someone with such a debilitating condition") and Foy ("Breathe depicts little from her perspective and shows scant curiosity in her emotional life, though Foy injects enough vigor and resolve into Diana to avoid the clichéd supportive wife archetype"), and also credits Serkis with his handling of the material.
Maybe there's more to this film than initially meets the eye, but even if it's primarily a showcase for a couple of solid performances and an example of what Serkis can do behind the camera, it'll probably be worth checking out. Here's the official synopsis:
For his directorial debut, Andy Serkis brings to life the inspiring true love story between Robin and Diana Cavendish (Academy Award® nominee Andrew Garfield, Golden Globe® winner Claire Foy), an adventurous couple who refuse to give up in the face of a devastating disease. After a fairytale-like courtship, Robin is struck down by polio at the age of 28, confined to a hospital bed and given only a few months to live. With the help of Diana's twin brothers (Tom Hollander) and the groundbreaking ideas of inventor Teddy Hall (Hugh Bonneville), Robin and Diana dare to escape the hospital ward to seek out a full and passionate life together — raising their young son, traveling and devoting their lives to helping other polio patients. Written by two-time Academy Award nominated writer William Nicholson, and shot by three-time Academy Award winner Robert Richardson, Breathe is a heartwarming celebration of love and human possibility.
Breathe opens in theaters on October 13, 2017.