'All I See Is You' Trailer: Blake Lively And Jason Clarke Get An Eyeful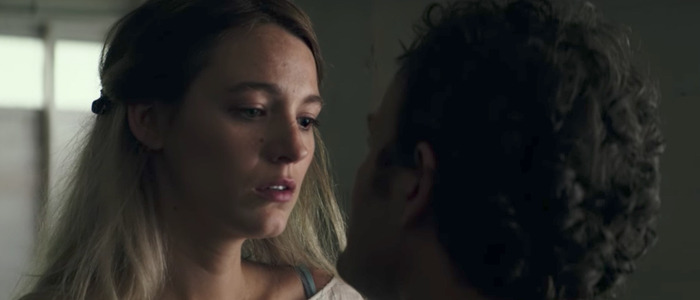 A life-altering event puts a serious cramp in Blake Lively and Jason Clarke's relationship in All I See is You. The first trailer for the film is loaded with unsettling elements, and reminds us all that the trailer trend of creepy children singing pop songs is alive and well.
Quantum of Solace helmer Marc Forster directs this thriller about a blind woman (Lively) who suddenly finds her sight restored. Some may interpret this change as something as a miracle, but the restored vision begins to cause tension between Lively and her husband (Clarke). Forster hasn't made a feature film since 2013's World War Z, specifically because he was growing sick of the repetitive nature of the projects he was offered.  "I was reading similar scripts over and over, and I was thinking to myself that everyone is kind of making these big franchise movies or these stories that kind of repeat themselves," the director told Vanity Fair. "I felt like screaming as a filmmaker. I wanted to do something daring where there was the possibility that I might fail but at least it was on something that's original and different."
The trailer for All I See Is You gives off an appropriately unsettling vibe while remaining intentionally obtuse. Is there a supernatural element here; something akin to the Hong Kong-Singaporean horror film The Eye, which had a blind woman regaining her sight only to start seeing ghosts in the process? Or is this more of a domestic psychological drama, with Clarke as a cold, unfeeling spouse threatened by his wife's sudden change? There's something commendable about a trailer that keeps so much secret, although whether or not that'll play to audiences who uniformly rejected the mysterious mother! remains to be seen. At the very least, this trailer continues my favorite overused trend: creepy kids covering a pop song, in this case The Beach Boys' "God Only Knows."
All I See Is You premiered at TIFF last week, but I have no idea if anyone bothered to see it – I heard virtually no buzz about the film during the six days it was there. Perhaps it was overshadowed by two other TIFF films that also featured Clarke, Mudbound and Chappaquiddick.
Open Road Films will release All I See Is You on October 27, 2017. Here's the official synopsis:
Gina (Blake Lively) and husband James (Jason Clarke) have an almost perfect marriage. After being blinded as a child in a nearly fatal car crash that claimed her parent's lives, Gina depends on James to be her eyes—a dependence that appears to solidify their passionate relationship.  She sees her world in her own vivid imagination with help from James' descriptions. Despite her disability, the two enjoy a colorful existence in Bangkok, Thailand where James works in insurance and Gina explores life in a foreign country.  It seems the only real hardship this loving couple faces is difficulty conceiving a child but when Gina is given the opportunity to have a corneal transplant and regains her vision, their life and relationship are upended. Gina now sees the world with a new sense of wonder and independence which James finds threatening. It is only when Gina suddenly begins to lose her sight again that she finally realizes the disturbing reality of their marriage and their lives.