'Tomb Raider' Trailer: Alicia Vikander Takes Aim As The New Lara Croft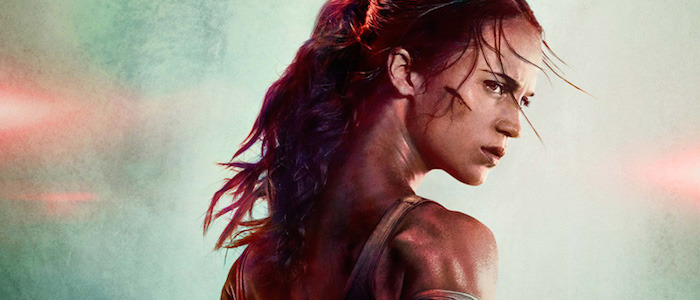 Considering the cinematic landscape right now, we knew it wouldn't be long before Oscar-winner Alicia Vikander went from making small films like The Danish Girl and Ex Machina to signing on to a big budget franchise-starter, and that's exactly what happened when she boarded Tomb Raider, Warner Bros.' upcoming movie adaptation of the 2013 video game reboot. Now the first trailer for the film has arrived, with Vikander playing a young version of gaming icon Lara Croft. Grab your bow and arrow, sharpen your ice pick, and check out the new trailer below.
Tomb Raider trailer
I'll give them this: the production team – specifically the costume designer, production designer, and cinematographer – did a terrific job capturing the look of the game, and Vikander looks great as the determined heroine. (Weirdly, the actress will be 29 years old when this comes out and she's supposed to be playing a 21-year-old proto-version of the character who isn't quite the legendary Tomb Raider she later becomes, and Angelina Jolie was 26 when she played the full-fledged heroine in the 2001 movie.) But touches like the slow-mo spikes narrowly missing Lara's face are red flags for me, and I'm now a little worried that director Roar Uthaug (The Wave) may have been convinced to populate this adaptation with hacky moments that a boardroom decided its target demographic would think are "cool." Based on what we've seen so far, I'm not exactly convinced this version of Tomb Raider is going to break the video game movie curse.
Dominic West (The Wire), Walton Goggins (The Hateful Eight, Justified), Daniel Wu (Into the Badlands), and Kristin Scott Thomas (The English Patient) co-star, and Roar Uthaug (The Wave) is directing from a script by Geneva Robertson-Dworet (Captain Marvel, Gotham City Sirens) and Alastair Siddons (Trespass Against Us).
WB also released this behind-the-scenes featurette:
And here's the film's poster, which debuted yesterday: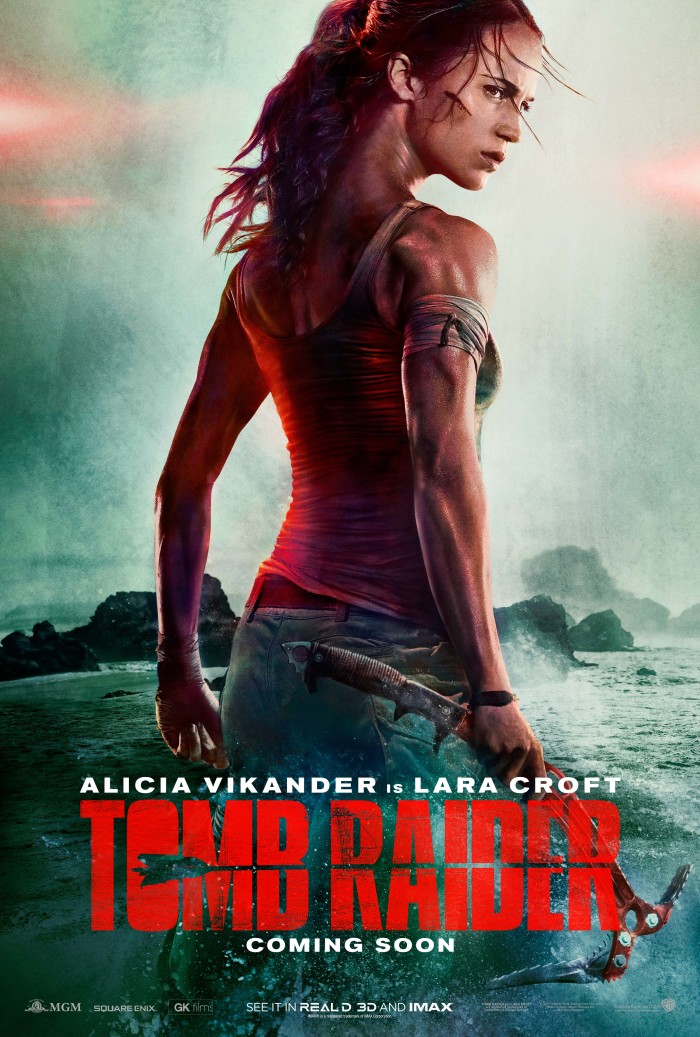 Tomb Raider arrives in theaters on March 16, 2018.
Lara Croft is the fiercely independent daughter of an eccentric adventurer who vanished when she was scarcely a teen. Now a young woman of 21 without any real focus or purpose, Lara navigates the chaotic streets of trendy East London as a bike courier, barely making the rent, and takes college courses, rarely making it to class. Determined to forge her own path, she refuses to take the reins of her father's global empire just as staunchly as she rejects the idea that he's truly gone. Advised to face the facts and move forward after seven years without him, even Lara can't understand what drives her to finally solve the puzzle of his mysterious death.
Going explicitly against his final wishes, she leaves everything she knows behind in search of her dad's last-known destination: a fabled tomb on a mythical island that might be somewhere off the coast of Japan. But her mission will not be an easy one; just reaching the island will be extremely treacherous. Suddenly, the stakes couldn't be higher for Lara, who—against the odds and armed with only her sharp mind, blind faith and inherently stubborn spirit—must learn to push herself beyond her limits as she journeys into the unknown. If she survives this perilous adventure, it could be the making of her, earning her the name tomb raider.