'Mother!' Gets An 'F' On Cinemascore, An Ironic Rare Badge Of Honor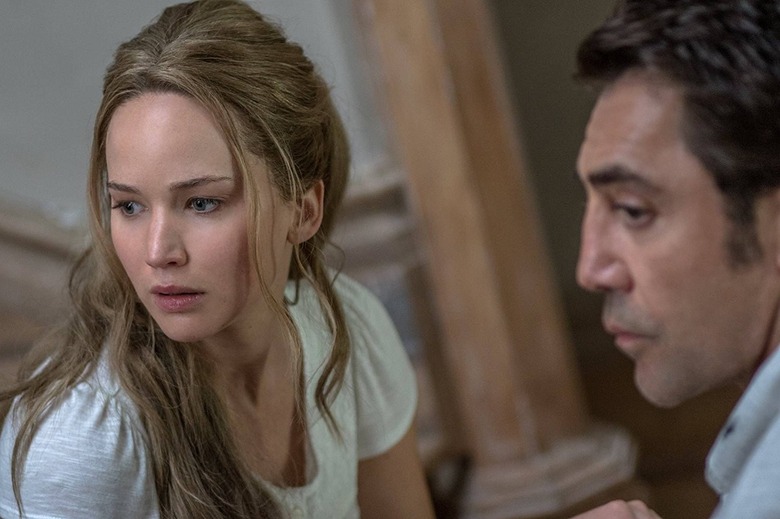 mother! is polarizing, to say the least.
While critics have lauded the film for its provocative and daring narrative with an absolutely off-the-rails third act — while also eliciting a fair share of both revulsion and reverence amongst them — audiences are firmly against Darren Aronofsky's newest film. Blame it on misleading marketing, or star Jennifer Lawrence drawing in fans who "just wouldn't get it," but mother! has earned the rare "F" grade on Cinemascore.
Cinemascore is an audience polling firm that tests random reactions after people leave a movie. While the public at large doesn't necessarily care about a movie's Cinemascore, it is often an accurate representation of the film's word-of-mouth, which remains a powerful factor despite all the hoopla made about Rotten Tomatoes killing movies' box office numbers (it's not).
Only rarely are films rated below the B or C rating on Cinemascore, with D's or F's often acting as a marker of bad or misleading marketing rather than bad creative decisions — though often it can be both. While Rotten Tomatoes has been criticized for turning movie reviews into a binary equation, there's even less room for nuance on Cinemascore, hence the wave of outrage at mother!, which seems to have set out to aggressively elicit a reaction from audiences.
Ed Mintz, Cinemascore's founder, explained in a 2016 interview with the Las Vegas Review-Journal that the scores act as an indicator of the movie's business outlook.
"A's generally are good, B's generally are shaky, and C's are terrible. D's and F's, they shouldn't have made the movie, or they promoted it funny and the absolute wrong crowd got into it."
Only a few other movies have achieved the rare, and arguably coveted, "F" on Cinemascore. Here are a few of them below, with their corresponding Rotten Tomatoes ratings:
Killing Them Softly (2012) – 74%
The Devil Inside (2012) – 7%
Silent House (2012) – 42%
Disaster Movie (2008) – 1%
I Know Who Killed Me (2007) – 7%
The Wicker Man (2006) – 15%
Alone in the Dark (2005) – 1%
While there are a few clunkers in there, films like Andrew Dominik's Killing Them Softly and Steven Soderbergh's Solaris illustrated a disconnect between the critic and audience reactions, which can be blamed on misleading marketing or expectations, or The Box, which was more ambitious and weird than anyone could expect.
And what kinds of films get that exemplary A+ Cinemascore? It's an elite club as well, containing crowd-pleasers like The Help, Titanic, The Blind Side, Toy Story, and... Soul Surfer. While cinephiles may scoff at the "mainstream-ness" of it all, prestigious dramas like Schindler's List, A Few Good Men, and Driving Miss Daisy make the grade too.
It's no surprise that mother!, which had been mostly marketed as a straight haunted-house horror film, would earn audience distaste. It's the third act that's pinned mostly as the culprit, which brutally breaks some unspoken rules of cinema in service Aronofsky's many competing allegories. Surprisingly audience reaction against mother! has been so severe that Paramount was compelled to release a statement defending the film's release (via Indiewire):
This movie is very audacious and brave. You are talking about a director at the top of his game, and an actress at the top her game. They made a movie that was intended to be bold. Everyone wants original filmmaking, and everyone celebrates Netflix when they tell a story no one else wants to tell. This is our version. We don't want all movies to be safe. And it's okay if some people don't like it.
Love or hate the film, it is admirable that Paramount will stick to its guns in supporting ambitious, original films that eschew public expectation. I'm all for more original storytelling, and would much rather that studios put more stock in unique directors' visions rather than box office returns.
/Film's Chris Evangelista says it best in his TIFF review of the film, stating, "By the time the end credits roll on mother!, you're either going to be on board with the lunacy Aronofsky is selling, or you'll be annoyed at how thick he laid it all on. At the very least, though, you won't be bored."