Netflix Wanted To To Shoot 'Stranger Things' Season 3 And 4 Back-To-Back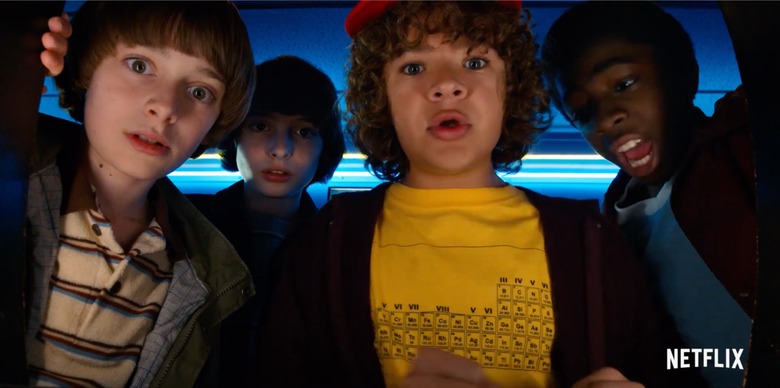 It's been a long wait for the second season of Stranger Things — and the wait will continue anew once the season hits in October and we have to wait for season 3 or 4. But the sci-fi horror series is Netflix's new flagship show, so it's understandable that the streaming service would be eager to keep the magic going for as long as possible.
The first obstacle that Stranger Things has to overcome is the rapid aging of its cute, prepubescent cast. Finn Wolfhard, Millie Bobby Brown, Gaten Matarazzo, Caleb McLaughlin, and Noah Schnapp make up the core cast of kids on bikes that form the heart of the genre show. And though they all play 12 to 13-year-olds in the show, all the actors range between 12 to 15 years old, with puberty rapidly descending on them. Netflix had a proposed solution to this looming obstacle, pitching that showrunners Matt and Ross Duffer shoot the next two Stranger Things seasons back to back, but was met with a resounding no.
According to The Hollywood Reporter, Netflix has signed on the cast members of Stranger Things for six years, though only season 3 has been greenlit. But the runaway success of the first season of the nostalgia-fueled series has all but guaranteed the next few seasons of the show. There's only that pesky hurdle of puberty hitting their child actors. The publication wrote:
A source with knowledge of the Stranger Things world says Netflix had hoped to shoot seasons three and four back-to-back to get ahead of any potentially awkward adolescent transitions for its young actors. "Every time you have a show that relies so heavily on the charm of kids, you want to capture that," says this person.
However, executive producers Shawn Levy and Dan Cohen and the Duffer brothers — who created, run, and write the series — rejected the plan. Not only would the show have to work around the logistics of filming with underage actors for extensive periods of time, the writers' room is just too small to turn around episodes so quickly.
It's also a matter of quality over quantity, Matt Duffer had said in an interview with The Playlist earlier this year.
"I think people want us to keep doing more, but you know for us, it's all about quality control. Like people want, television particularly, they want it on this annual cycle. Movie sequels never come out on an annual cycle, unless they're shooting back to back."
And though the cast are signed with Netflix for six years, the Duffer brothers have said that they intend for Stranger Things to be a four-season done deal. Though Stranger Things has taken over the pop culture zeitgeist, cleverly tapping into the current wave of '80s nostalgia, it's good that the Duffer brothers value telling a complete narrative over giving into the peer pressure of inherent in being one of the most popular shows around. It's possible too that the '80s nostalgia phenomenon will reach oversaturation, and Stranger Things would do well to close out while it's still going strong. And if that means watching Mike and Dustin's voices drop during season 4, so be it.
Stranger Things season 2 premieres on Netflix on October 27, 2017.