'Unicorn Store' Review: Brie Larson's Directorial Debut Is A Charming, Honest Film [TIFF]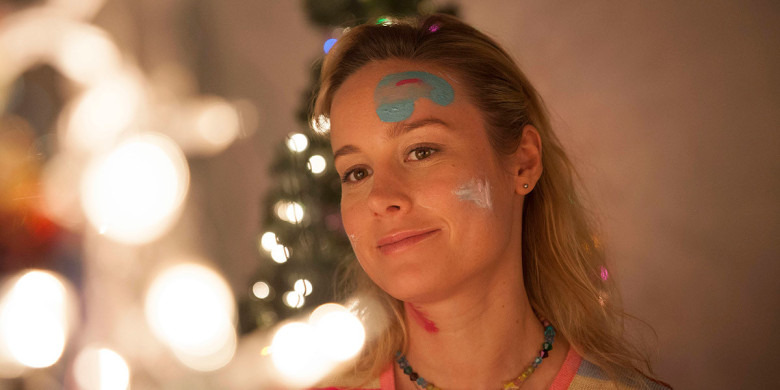 "The most grown-up thing you can do is fail at things you really care about," imparts Joan Cusack's Gladys to her daughter, Brie Larson's Kit, towards the close of Unicorn Store. It's the perfect nugget of wisdom for a tale of stilted, prolonged adolescence. But the film, Larson's debut behind the camera, is a world away from the Seth Rogen-style manchild so prevalent in the past decade of comedy.
Kit, like many millennials, struggles to adapt to a corporate environment and bristles at the drabness of office life. She's an artist by training with an instinct to color outside the lines, a proclivity received unkindly by her stern professor. Kit snags a temporary gig at PR&R PR, where she finds herself unsure of how to reconcile her well-nurtured passion for individual expression with the mandate to be a productive, contributing member of society. At this sterile company, suit-clad men envision selling products on their purpose alone. Kit wants to set her imagination free to convey how those same products make her feel.
All the while, Kit uses her spare time to prepare for the arrival of a unicorn promised by a mysterious stranger known only as The Salesman (a delightfully bonkers Samuel L. Jackson) in a decked-out "unicorn store." This three-part task requires her to befriend a local handyman from the hardware store, Virgil (breakout Mamoudou Athie), for help with the physical labor. A true joy of Unicorn Store is watching how Virgil's deadpan clashes with Kit's unbridled enthusiasm over these unusual requests. Larson plays her character with the gusto of a young girl desperate to spot Santa Claus on Christmas. She's childlike without being childish, a tough balance to manage – but one that, of course, Larson can manage without breaking a sweat.
By now, it's natural to wonder if the unicorn is supposed to be taken literally. Larson doesn't ask if it's real – she asks whether that reality even matters. As Kit observes, "Who are we to say what's real and what's not in the eye of the true believer?" All the while, one thing becomes abundantly clear in Unicorn Store: Kit prefers fantasy over conventionality.
If this all sounds like another rehashing of first-world problems, that read is not incorrect. But Larson at least has the smarts to check the privilege of her character. Kit's parents, played by Cusack and Bradley Whitford, work for an organization for troubled youth called Emotion Quest. At a campfire confessional on one of their retreats, Kit bears her soul to mixed response from the crowd. Rather than admit to her shortcomings, she lashes out at the Emotion Quest participants, ratting them out for telling her earlier that they planned to lie in the dialogues. Kit's father Gene quickly reminds her that they at least have an excuse for being the way they are – they faced abuse and countless other maladies. She just has the anguish of her own mind.
Their challenge leads Kit to discover a truth inside herself, and it's a lesson far more insightful than most films in this coming-of-age subgenre. Adulthood does not mean extinguishing the flame of childhood. It means figuring out a way to use that passion to help others by putting them before oneself. Unicorn Store might not wield the fanciest and finest filmmaking techniques to convey this morsel of knowledge, but it does show Larson possesses a wisdom beyond her years (as anyone who follows her on social media can attest). The first part of the equation can be learned, honed and perfected. The second part is not so easy to pick up.
/Film Rating: 7 out of 10