Liam Neeson Retires His Particular Set Of Skills, Says He's Done Making Action Movies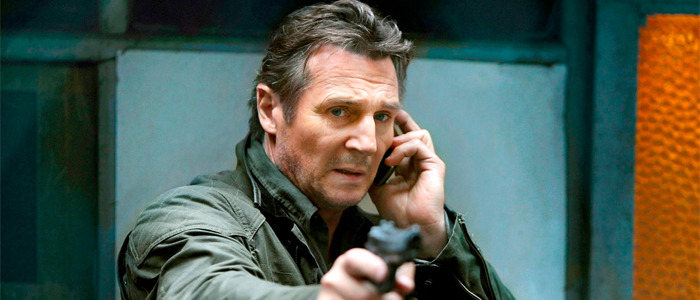 Liam Neeson is "taken" with the action genre no more.
The unlikely action star is retiring his particular set of skills and turning his back on the action genre a few months past his 65th birthday. I say unlikely because Neeson was a renowned prestige drama actor until the late '90s and early '00s saw him dabbling in blockbusters like Star Wars: The Phantom Menace and Batman Begins. Then Taken came along in 2008 and gave him a late-career boost, transforming him into the modern era's exemplary grizzled action star.
Sky News spoke to Liam Neeson at the Toronto International Film Festival, where Neeson claimed that his late-career turn toward action-thrillers was "all a pure accident." But while he was willing to cross fists with the younger action heroes when he was still a fresh-faced 56, Neeson will be 66 next year and is no longer willing to risk his health to become one of the rare septuagenarian action stars:
"They're still throwing serious money at me to do that stuff. I'm like: 'Guy's I'm sixty-f******-five.' Audiences are eventually going to go: 'Come on.'"
Neeson was primarily known for his acclaimed roles in Schindler's List and Les Misérables before the role of retired CIA operative Bryan Mills landed on his lap in 2008. The film launched a multimillion-dollar franchise and two sequels, as well as a new career phase for Neeson in which he became one of the world's most foremost action stars. In the late 2000s, Neeson was among the lone exceptions to the surge of young, lithe action stars, and — despite his lack of history in the genre — a harkening back to the hypermasculine action heroes of the '70s and '80s.
But since Neeson was already well into his 50s by the time the first Taken was released in theaters, there would be an inevitable time limit to how much longer he could take on these intensive roles. So the next few years saw Neeson only increase his standing as an action star, reprising his grizzled character type in movies like The Grey, The A-Team, and Run All Night. And Neeson has two more action thrillers down the pipleine: Hard Powder and The Commuter.
Neeson said that he was more interested in taking on serious roles again, like his performance in Martin Scorsese's Silence in 2016.
In 2015, Neeson started to see the end for his action career in sight, telling Collider:
"Maybe two more years. If God spares me and I'm healthy. But after that, I'll stop [the action] I think...The success of certainly the Taken films, Hollywood seems to see me in a different light. I get sent quite a few action-oriented scripts, which is great. I'm not knocking it. It's very flattering. But there is a limit, of course."
Now if only Neeson could convince Tom Cruise to do the same.