Jim Carrey Regrets Rejecting Spike Jonze As Director For 'Ace Ventura 2'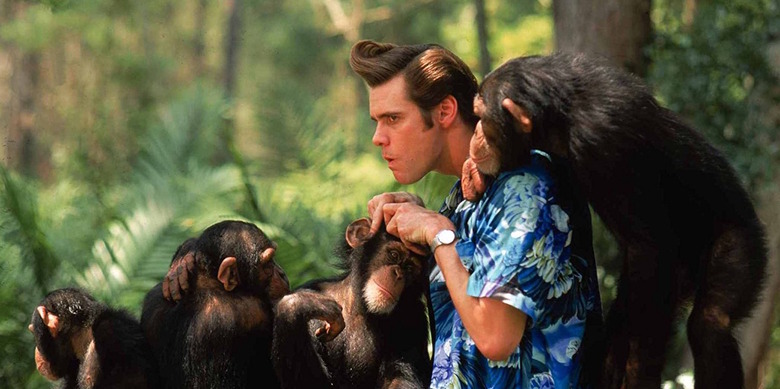 Some of our greatest directors get their starts in the most unexpected places. For Spike Jonze, it could have been by directing the sequel to Jim Carrey's slapstick comedy classic Ace Ventura: Pet Detective, if fate didn't have its way.
In other words, Jonze could have won his Oscar 19 years earlier than he did when he brought home the trophy in 2013 for Her.
Back when Jonze was a fresh-faced, untested director, he had vied for the director's chair for Ace Ventura: When Nature Calls. Unfortunately, he was turned down by Carrey, who has regretted the decision ever since.
Carrey recounted the story at the Toronto International Film Festival [via ScreenCrush] where he was promoting his and Jonze's new documentary Jim & Andy: The Great Beyond — uniting the filmmaker and actor 22 years after they nearly worked together. Carrey said:
"I've been wanting to do something with Spike forever. I was stupid enough to turn him down to direct Ace [Ventura] 2, cause I had no idea who he was. And he came in and pitched all kinds of s***, and he was about to take over the world and I didn't know it. I was like 'I don't know, this guy's new.' And I've been kicking myself ever since."
You would think in Ace Ventura:When Nature Calls, which has a scene in which Ace emerges nude from the butt of a robotic rhino, nothing would be off limits. So you can't help but wonder what "kind of s***" Jonze pitched that would have been considered too wild even for Carrey.
Steve Oedekerk, the screenwriter for The Nutty Professor, ultimately got the gig to write and direct Ace Ventura: When Nature Calls, but Jonze wasn't long without work, making his feature film debut with the acclaimed Being John Malkovich in 1999.
Twenty years later, it doesn't look like Carrey and Jonze will be engaging in any kind of "crazy s***" now that they actually are working together. Jim & Andy: The Great Beyond is about the making of Carrey's 1999 Andy Kaufman biopic Man on the Moon, following Carrey as he looks back on his absorbing role as Kaufman. But, of course, the two eccentric comedians couldn't resist poking some holes in the serious documentary genre, giving the film the full title, Jim & Andy: The Great Beyond – Featuring a Very Special, Contractually Obligated Mention of Tony Clifton. Netflix just picked up the documentary, which is produced by Jonze and directed by Chris Smith.