Joseph Gordon-Levitt Has A Cameo In 'Star Wars: The Last Jedi'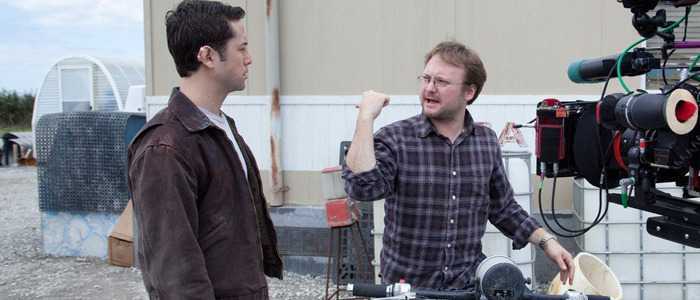 Writer-director Rian Johnson and actor Joseph Gordon-Levitt have collaborated on every one of Johnson's three feature films thus far, so it's not much of a surprise to hear that Gordon-Levitt is heading to a galaxy far, far away for a small part in Johnson's biggest movie to date, Star Wars: The Last Jedi. Find out everything we know about the Joseph Gordon-Levitt Star Wars cameo below.
During a Japanese press tour for The Last Jedi (the same one in which he took himself out of the running to direct Episode 9), Johnson revealed that Gordon-Levitt will be providing a voice in his sci-fi sequel:
Here's Johnson's direct quote:
"You know what I can tell you is that my – and we haven't said this yet, but I think this is OK to say – is that my very good friend, the actor Joseph Gordon-Levitt, who was in a movie I made called Looper, he does a cameo as a voice of an alien in the film. It's a very brief little thing, but it's fun, and if you watch the movie, maybe you'll be able to hear and pick out Joe's voice in the movie. That's the first time I'm revealing that."
Let the speculation begin about what kind of alien he'll play! I'm guessing he'll play one of the many aliens in the gambling city of Canto Bight, but we'll have to keep our ears open to confirm when the film comes out.
The Last Jedi seems stacked with cameos thus far, with rumors of Tom Hardy, Prince Harry, Prince William, and British pop star Gary Barlow playing Stormtroopers seemingly confirmed by Star Wars star John Boyega. Hard to blame them – I'm sure we'd all take the opportunity to be in a Star Wars film if it came our way. And remember, James Bond actor Daniel Craig played a Stormtrooper in J.J. Abrams' The Force Awakens.
But Gordon-Levitt isn't the only Johnson collaborator getting a cameo in The Last Jedi. Actor Noah Segan, who played Dode in 2005 noir mystery Brick and Kid Blue in the 2012 time travel thriller Looper – both of which were directed by Rian Johnson and starred Gordon-Levitt – is also rumored to pop up in the new Star Wars movie. Segan and Gordon-Levitt also both had very small parts in an early scene in The Brothers Bloom, Johnson's under-seen 2008 con man movie. Segan has a couple of lines, but JGL's character doesn't even speak in that movie; you can watch a poor-quality YouTube embed below, but I'm planning on rewatching all of Johnson's movies leading up to The Last Jedi, and would recommend you do the same:
Star Wars: The Last Jedi arrives in theaters on December 15, 2017.