'47 Meters Down' Sequel Is Coming, Titled – You Guessed It – '48 Meters Down'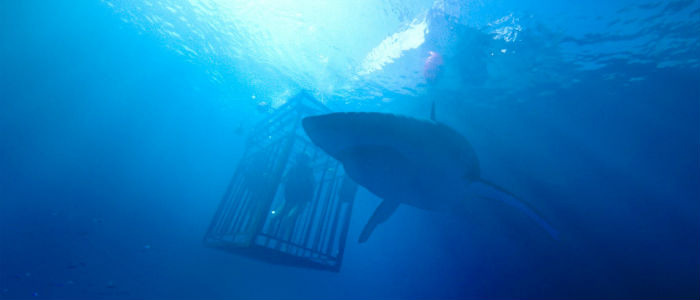 47 meters apparently wasn't quite deep enough. After the shark attack thriller 47 Meters Down surprised Hollywood earlier this summer, a sequel, naturally titled 48 Meters Down, is now officially in the works with the director of the original coming back for more shark attack action. 
The Hollywood Reporter brings word about the sequel, which director Johannes Roberts is returning to direct. He'll also co-write the second film's screenplay with his frequent collaborator Ernest Riera, who co-wrote the first movie as well.
The sequel relocates the thrills from Mexico to Brazil and follows "a group of girls looking for adventure in the coastal metropolis of Recife. Hoping to get off the well-worn tourist trail, they hear about some hidden underwater ruins only to find that the turquoise waves of their secret Atlantis aren't completely uninhabited." Cue the scary music.
A U.K. company called The Fyzz Facility is financing and producing the sequel, and one of its spokespeople released this statement:
"We are so pleased by the huge success of 47 Meters Down, it totally exceeded all expectations," said James Harris of The Fyzz Facility. "48 Meters Down will take the claustrophobia of cave diving and the thrill of shark encounters and move everything to the next level."
A small note: I'm not sure if Harris actually means cave diving or "cage" diving in that quote since the first film starred Mandy Moore and Claire Holt as vacationing sisters who are convinced to try cage diving with sharks. Recife is on the eastern edge of Brazil and is indeed known for its underwater wreckage (as the synopsis describes), but that region doesn't seem like much of a hotspot for cave diving. Movie magic can convince us of just about anything, but I thought that might be worth pointing out because cave diving seems like a departure from the formula established in the original. And no, I won't tell you whether or not Moore or Holt's characters might return because that would spoil the ending of the first movie.
47 Meters Down is one of the biggest surprise success stories in Hollywood this year. Initially set to go straight to VOD in 2016 thanks to the Weinstein Company's Dimension Films, a company called Entertainment Studios acquired it and believed in the movie so much that they gave the $5.5 Million indie a wide release. And that decision paid off hugely: it made more than $53 million worldwide, making it the most successful indie movie in the United States this year.