'Blade Runner 2049' TV Spot: Ryan Gosling And Harrison Ford Are Being Hunted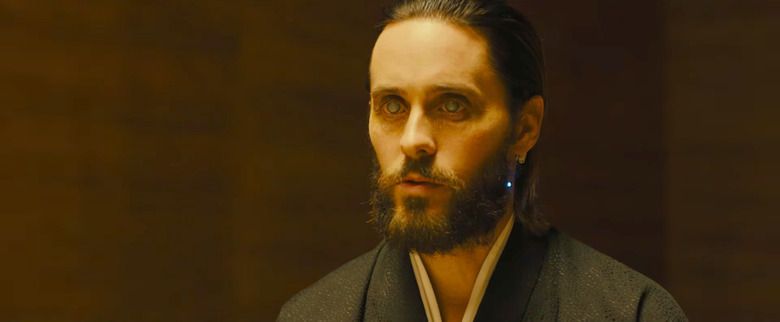 The plot of Blade Runner 2049 has thus far been shrouded in mystery, and the marketing and trailers for the Denis Villeneuve film seem intent on keeping it that way. However, it's inevitable that we'll learn a smidgen more of the secrets of this film.
The newest Blade Runner 2049 TV spot gives us a hint of the motivations behind the Big Bad played by Jared Leto, as well as why Harrison Ford's Rick Deckard went into hiding for 30 years after the events of the original Blade Runner.
The TV spot opens with a brief new scene between Robin Wright's commanding Lt. Joshi and Ryan Gosling's Officer K. "I found him," Officer K tells Robin Wright's Lt. Joshi, who reacts with disbelief before ordering him to "erase everything...or you brought a war."
A war that will supposedly be waged between the Los Angeles Police Department blade runners and Leto's Niander Wallace, who declares to his minion that "Replicants are the future." What he intends to do with that declaration is still a mystery, but it could be inferred that Wallace wants to wage some sort of Replicant revolution.
"I have the lock, and he has the key," Wallace drawls, cutting to a shot of Rick Deckard, suggesting that either Deckard has the key or is the key.
Deckard has spent the last 30 years on the run, "being hunted" for some unknown reason. Officer K's discovery of him starts up the hunt again, and Deckard and Officer K are forced together to keep Wallace and his plan at bay.
Here's the official synopsis for Blade Runner 2049:
Officer K (Ryan Gosling), a new blade runner for the Los Angeles Police Department, unearths a long-buried secret that has the potential to plunge what's left of society into chaos. His discovery leads him on a quest to find Rick Deckard (Harrison Ford), a former blade runner who's been missing for 30 years.
Blade Runner 2049 is the sequel to the sci-fi classic, Blade Runner, which was directed by Ridley Scott and released in 1982. Loosely based on Philip K. Dick's novel Do Androids Dream of Electric Sheep? and starring Harrison Ford as a blade runner tracking down replicants — or eerily human androids — it became one of the most influential sci-fi films of all time. It's a high standard for Denis Villeneuve to live up to, but the French-Canadian director is fast becoming one of the most innovative, intellectual directors today, and with the help of master cinematographer Roger Deakins, I don't doubt that he will rise to the task.
Blade Runner 2049 is set to hit theaters October 6.