'Neo Yokio' Trailer: Ezra Koenig's Netflix Anime Starring Jaden Smith Is A Thing That Exists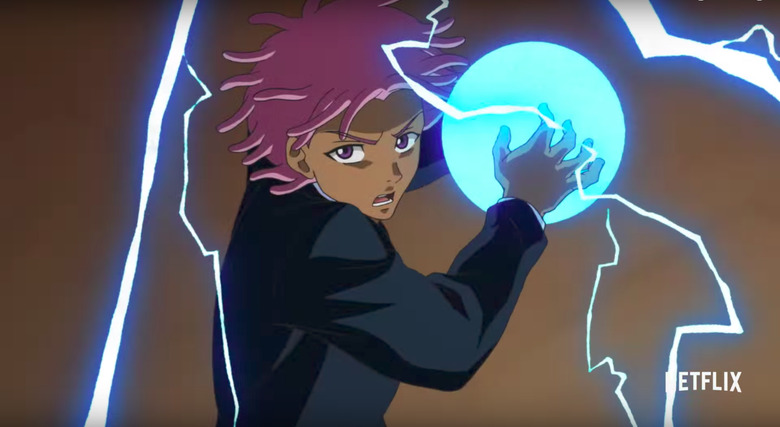 The lead singer of indie rock band Vampire Weekend, Ezra Koenig, is teaming up with actor/singer/Twitter personality extraordinaire Jaden Smith to create an anime series for Netflix.
That's a sentence you just read, and yes, it's completely real.
Neo Yokio is a surreal "postmodern homage to classic anime, English literature, and modern New York fashion and culture" written by Koenig and Nick Weidenfeld, starring Smith as the main character who fights demons and rival eligible bachelors in a city called Neo Yokio. And like the names and ideas that went into this anime, the recently trailer is just as bonkers.
What...did I just watch? It seems like a messy, visually overstimulating mish-mash of random cliched anime elements following a nonsensical plot about demon slayers and dating. I think? I saw elements of sports animes (the first show was pulled right out of Prince of Tennis, I swear), mecha animes, magical girl animes, and I don't know... Fooly Cooly? That last, trippy anime is the closest I can come to describing whatever this is, except Neo Yokio makes even less sense.
I will say however, that the flat line reading of "She's possessed? That sucks" followed by immediate sirens and explosions is my favorite thing about this trailer.
It's evidently supposed to be an homage to anime as well as a satirical send-up of the genre, but I feel like it fails to do both those things. It's like two indie music artists got high one time and watched an anime, and decided to recreate that exact experience. Which, if you're into that sort of thing, looks like they were successful.
Well, since I'm left virtually speechless by this trailer, the only thing left is to share the very bizarre, incredibly long synopsis that Netflix released on Neo Yokio:
Welcome to Neo Yokio, the greatest city in the world. It's the most populous urban agglomeration in North America, but its prestige does not merely stem from its size. Neo Yokio is a diverse labyrinth of cultural and architectural innovation at the forefront of global fashion and finance.
All of this is cold comfort to the lovesick Kaz Kaan (Jaden Smith), the youngest member of a family of "magistocrats" – pink-haired demon slayers who once liberated the city. Today, his demon-slaying is barely more than a side-hustle coordinated by his Aunt Agatha (Susan Sarandon) – Kaz himself would rather concern himself with shopping, field hockey and – of course – mending his broken heart.
Always by Kaz's side are his faithful mecha-butler, Charles (Jude Law), and his inseparable friends Lexy and Gottlieb (The Kid Mero and Desus Nice) as he navigates the complexities of life in Neo Yokio and tries to stay one step ahead of his arch-rival, Neo Yokio's number one most eligible bachelor, Arcangelo Corelli (Jason Schwartzman.)
Things take a mysterious turn when Kaz is drawn into the turbulent world of ex-fashion blogger Helena St. Tessero (Tavi Gevinson), setting in motion a sequence of events that force him to question everything he knows about Neo Yokio.
Neo Yokio will premiere its six episodes on Netflix on Friday, September 22.