Now Stream This: An Animated Masterpiece, A Great Stephen King Adaptation, And Robert Zemeckis' Best Film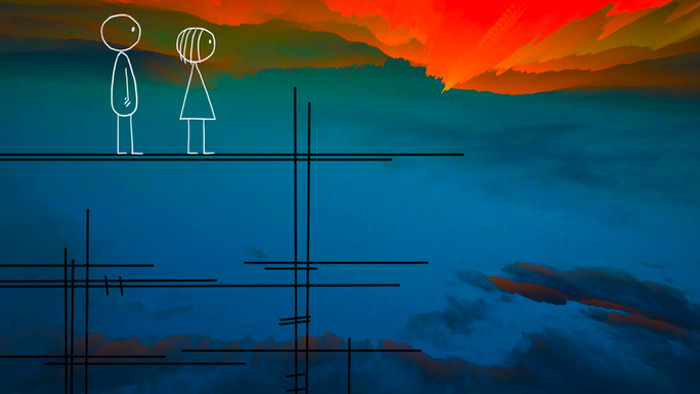 (Welcome to Now Stream This, a column dedicated to the best movies streaming on Netflix, Amazon, Hulu, and every other streaming service out there.) 
I'm at the Toronto International Film Festival this week, seeing a plethora of fantastic films. If you're unable to attend TIFF, don't worry – there are plenty of great movies you can watch from the comfort of your own living room. Unlike me, you won't have to board a rickety plane and grasp the armrests for dear life as you fly through turbulence! Instead, you can kick back on your couch and stream some of the best films available at the push of a button. In this edition of Now Stream This, we have an animated short film masterpiece; one of the best movies of the 21st century; a Stephen King classic; a horror anthology and more! So let's get streaming.
Now Streaming on Netflix
This month, Don Hertzfeldt's World of Tomorrow Chapter Two will play Fantastic Fest. First thing's first: you need to watch the original. It'll only take you 15 minutes of your time, and you won't regret it. Hertzfeldts's funny, beautiful, tear-inducing sci-fi saga follows a young girl who is visited by a clone of herself from the distant future. To say more would ruin the genuine surprise and joy that comes from the film. Watch it on Netflix ASAP.
Streaming on Netflix 9/20
Remember when Todd Haynes' Carol swept the 2015 Academy Awards, taking home Best Picture, Best Director, Best Actress, Best Supporting Actress, and Best Anything Ever? No, of course you don't, because the Oscars are a joke. The Academy may have snubbed Haynes' gorgeous melodrama, but that doesn't mean you have to. Rooney Mara is at her absolute best as a shy shopgirl in the 1950s who falls head over heels for a wealthy older woman, played to perfection by Cate Blanchett. Its one of the best films of 21st Century, and now you can stream it from the comfort of your own home.
Now Streaming on FilmStruck
The Coen Brothers made their feature film debut with this sweaty, twist noir that takes the conventions of the genre and turns them on their head. Frances McDormand and John Getz are in the midst of a torrid affair, leading McDormand's husband Dan Hedaya to hire super sleazy private eye M. Emmet Walsh to bump her off. Nothing goes according to plan. The fact that the Coens were able to deliver this movie on their first try is a testament to how insanely talented they are.
Now Streaming on Hulu
Back before Robert Zemeckis made motion-capture horrorshows starring dead-eyed computer creations, he used to make movies. In 1997, he followed-up his Academy Award winning Forrest Gump with Contact, his best film (don't @ me). While Gump may be the more beloved film (note: it shouldn't; it's bad), Contact is a challenging, deep-thinking sci-fi adventure that raises complicated questions all within a blockbuster package. Jodie Foster is an astronomer who finds proof of extraterrestrial life, much to the alarm of the entire world. This movie's so good, they should've sent a poet.
Neil Gaiman's Likely Stories
Now Streaming on Shudder
Horror anthologies are big now. Hell, they keep renewing American Horror Story, even though it hasn't been good for about thirty seasons! The good folks at Shudder have gotten into the anthology game with Neil Gaiman's Likely Stories, a series that adapts several of author Neil Gaiman's short stories into disturbing little episodes guaranteed to make you uncomfortable. While it's often hard to translate Gaiman's unique prose into film, Likely Stories does a pretty darn good job.
Now Streaming on FilmStruck
Along with the aforementioned Blood Simple, FilmStruck is running a series this month that highlights the first features of acclaimed filmmakers. That includes David Lynch's darkly comedic nightmare Eraserhead. Lynch's brilliant Twin Peaks revival just ended, but if you haven't had your fix of the filmmakers particular brand of weirdness, why not start at the very beginning with his feature debut, where Jack Nance and his unique haircut travel through a black and white world of misunderstandings and parental anxiety. It might be too much for you to handle, but just remember, in heaven, everything is fine.
Now Streaming on Hulu
The highly anticipated big screen adaptation of Stephen King's It will be giving audiences the creeps this weekend, but if you need some more King in your life, you can't go wrong with Brian De Palma's stylish adaptation of the master of horror's first novel. Sissy Spacek is a shy, bullied girl who learns to harness her destructive psychokinetic powers, all while trying to get a date to prom and deal with overbearing, super-religious mother. We've all been there, right?
Now Streaming on Amazon Prime Video
Conspiracy, produced for HBO, is like the anti-12 Angry Men. While 12 Angry Men was about a room full of hot-tempered men slowly coming to their senses to perform a noble deed, Conspiracy follows cool, collected men methodically plotting an act of unmitigated evil.  Colin Firth, Kenneth Branagh and Stanley Tucci lead a star-studded cast in this film based on the actual meeting where Nazi leaders plotted their "Final Solution." This is a chilly, chilling film that perfectly illustrates the banality of evil, as a group of well-dressed, well-spoken individuals whittle millions of lives down to cold, hard numbers.
Now Streaming on Shudder
One of the best horror movies you've never seen. Eduardo Sánchez, one half of the filmmakers who made The Blair Witch Project, directed this slow-burn, dread-inducing film, which follows former drug addict Molly (Gretchen Lodge, giving an absolutely incredible performance) trying to put her life back together. Molly and her new husband move into her old family home, which may or may not be haunted by the ghost of her abusive father. Or maybe the presence haunting the house is something far, far worse. Lovely Molly is like an glove full of ice that takes hold of your heart and slowly squeezes until the credits roll. Watch it with all the lights out and you might stay up all night with all the lights on. As if that'll keep you safe.
Now Streaming on Amazon Prime Video
Writer-director Patricia Rozema helms this post-apocalyptic fable the posits that the end of the world won't come as the result of war, or plague, but rather from a lack of power. Electricity and energy are so vital to our modern way of life that if there was a massive power outage that shut down everything, life as we know just couldn't survive. Ellen Page and Evan Rachel Wood play two sisters struggling to survive in this new, powerless world.