Trailer Roundup: 'Hostiles', 'A Fantastic Woman,' 'Wheelman,' And 'The Lodgers'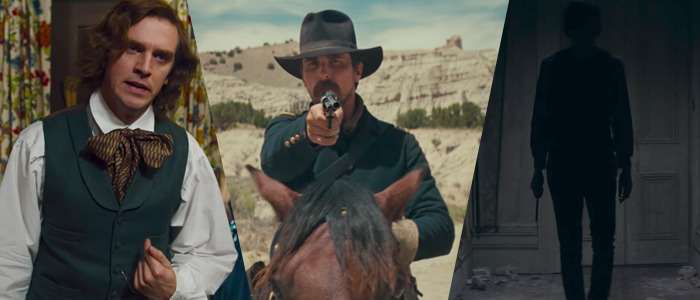 In the midst of all of the news items we regularly cover, sometimes a trailer or two finds its way past us and slips through the cracks. That's especially true during a week that contains a major holiday. So meet me below and check out these trailers for Hostiles, The Lodgers, A Fantastic Woman, The Man Who Invented Christmas, and Wheelman, all in one place.
Hostiles
Director Scott Cooper tends to make movies that work really well in trailer form, but not quite as well in their full length. Hopefully he breaks that streak with Hostiles, a new western that reunites him with his Out of the Furnace star Christian Bale, Rosamund Pike (Gone Girl), and Jesse Plemons (Breaking Bad). Looks like Cooper has brought his typically sumptuous cinematography along, and the actors are all solid, but there's still a vibe here that leaves me a little cold. What do you think?
Hostiles plays at the Toronto International Film Festival later this month, and will likely play in a wider release this year.
The Lodgers
I thought I was picking up on some incest hints even before Game of Thrones' David Bradley showed up and made me think about one of the most popular properties on TV right now that also includes incest. But whether or not that's what's going on in The Lodgers or not, this film looks like an appropriately creepy entry into the gothic haunted house genre and should provide some nice atmospheric horror for those looking for it later this year.
The Lodgers also plays at TIFF and has a chance at debuting wider later this year, but I wouldn't be surprised if a distributor scooped this up and dropped it in that The Woman in Black slot in early February next year.
A Fantastic Woman
Sebastián Lelio's A Fantastic Woman is already garnering awards buzz for its 28-year-old breakout star Daniela Vega, and this new trailer from Vulture showcases a few reasons why. In addition to what looks like a strong performance in its own right, it would be especially cool if Vega managed to get nominated for an Oscar because that would make her the first trans woman to receive that honor. Fingers crossed.
The Man Who Invented Christmas
Though Dan Stevens and Christopher Plummer are excellent actors, this one looks like a total whiff to me. The premise for this film strikes me as inherently anti-cinematic, and it seems like little more than a series of opportunities to wink at the audience with easily recognizable lines and moments from A Christmas Carol. Yikes.
The Man Who Invented Christmas hits theaters on November 22, 2017.
Wheelman
Getaway drivers in movies are often the epitome of cool. Netflix is trying to make Frank Grillo (Warrior, The Grey) the next in a long line of badasses in Wheelman, a movie that looks as if it owes a huge debt to Nicolas Winding Refn's Drive.
Wheelman speeds onto Netflix on October 20, 2017.