'Inhumans' Showrunner Scott Buck On Pivoting From 'Iron Fist' To IMAX [Interview]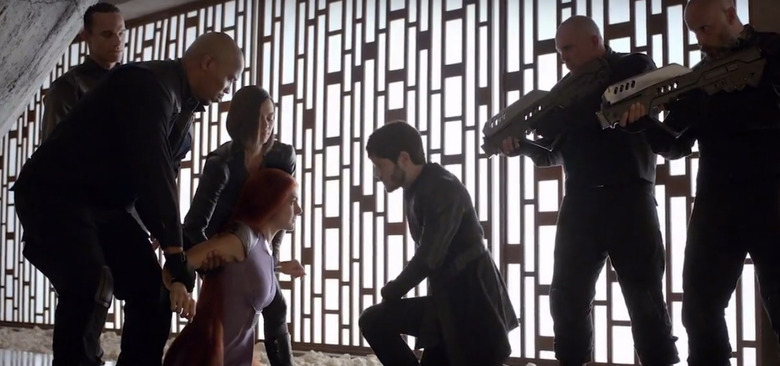 The next Marvel TV series will hit theaters before it lands on ABC. Marvel's Inhumans will play its first two episodes on IMAX screens, albeit as a shorter cut. From showrunner Scott Buck (Iron Fist), Inhumans is a more family friendly show than Marvel's Netflix offerings. It's about superheroes who live on the moon, but come down to Hawaii with their teleporting dog Lockjaw.
Black Bolt (Anson Mount) is the silent king of Attilan, the Inhumans' home on the moon. He communicates with his Queen Medusa (Serinda Swan) via a sign language that Mount created himself (so far it's a 50 page Google doc, he says). When Black Bolt's brother Maximus leads an uprising, the Inhumans flee to Earth where their adventure begins.
Buck spoke with /Film at the ABC party for the Television Critics Association.
What was the timeline for you between Iron Fist and Inhumans?
About five minutes. I had just wrapped on Iron Fist, was looking forward to a little time off, relax. Then I got a call from Jeph Loeb where he pitched the show to me. It was so interesting and so different from anything I had ever done with such a huge cast of really interesting characters that I just couldn't possibly say no.
Was it very different developing a team show than a solo one?
In some ways it was easier. There is one big driving story that carries you throughout, a big family story, but otherwise, it was coming up with a bunch of smaller stories for each of our individual characters. Since I tend to think of myself primarily as someone who likes to write characters, that made it a lot more fun for me to do.
Is this Hamlet?
Oh, I would never flatter myself by saying it's anything remotely like Hamlet, but it is a family drama in a big way. So yes, in some aspects. We're certainly aiming to do something big like that, but I would never say anything I did was remotely Hamlet.
Is it a lot more family friendly than the Netflix show?
I think so, being the fact that we're doing an ABC show and also the fact that it's about a family. Because also these characters are so fantastical in a way, it makes it more like a comic book than I'd say Iron Fist is.
I thought even kids as young as five could probably watch it.
It might be. My kids are seven years old and I will watch it with them, but I will want to talk them through it because there are some adult moments and there are things that they won't understand, but I think they will still enjoy it. We start out with our royal couple in bed so yes, there's adult moments.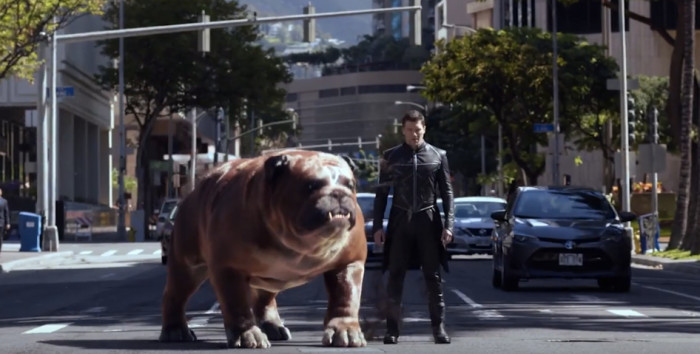 You have all the sets of their home on the moon. Are those all gone once they come to earth?
No, because we continue to cut back and forth between Hawaii and Attilan. A significant number of our cast is still in Attilan throughout the series.
Is Lockjaw in every episode?
Lockjaw is in every episode. He's an important part of the family. We've got to check in on him.
How do you manage that visual effect every week?
It's kind of fun. It's weird shooting that when there's either nothing there or a big gigantic blue styrofoam dog. When you finally see the scene cut together with the actual CGI animation, it suddenly becomes something very different and very exciting to see, the dog actually in the scenes.
Do you imagine you could publish Anson Mount's 50 page language like Dothraki or Klingon?
That's Anson's private personal property, so if he wants to put it up for sale... I do think, much like the way someone might want to learn the Klingon language, someone might want to learn Black Bolt's language as well.
How did you choose the cuts for the IMAX and broadcast versions?
I sort of knew writing it what I was getting into, that there would be two episodes for ABC that I would then edit down to one episode for IMAX. There were storylines that I knew we could pull out of the IMAX version and put into the ABC version.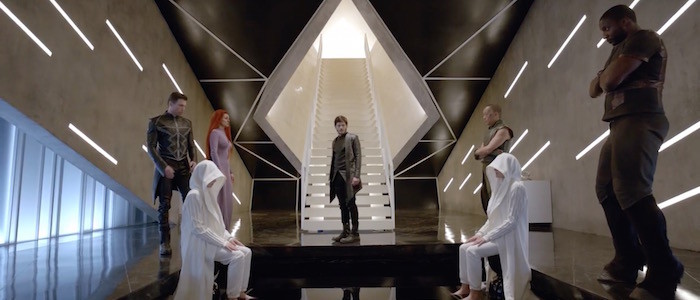 What will IMAX viewers miss?
I don't want to give that away. That's something I can't necessarily give away, but there's an entire storyline that is not in the IMAX version.
What can we look forward to in the second hour?
In episode two, all hell breaks loose.
Did you draw anything from Daisy on Agents of S.H.I.E.L.D. for how you'll portray Inhumans?
We all live in the same universe so we had to be aware of what they did in Agents of S.H.I.E.L.D. but we're a completely different show that stands alone. It's not like our characters cross paths in any way at this point but our characters are aware of potentially what's happening in Agents of S.H.I.E.L.D.
Do they know Daisy exists?
Yes.
Are you attached to a second season of Iron Fist?
No, Iron Fist is up and going now with a new show runner, Raven Metzner who's fantastic and it's in very good hands. I'm sticking with Inhumans.
***
Inhumans is in IMAX theaters Friday, September 1 and premieres on ABC September 29.