'Marshall' Trailer: Chadwick Boseman Brings Justice As Thurgood Marshall In Biopic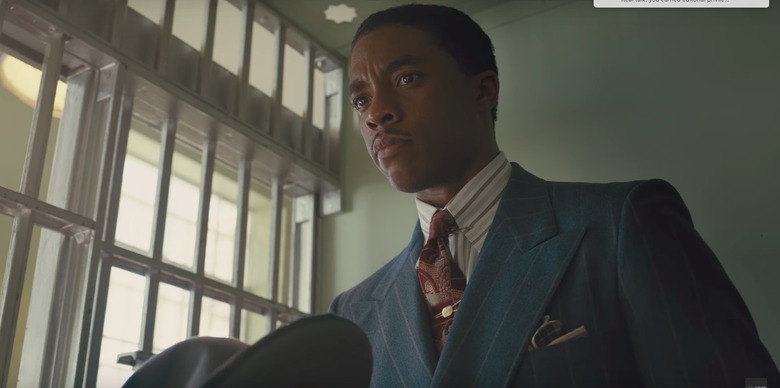 Chadwick Boseman can't seem to get enough of playing prolific black historical figures in biopics.
After putting on his dancing shoes as James Brown in Get On Up, Boseman's latest turn is as the first African-American Supreme Court Justice Thurgood Marshall in the simply titled Marshall, when he was just a strapping young lawyer who can punch guys. It's nice to see that the Black Panther training is paying off.
Boseman and co-stars Josh Gad and Sterling K. Brown introduced a first look for Marshall, putting on a brief little skit before the official trailer.
The Marshall trailer is pretty cut and dry as a biopic — barring the cool introductory moment of Boseman's Thurgood when he fights three racist men at a bar. Rather than the dignified, austere impression we have of Thurgood Marshall as the lawyer who argued in front of the Supreme Court against segregation at schools with Brown v. Board of Education in 1954 and later as the first African-American Supreme Court justice in 1967, Boseman is a whip-smart and impassioned youth on a mission to defend the rights of black people with the law by his side. Tasked by the NAACP to take on a case of a black servant (Brown) who had allegedly assaulted a white socialite (Kate Hudson), Boseman brings on Josh Gad's untried Jewish lawyer to help defend the case and fight bigotry.
It's a stirring trailer that takes advantage of Boseman's rising star, and drives the momentum along with a rousing hip-hop track at the end (which has lately become a staple of empowering trailers on the black experience, like Selma, Creed, and even Hidden Figures). But the talent is there, and I would gladly watch Boseman take on every black historical figure depicted in film.
Here's the official synopsis for Marshall below:
MARSHALL, based on the early career of Supreme Court Justice Thurgood Marshall, follows the young lawyer (Chadwick Boseman) to conservative Connecticut to defend a black chauffeur (Sterling K. Brown) against his wealthy white socialite employer (Kate Hudson) in a sexual assault and attempted murder trial. In need of a high-profile victory but muzzled by a segregationist court, Marshall is partnered with young Jewish lawyer Samuel Friedman (Josh Gad) who has never tried a case. They struggle against a hostile storm of fear and prejudice, driven to discover the truth in a sensationalized trial that helped lay the groundwork for the Civil Rights Movement.
Marshall also stars Dan Stevens, and James Cromwell, and is directed by Reginald Hudlin. Marshall hits theaters October 13, 2017.