Guillermo Del Toro Teases Antifascist 'Pinocchio,' First 'The Shape Of Water' Clip Revealed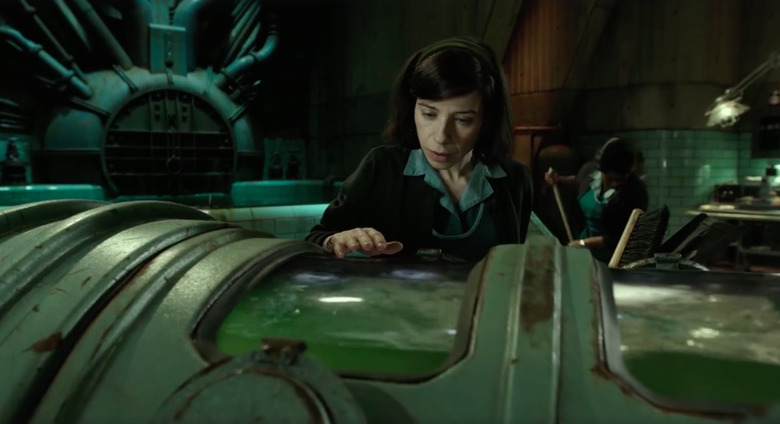 Guillermo del Toro has a tendency to juggle several passion projects before some of them make it to the theater after an excruciating wait, and others fall by the wayside. (RIP Hellboy 3.)
But with his newest film The Shape of Water receiving rave reviews at the Venice Film Festival this week and coming to theaters later this year, the Mexican auteur can finally turn his eyes to his next dark fairy tale: Pinocchio.
Promoting his Cold War-era fantasy The Shape of Water at the Venice Film Festival, del Toro dished on Pinocchio, the stop-motion animation project that the director has been working on since 2008.
Del Toro may be taking it slow with this project because he's never done an animated movie before — though with his tendency toward lush, visually rich fairy tales it seemed inevitable — but he may also be working cautiously because of the potential political controversy it could incite. He touted his dark take on the classic children's tale as an "antifascist Pinocchio," according to Spanish-language outlet Cinefilos.it. Which...could bring an interesting response in the U.S. with the rise of extremist groups touting similar ideals.
Del Toro also told the outlet that he has "$35 million to go" to fund the film. With Over the Garden Wall creator Patrick McHale signing on to help pen the project earlier this year, del Toro's Pinocchio could well be on its way to finally being made after years of being postponed.
Meanwhile, if you're looking for something more substantial from a del Toro project, the first clip for The Shape of Water was released shortly after the film debuted at the Venice Film Festival this week. It features the first meeting between Sally Hawkins' mute Elisa and Doug Jones' imprisoned government experiment. It's love at first splash. (Sorry, I had to.)
Here's the official synopsis for The Shape of Water:
From master story teller Guillermo del Toro, comes THE SHAPE OF WATER – an other-worldly fairy tale, set against the backdrop of Cold War era America circa 1963. In the hidden high-security government laboratory where she works, lonely Elisa (Sally Hawkins) is trapped in a life of silence and isolation. Elisa's life is changed forver when she and co-worker Zelda (Octavia Spencer) discover a secret classified experiment. Rounding out the cast are Michael Shannon, Richard Jenkins, Michael Stuhlbarg and Doug Jones.
 The Shape of Water hits theaters December 8.