The Great Porg Merchandise Round-Up That Film Journalism Demands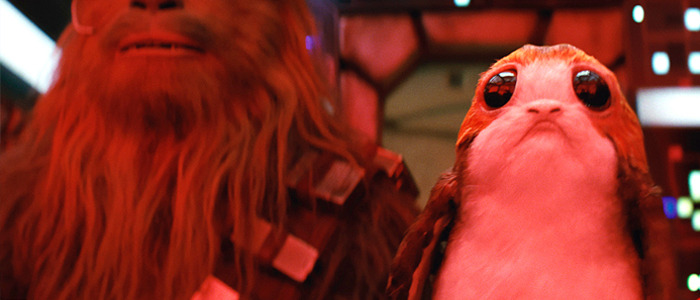 The Ewoks made their play for cutest creatures in the Star Wars galaxy in Return of the Jedi, but Star Wars: The Last Jedi will introduce a new species that gives the ferocious cub-like critters a run for their money. Porgs, the cuddly new penguin-esque creatures that are native to the island of Ahch-To, are the hot new shit in Star Wars-ville, and a cursory glance through social media shows that people are going nuts for these little things.
So here at /Film, we've taken on the Very Important Task of rounding up all of the porg-related merchandise that has emerged from Force Friday II, the day in which a ton of new Star Wars toys and products are unleashed upon the world. Wha–what's that? Why, no, nothing else going on in the world right now could possibly be more crucial or relevant than this. I'm glad we agree on that!
First, let's take a look at some porg-related items that were unveiled by StarWars.com.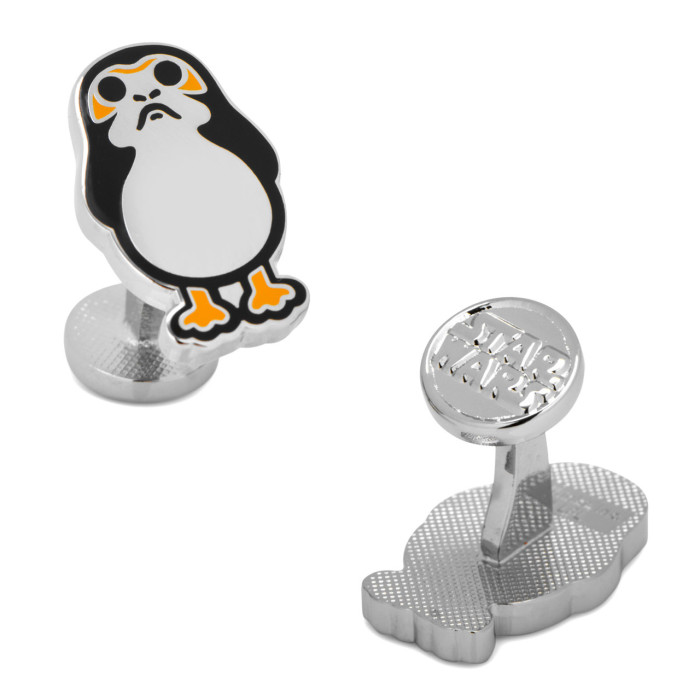 Class things up with some porg cufflinks, mother effers: Cufflinks.com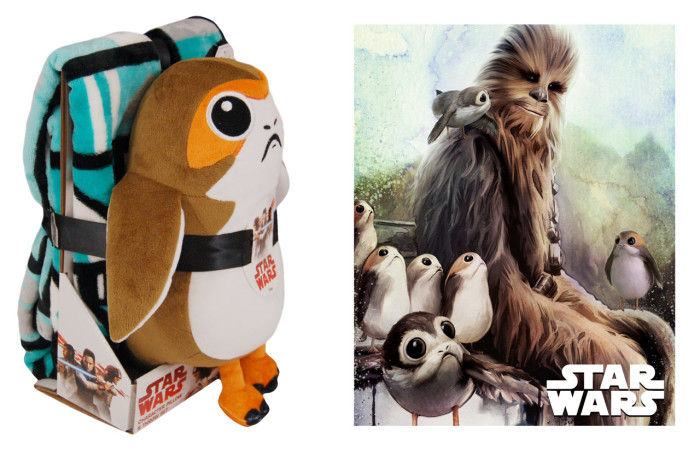 If you'd like to softly lay your head upon a stuffed porg, this pillow and throw set may be your thing. (Or you could have a porg pillow fight. I don't know your plans for these things!) There's also a nice Chewbacca and porgs throw to wrap yourselves in if the pillow is a bridge too far: Northwest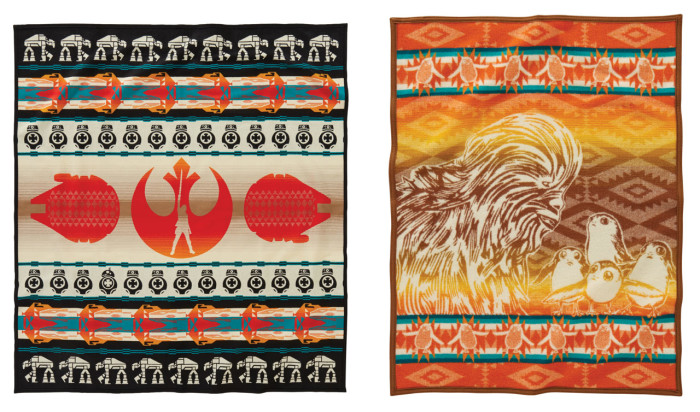 If you're looking to affect any children in your life with porg fever, the child-sized Star Wars blanket on the right (cutely named "A New Alliance") that should do the trick: Pendleton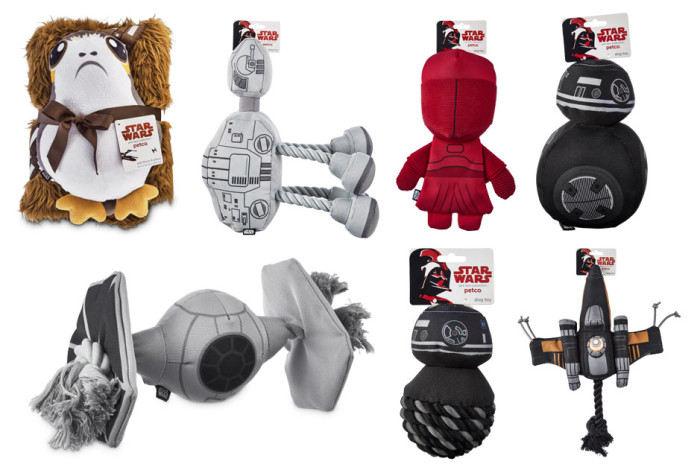 For those of you who have already renamed your pets after porgs, you'll be particularly interested in the pet toy in the top left corner of this image: Petco
That's all from StarWars.com, but a few Twitter users spotted a LEGO Porg that should have porg fanatics shaking with anticipation:
Lego Porg pic.twitter.com/MkVw2hApAM

— Zach Olson (@Zach72266587) August 31, 2017
OMG. That new Millennium Falcon comes with a Porg buildable fig. I'm sold! @LEGO_Group pic.twitter.com/7fkXIAu0i7

— Awful Jacobs (@thespiritofjazz) August 31, 2017
And finally, let's round this out with a batch of Funko porgs in all sorts of shapes and sizes. You can start collecting these tomorrow, September 1st.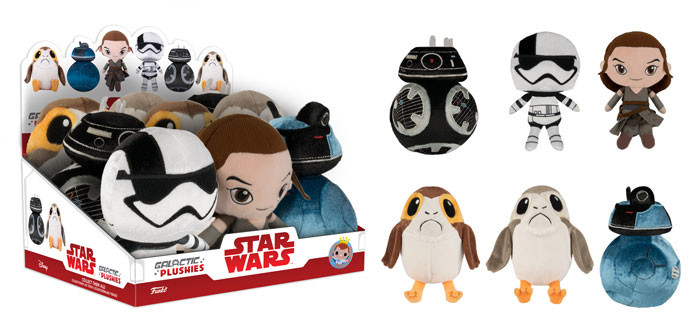 If you're into plushies, there are two porgs just waiting to be squeezed with glee.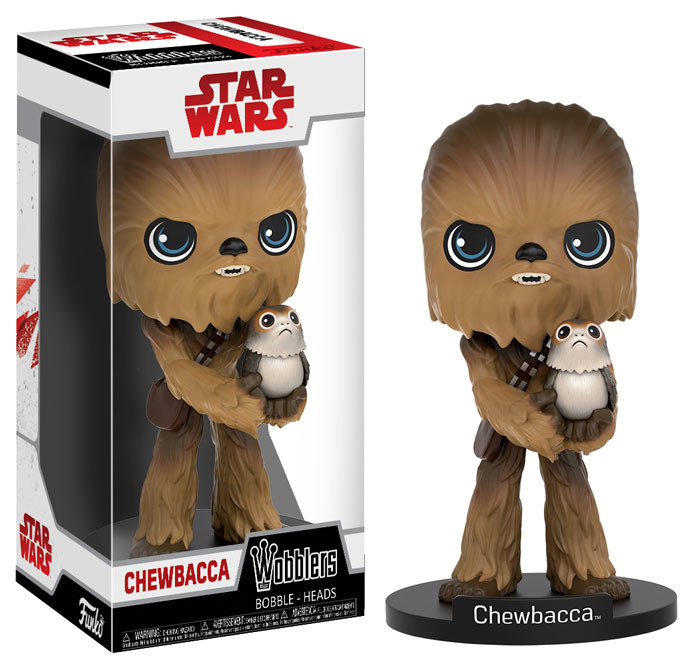 If traditional bobbleheads are more up your alley, the largest you can get for now is this Chewbacca Wobbler – but he's holding a porg, so that's close!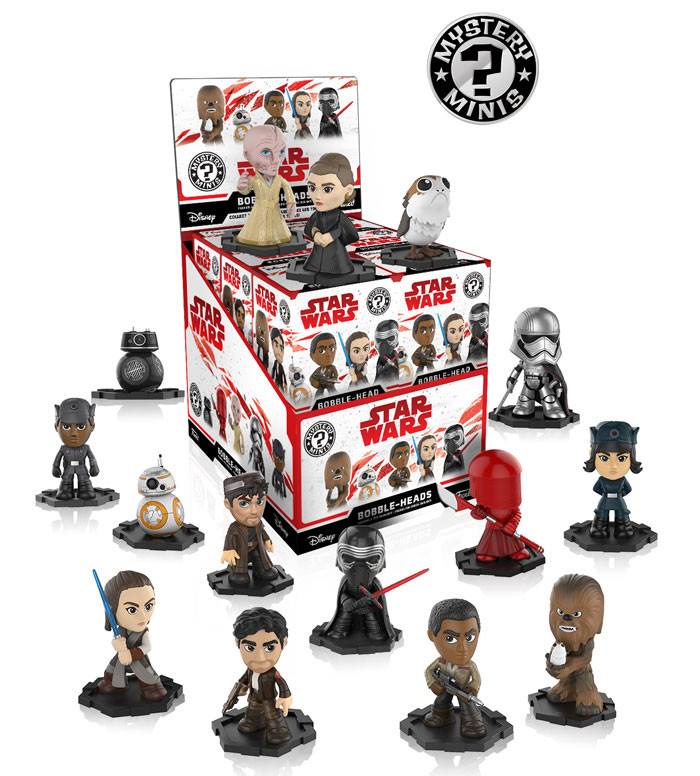 But if you're OK with a smaller size (and since you love porgs, I'm assuming you are), you can have your own pint-sized porg bobblehead in a Mystery Mini line. Notice the proud porg, lording over all of the other characters from on high.
But wait, if one isn't enough, you can get a variant model at GameStop in which the porg has his wings spread! Look at that wingspan! And that's some A+ placement, too: top center, just like the porgs deserve.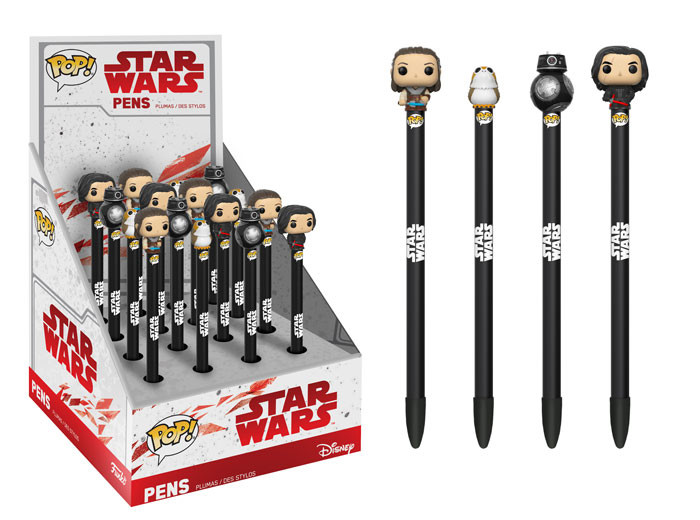 Are you the type of person who still does a lot of longhand writing, or perhaps an artist with no scruples about the tools you use? Snag yourself a porg pen, and stare into the unblinking eyes of the porg with every line you etch onto a piece of paper.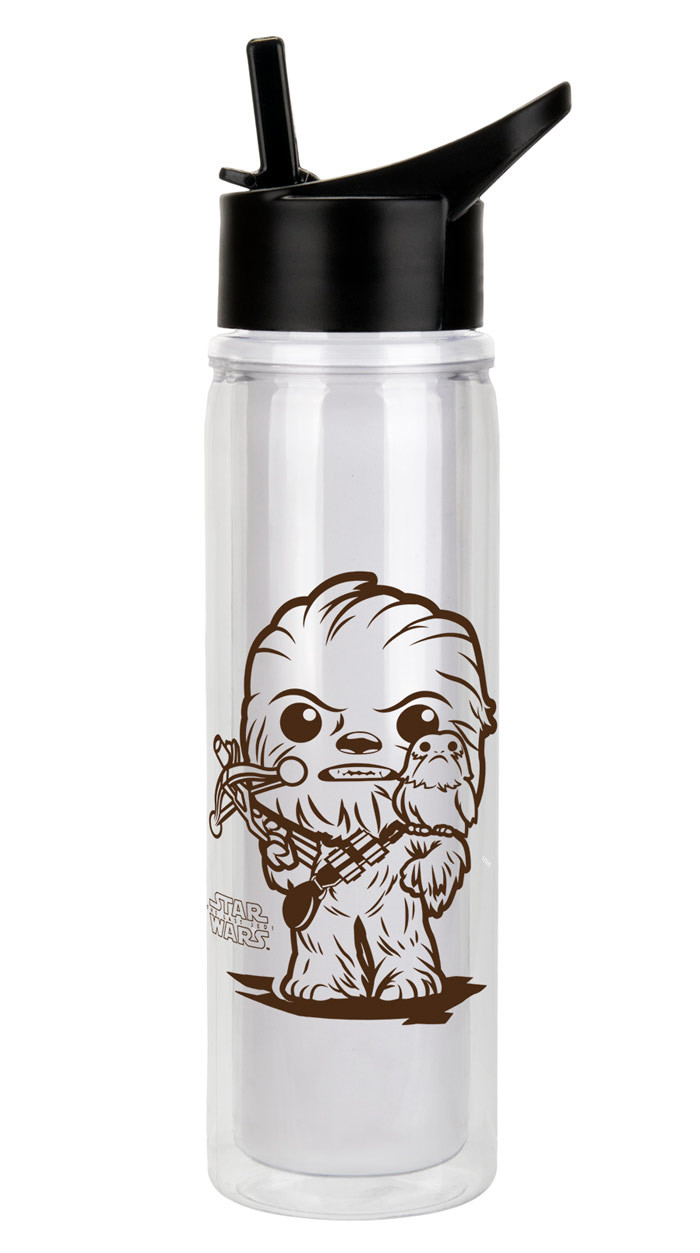 Everyone can use a bit of liquid refreshment now and again. So why not drink out of a water bottle that has a tiny porg on it?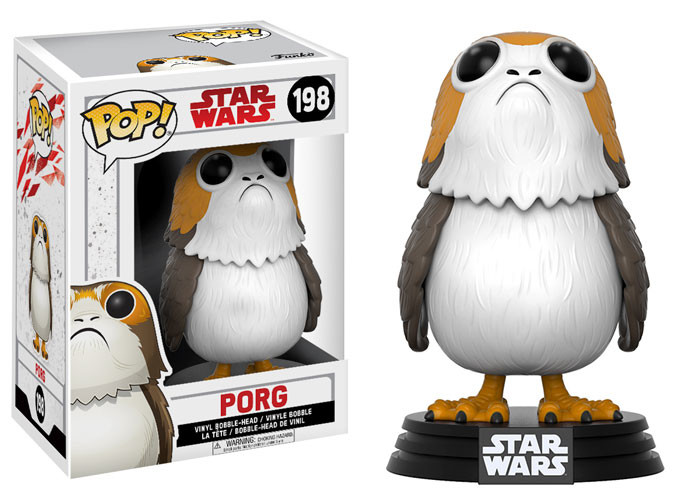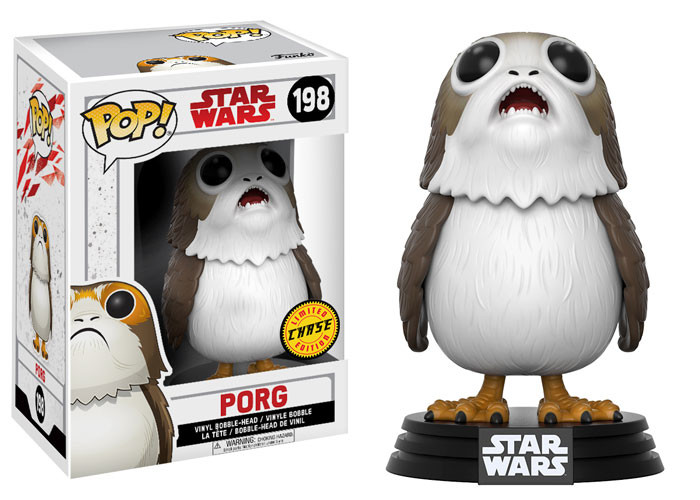 Now let's break down the Pop! figures. First up are the main line models, one of which is a limited edition (marked with a yellow sticker on the box).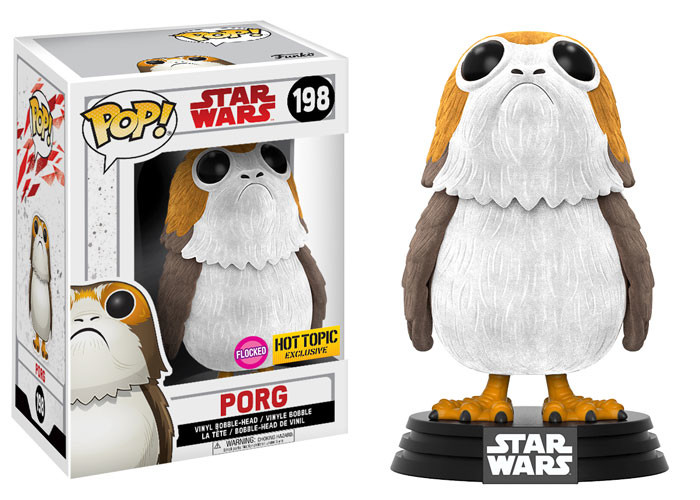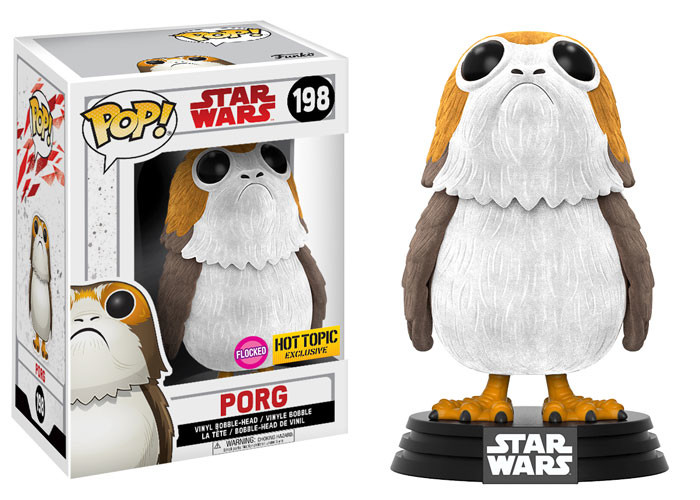 You may think I just dropped copies of the same two images from above into this spot in the article (because I thought the same thing, and I'm the one writing it!), but there are some subtle differences in the texture of the feathers on these two, which you can only get at Hot Topic.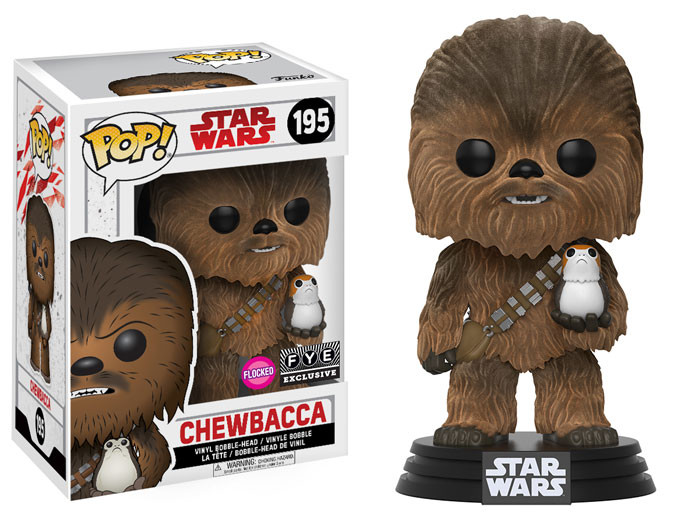 There's a Chewie-carrying-a-porg Pop! that you can only get at FYE.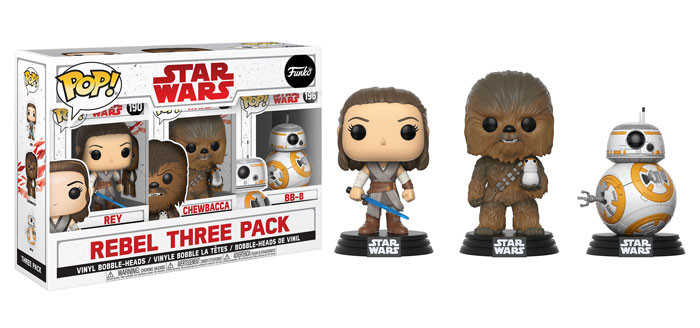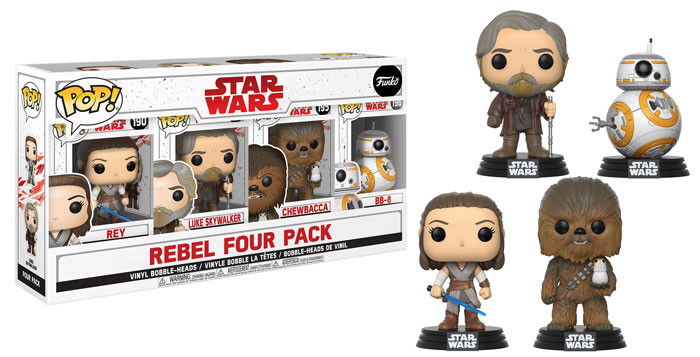 A smaller version of this can be found in Rebel three-packs and four-packs from Costco.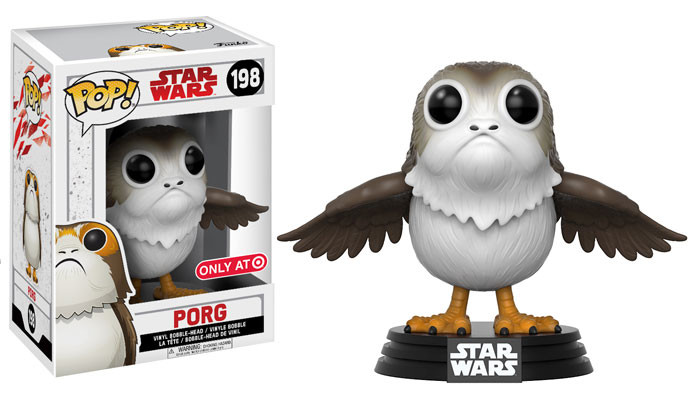 But here's the crown jewel of the bunch: a Target-exclusive, wings-spread porg Pop!, standing majestically on its tiny pedestal. Look how regal it is. Its face says so much without saying anything at all.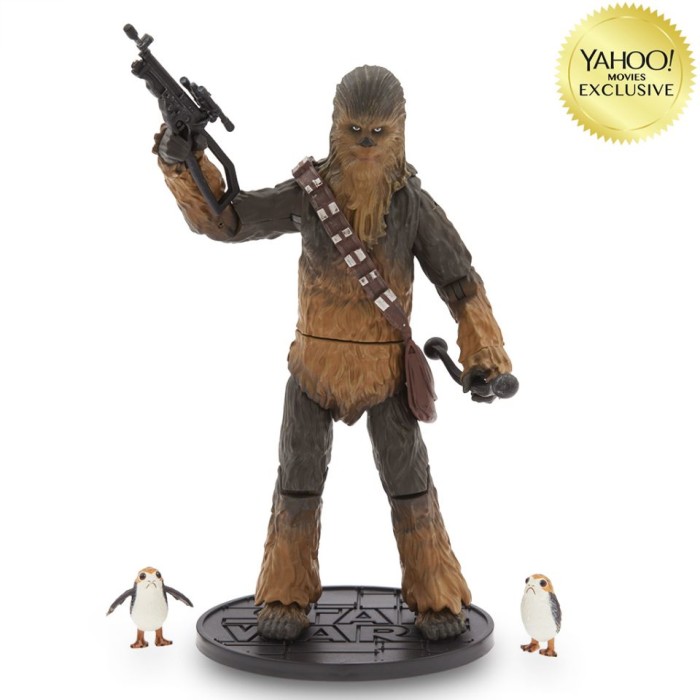 Elsewhere, Yahoo Movies has a preview of an Elite Series Die-Cast Chewbacca action figure that comes with some little porg pals. This will be available on October 27 at the Disney Store.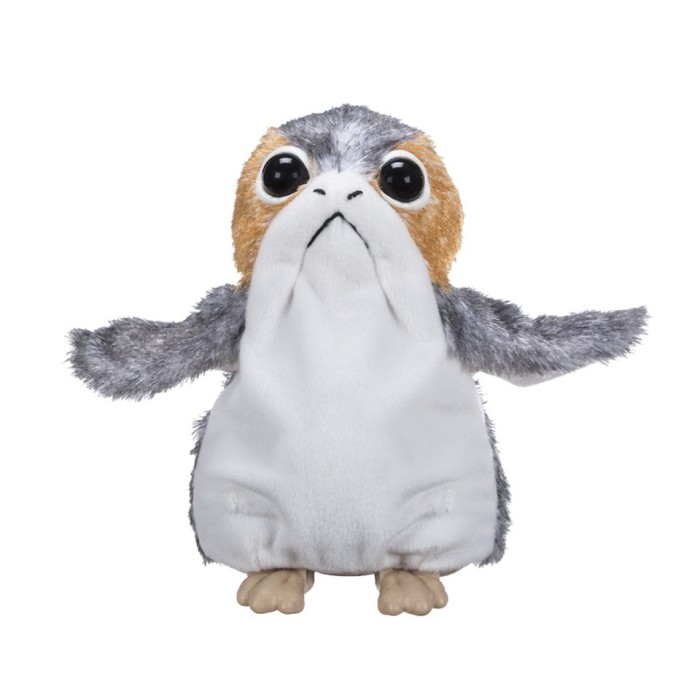 There's also an electronic porg plush from Hasbro, which waves, flaps its arms, and waddles around – all while making "authentic Porg sound effects such as tweeting, chirping, and more!"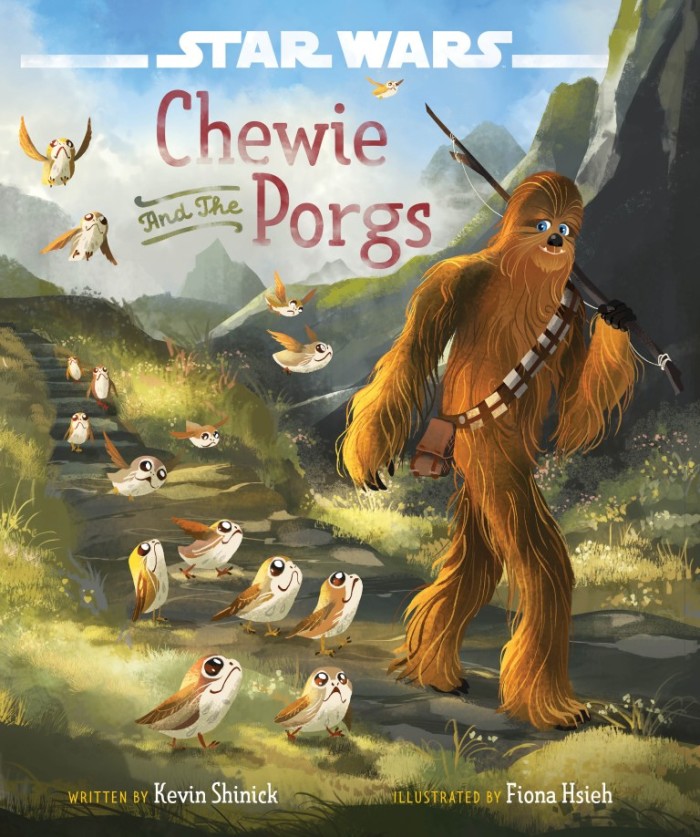 And don't forget about Chewie and the Porgs, a children's illustrated book that's timed to the release of The Last Jedi. You can pre-order that here.
That's all for now, but I'll leave you with what will surely become the new catchphrase once this movie debuts: May the porgs be with you. Star Wars: The Last Jedi arrives in theaters on December 15, 2017.