Star Wars Bits: 'Star Wars: The Last Jedi,' 'Star Wars Rebels' Season 4, And Porg Fever Continues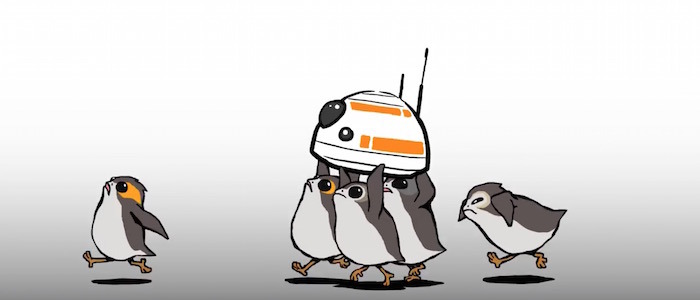 In this edition of Star Wars Bits:
Force Friday II is upon us!
Why parts of Star Wars: The Last Jedi were shot digitally!
Star Wars Rebels season 4 teases!
Michael Giacchino's Stormtrooper cameo!
More Star Wars board game news!
Porg feeeeeeeveeeeerrrrrr! Yes, these adorable little birds native to Ahch-To have continued to thrill and excite Star Wars fans, and a new official "Blip" – digital-only animated shorts – gives us our first official listen to what they sound like, as they play with BB-8 (since you know, the toy that gave us their sounds a few weeks ago still hasn't technically been released). I'd imagine poor BB-8 would have a hard enough time navigating the steps and rocks of Ahch-To without these little creatures harassing him. Wait – are Porgs evil? Noooo!
Just in case you need my characters whole history:

FN-3181 | Wookieepedia | FANDOM powered by Wikia https://t.co/tKQ5AVwAeU

— Michael Giacchino (@m_giacchino) August 21, 2017
Before composing the score of Rogue One, Michael Giacchino came to Star Wars in the form of a First Order stormtrooper cameo. He shared his Wookieepedia page, identifying his trooper as the one that searched Poe in the village on Jakku. Amusingly, Poe flirts with this trooper in the novelization.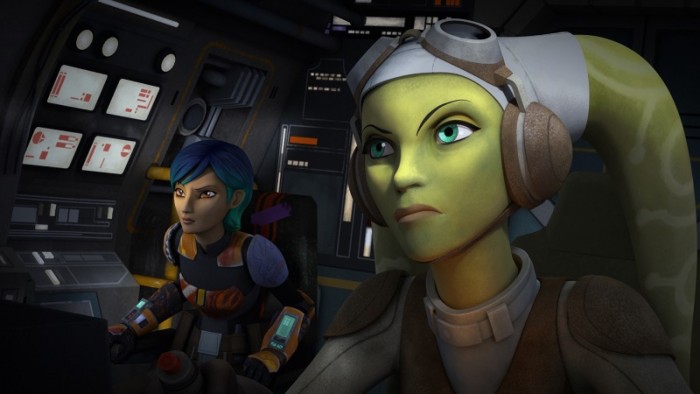 Comicbookmovie chatted with voice actress Vanessa Marshall about her time as Hera, the pilot of the Star Wars Rebels crew. Marshall talked about her love of the series, and seeing the finished product after imagining it during recording sessions. While she couldn't talk too much about Season 4, she did offer up a tantalizing #SpaceMarried tease:
Definitely. It's clear that they have an affection for each other as friends and that they care very much about each other and I think it will be wonderful to see them maybe discuss things. I'm not allowed to say anything and furthermore haven't seen much of it [Laughs] so can't really speak on it but I am very excited to see that storyline develop and see if anything happens there. I think that will be satisfying for a number of people saying that they're space married and hashtag "Kanera" and all that stuff.
She also made a bold promise that "every lingering question you have will be answered" and "all fans will be satisfied" by the fourth and final season of the series. That's exciting to hear.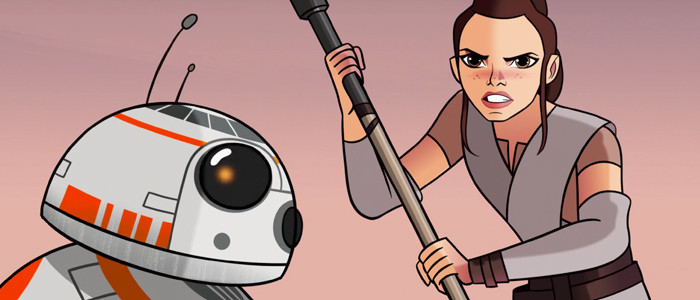 More Forces of Destiny episodes are on the way this fall, and more characters will be joining in the fun. In Star Wars Insider (via JediNews), Carrie Beck of the Story Group revealed that Finn, voiced by John Boyega, and Han Solo, almost certainly not voiced by Harrison Ford, will be in upcoming episodes. The stories will still revolve around the female characters of Star Wars.
- Full. On. Goosebumps. ???? I know this is a puzzle, but I feel like this is going to be the official theatrical poster.. ???? #StarWars #TheLastJedi #Lucasfilm #RianJohnson #DaisyRidley #Rey #MarkHamill #LukeSkywalker #CarrieFisher #GeneralLeia #AdamDriver #BenSolo #KyloRen #JohnBoyega #Finn #OscarIsaac #PoeDameron #JoonasSuotamo #Chewbacca #GwendolineChristie #CaptainPhasma #AnthonyDaniels #C3PO #JimmyVee #R2D2 #BB8
This gorgeous puzzle may be giving us a sneak peek at an upcoming poster. Rey is in her same poster pose, as she's flanked by the major players of The Last Jedi on both sides. Luke and Leia being back-to-back is cool, and the inclusion of Rose is wonderful. We'll see if this gets released in another way.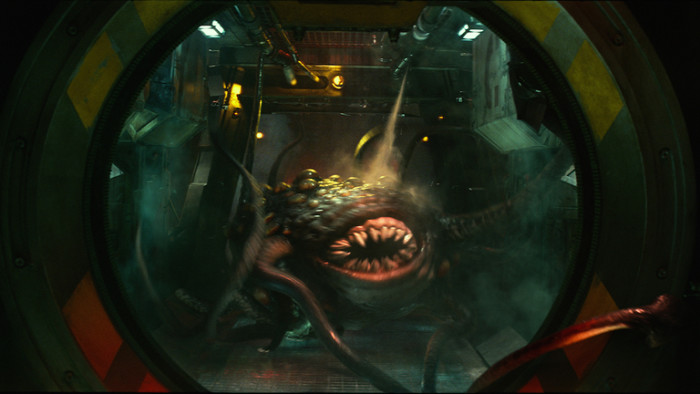 The official Star Wars site has a neat profile on ILM research and development engineer Noah Lockwood, who worked on The Force Unleashed as an intern, and helps build animation tools for ILM artists. It's super fun to know that they based the tools for the Rathtar tentacles in The Force Awakens on animation tech used by Pixar for Monster's University and Finding Dory. Rathtars are just big, angry Hanks.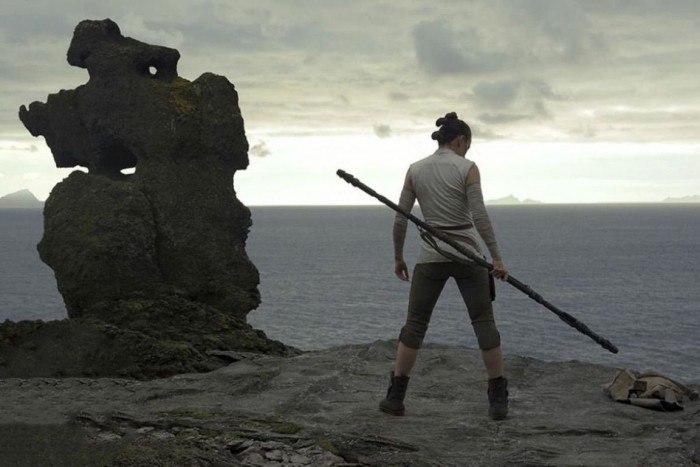 Yahoo! Movies debuted this new Rey image, and it is striking. It's been interesting to see that Rey still has her staff, a makeshift weapon made of spare parts, with her in her new training days at Ahch-To. Obviously, everyone wants to see her use her lightsaber as much as possible, but she's likely just comfortable with the staff. Could this lead to her eventually rocking a two-bladed lightsaber, or one at the end of a staff, like a pike? That would certainly be visually stunning!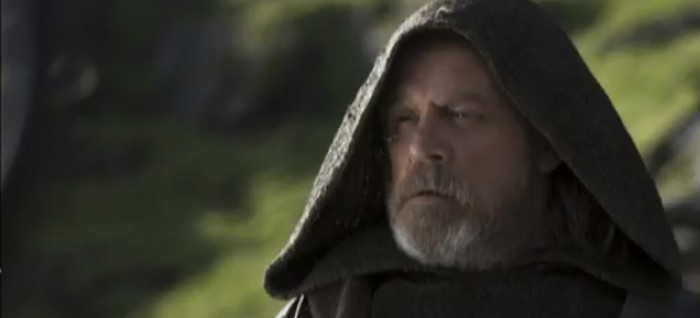 In a new AP interview, Mark Hamill talked about his hesitation to come back for more Star Wars because "the original trilogy had a beginning, a middle, and an end." But he then realized the story of Luke Skywalker was far from over – and compared the character to another famous face in fiction:
"But if you look at it another way, it's the story of how Luke went from becoming a farm boy to a Jedi and then the story ends. It would be like telling the story of how James Bond got his license to kill and became 007, and the story ends."
Hamill teases that in The Last Jedi, we're dealing with a changed Luke. He and Rian Johnson talked about Luke's backstory a bit, and Hamill did his own backstory for the thirty years between trilogies. "It's not about Luke anymore," he cautions, however.
Rian Johnson famously loves using film for his movies, but did shoot about 10-15% of The Last Jedi on digital, he revealed on twitter. Talking about the technology, he said digital is better for "low light situations, or shooting elements for effects-heavy sequences," and his choice was always a technical or logistical one. it shouldn't be a noticeable shift from scene to scene, but it's neat for film buffs to learn about.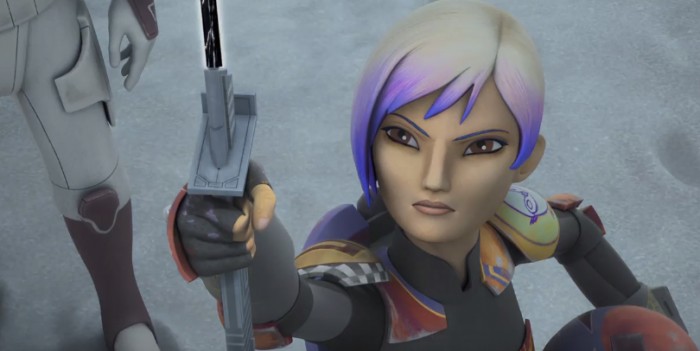 Dave Filoni gave an extensive interview about Rebels Season 3 for the blu-ray release, talking about the choice of using Thrawn (and of carrying him over into Season 4 as the main villain again), Sabine coming into her own as an equal-billing hero of the story with Ezra, and of course, that big finish for Maul:
"In the end, what's most important, is that Maul never lets go of this attitude of revenge. He never seeks forgiveness, he never seeks selflessness. He is bent on, "Okay, good, at least I'll die knowing I'm going to have revenge," and Obi-Wan just looks at him and shakes his head gently because he feels sorry for Maul. He doesn't want to kill Maul by that point. Obi-Wan, to me, has grown as a character so much that he knows he could dispatch Maul, or Maul could dispatch him, but to what point? Obi-Wan is entering the realm of becoming selfless, and wholly selfless. He's willing to give up so much so that everyone else can succeed, because he's trying to make up for things in the Clone War — things that went poorly for him."
Filoni also notes that while Obi-Wan now believes Luke is the Chosen One, according to George Lucas, Anakin Skywalker was truly the Chosen One. One. As in singular. He spends a lot of time addressing that Obi-Wan "doesn't want to fight Darth Maul," something he talks about at length in the special features of the Blu-ray release, as well.
Presented without comment, just for the lols. Heath and his hilarious photoshops. PORGS.
A new trailer for Star Wars: Galaxy of Heroes shows off the "Territory Battles" mode added to the game. In the mode, you'll team-up with your guild to... battle for territories. Look, it's pretty self explanatory. Also, that one shot in the middle of Rey standing with Ezra, Kaytoo, and everyone else is just so cool.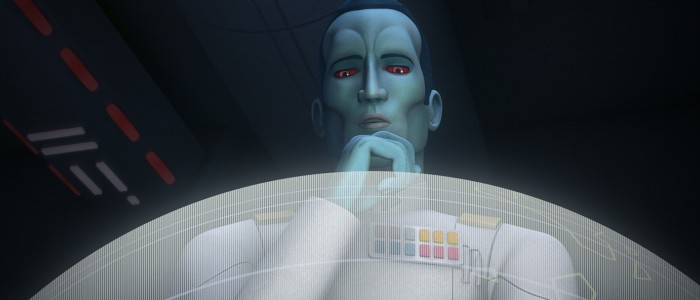 Ah, nothing like being self-referential! Over at SYFY WIRE, I combed through all the commentary and special features on the Rebels Season 3 release, and found what I could about season 4. While there's not much, there is the promise that "you can expect a lot more Thrawn in season 4" from co-EP Henry Gilroy. Carrie Beck also makes a similar promise to the one above from Marshall, saying, "Breaking the stories for season 4 is one of the most satisfying story experiences I've ever had. The whole team has done really well setting up all these stories we're going to pay off at the end of the series."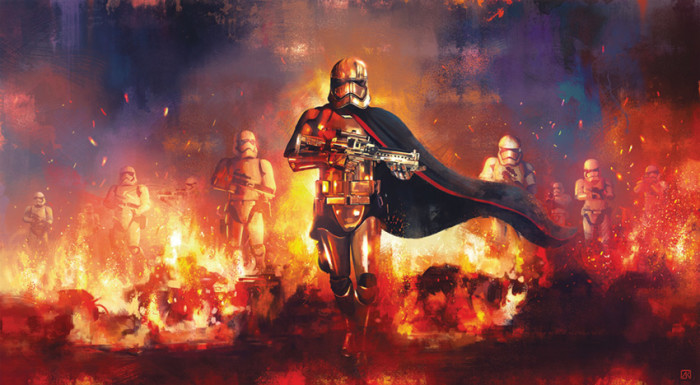 Acme Direct is launching a series of new limited edition art prints, in both signed canvas and unsigned paper editions, for Force Friday tomorrow. They are, predictably, gorgeous, including this amazing Phasma piece by Akirant. There are also pieces inspired by Rogue One, A New Hope, Empire Strikes Back, and there'll be an Episode 8 piece revealed tomorrow as well.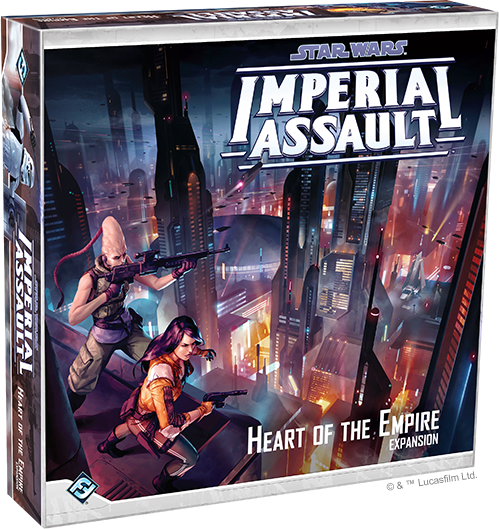 Fantasy Flight has expansions launching for two of their popular Star Wars games. Imperial Assault gets "Heart of the Empire," there will be new play modes and units, including the Clawdite Shapeshifter, a female mercenary villain that can be disguised as other character types.
Meanwhile, Rebellion will get "Rise of the Empire," available today, a Rogue One-inspired set that has new missions, heroes and villains.
Good. Golly. The news Millennium Falcon from LEGO is their largest build set ever, clocking in at 7,541 pieces. It's built very nearly to scale of minifigs, and it is glorious. I need it. NEED. Although I have zero idea where I'd put it...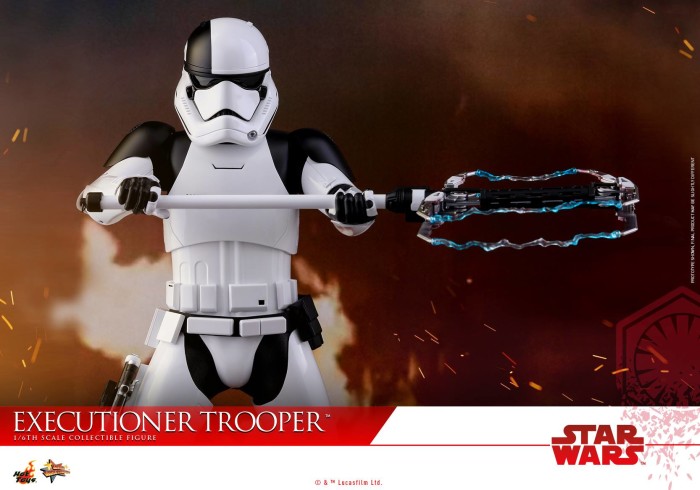 Hot Toys has a ton of reveals on their facebook page for Force Friday, as well. The Executioner Trooper looks amazing, and will be a heck of a tough enemy for anyone (Finn, Rose, looking at you two) that runs into him. They also have three sets of Cosbaby reveals; one for the First Order, one for the Resistance (the Rey and BB-8 set is particularly adorable, with her homemade Rebel Pilot doll in her hand), and one featuring The Last Jedi looks on figures.