'It' Producers Seth Grahame-Smith And David Katzenberg On The Pressure Of Adapting A Classic [Interview]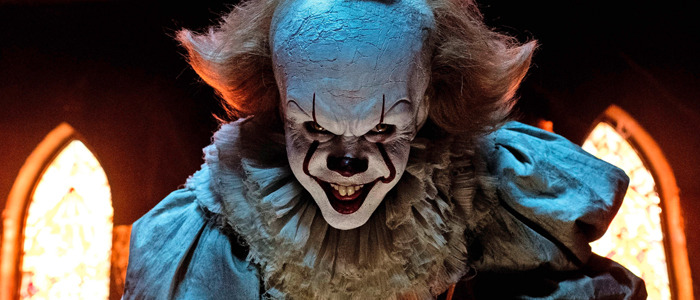 Last week, I attended the press junket for Warner Bros. new film adaptation of Stephen King's It, the horror story about an ancient entity that terrorizes and feeds on the children of Derry, Maine and often takes the form of a menacing clown named Pennywise. Along with a handful of other writers, I spoke with producers Seth Grahame-Smith (Abraham Lincoln: Vampire Hunter) and David Katzenberg (The Goldbergs) about the challenges of bringing such a classic book to the big screen, Bill Skarsgard's intense performance, a possible sequel, and more.
The producers both grew up as huge Stephen King fans, so the pressure of bringing such a classic book to life was at the forefront of their minds as they spent years working on this project, and translating his work in a satisfying way was their top priority:
David: It's Stephen King! Seth and I are massive fans, and for us, getting his stamp of approval was extremely important, and we essentially did. It was extremely important to get this movie right and keep the integrity of the book, and for us, that meant breaking it into two separate films.
Seth: Like David said, we're both big King fans...I read this book in the summer of 1989, when I was thirteen like the kids in [this movie], so for me, it was doubly special watching those kids portray thirteen-year-olds in a small New England town. That was my life...I remember talking to Andy about what movies should be on the marquee. Batman, Lethal Weapon 2 – boom, boom. Oh, they're both Warner Bros. movies, so that's even easier!Seth: When we first came on, you feel the pressure of the fact that this book is one of the most iconic works by one of the most iconic writers of our time, and for me, the guy who made me want to write books, plain and simple. So yes, there was pressure.David: Not to mention, there was a beloved mini-series, too.Seth: Right. So you know you're going to have to honor and not get close to the Tim Curry performance, which we all remember. I remember that in '90. I had never seen anything like that on TV. It scared the hell out of me. Horrifying. But that's an iconic performance, and that's Pennywise in people's minds. So how do you do that? How do you take this 1,100-plus page tome and adapt it into something that feels seminal and timeless? That was the big challenge and that was the challenge of six years working on the movie, and I feel pretty good about the results.
And though this next comment was likely intended to be innocent, it's hard not to think Grahame-Smith may have been throwing a bit of shade toward The Dark Tower, a King adaptation that completely crapped the bed when it came out earlier this summer:
"[King's] books speak for themselves, his career speaks for itself. It's incumbent on the filmmakers to not screw it up. As a lifelong Stephen King fan, a person who was inspired to write novels because of Stephen King, the last thing I wanted hanging over me was being part of a bad Stephen King adaptation. That was the motivation throughout the entire six-plus year process."
In any case, part of their challenge involved reimagining the iconic horror character of Pennywise for an entirely new generation, and that's where actor Bill Skarsgard came in. The producers admit that they didn't quite see what the big deal was with the young actor at first, but they quickly realized the potential he had to deliver something memorable, terrifying, and distinct:
Seth: For us, what jumped out about Bill was that he was clearly going to commit to it in a total mind, body, and spirit manner. The things he can do with his face, with his body, that he showed us even early on, the things he can do with his voice...
David: We have to give a lot of credit to [director] Andy [Muschietti], too, because Andy really pushed him to bring a lot of that stuff out of him, his mannerisms and everything.Seth: Andy saw something in him that it took the rest of us an extra beat to see the way that Andy saw it. But Andy keyed in on him immediately and started focusing in and calling him back and working with him and getting him to a place where it became undeniable...It took the crew a full week before we all settled down, because you never know – 'Is he not going to want to be talked to? Is he always going to be Pennywise?'
As a big fan of King's novel myself, I was initially hesitant about the idea of the filmmakers splitting the story into two films, because part of what makes the book so great is the way it intercuts the kids with their adults, and the way those two storylines eventually funnel down into the book's thrilling conclusion. The mini-series, which our own Jacob Hall will be writing about later this week, retained some of the book's structure, but in many ways, this new movie does a better job of capturing the essence of the book. Grahame-Smith explains:
"We wanted to be truer to the book, and that meant that we wanted to delve a little deeper into the moments that even the mini-series didn't necessarily have time to do. But we wanted to bring the intensity that the ABC mini-series couldn't, just by virtue of it being on TV. We knew we were going to be rated R from the beginning, and New Line supported us the whole way. Never urged us to cut to PG-13, and said, 'All right. You're an R-rated movie starring 13-year-olds.' So that gave [the filmmakers] that freedom to really explore the darkness of what's going on in [Losers' Club member] Bev's life, what's going on at school, to say nothing of the imagery that Andy created that was terrifying."
As for a possible sequel that concentrates on the Losers' Club kids when they're all grown up, Grahame-Smith is hopeful it'll happen:
"We'll tell you when we know. We are locked and loaded and ready to jump in the minute they say 'go.' The script is not done, but the script is being worked on. Obviously, all of the filmmakers are chomping at the bit to get started, and we have a very exciting shape, and [co-writer] Gary [Dauberman]'s working away. I feel somewhat optimistic that we'll get to make it, but there's been no official decision."
If the film gods have any sense of justice, this movie will make enough to justify that sequel, because Muschietti's movie is so good that I wanted to see the next chapter immediately after the credits rolled on this one.
It hits theaters this Friday, September 8, 2017.