Joker Origin Movie Will Be 'Super Dark And Real,' Because What Else Could It Be?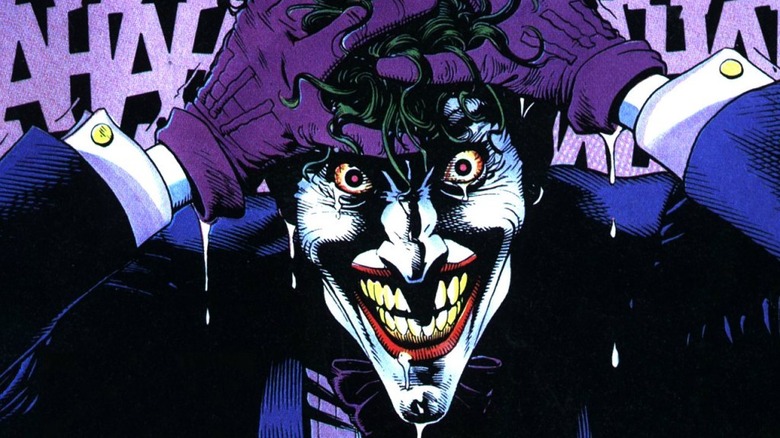 If you for some reason thought that the Joker origin movie would be a lighthearted romp filled with fun and laughter, you'd be wrong.
Nothing screams "dark" like a Joker movie that has already been described as "a gritty and grounded hard-boiled crime film set in early-'80s Gotham City." So really, this story is just adding to what we already assumed when this project was initially announced.
The rumor comes courtesy of MMA fighter-turned-actor Brendan Schaub, who shares agent Todd Feldman with Todd Phillips, the director of the Joker origin movie. Schaub spilled the purported details on the Joe Rogan Experience podcast (via Batman-News):
"My boy Todd Feldman put this together with Todd Phillips. It's dark. It's like a dark Joker. As a kid, he had a permanent smile and everyone made fun of him. It's like on the streets of Brooklyn. It's super dark and real."
Cool, tell us something we don't know. Except for the details of a young Joker growing up with a permanent smile — which feels like a nod to the silent film inspiration for the creation of the Joker, The Man Who Laughs — the Joker origin movie was pretty much guaranteed to be "dark and real" just by virtue of existing.
Despite the confusing mix of talent behind the screen — Phillips is best known for The Hangover, screenwriter Scott Silver for 8 Mile, and producer Martin Scorsese for being, well, Martin Scorsese — there's only one way this Joker origin movie can go, and it's to double down on the dark path that Christopher Nolan's films first set Batman down and that Snyder's Batman v. Superman aped with glee.
It's in line with what we've known of the DC Extended Universe up until Wonder Woman's earnestness and hope became a runaway success, forcing Warner Bros. to enact a tonal pivot on their main DCEU. This may be why the studio is launching a series of standalone/anthology films like the Joker origin movie, to pursue the original dark tone of the DCEU as they try a different direction elsewhere.
See Schaub's full comments, which start at 1:03:32 mark, below:
What do you think of the Joker's new origin of being a bullied boy who grew up with a facial disfigurement?