Maz Kanata's Role In 'Star Wars: The Last Jedi', Evil BB-8 & Will Episode 9 Return To Jakku?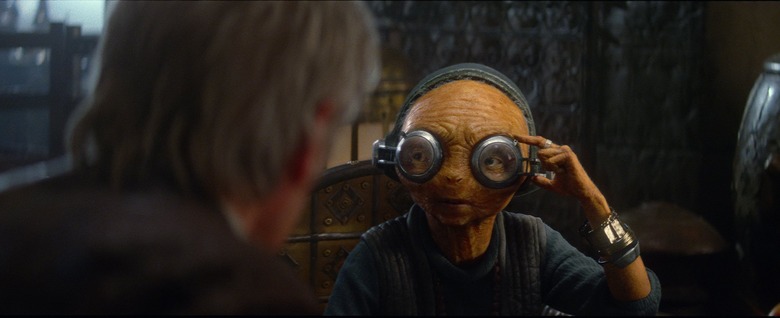 Over the last few days, a bunch of new information has been revealed about Star Wars: the Last Jedi and the yet-to-be-titled Episode IX. We have finally learned how Maz Kanata fits into this upcoming eighth installment, got a better look at the First Order's black BB-unit droid, and heard some rumblings that Collin Trevorrow's film may return to Jakku.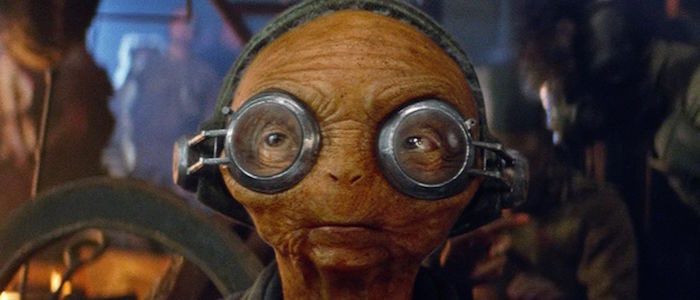 Maz Kanata's Role in Star Wars: The Last Jedi
Lupita Nyong'o's performance capture Force Awakens character Maz Kanata returns for Star Wars: The Last Jedi, but we've heard that she plays a smaller part in this sequel story. MakingStarWars finally has learned some details about Kanata's role in the upcoming Star Wars film. According to the new report, since the destruction of her castle on Takodana, Maz has been forced to become more mobile and take more of a role in the criminal underworld.
Maz apparently helps the Resistance by pointing them toward a "mysterious new ally," a notorious slicer (AKA hacker) named DJ, the mysterious character played by Benicio del Toro. We know that Finn and Rose go on a mission to the casino city of Canto Bight in search of this human hacker, who plays whatever side is financially beneficial to him at that moment. We've long believed that DJ might be an intergalactic bad guy in this film (del Toro's early comments didn't really help this matter), but if Maz Kanata is sending Finn and Rose to him, he can't be all bad.
Will Episode 9 Return To Jakku?
In an interview with The Everything Geek Podcast (via MSW), two extras from Star Wars: The Force Awakens mentioned that filming might return to Abu Dhabi for next year's shoot for Colin Trevorrow's untitled Star Wars: Episode IX. Mel Pickup (who played Athgar Heece) and DJ Mark Pickup (who played a scavenger on Jakku) claim to have heard that Lucasfilm will be returning to the sand dunes used as Rey's home world of Jakku for the ninth installment of the Skywalker saga. Of course, this could just be baseless production-level speculation at this point, but it would make sense to return to Jakku to explore Rey's past.
Imagen del empaque de #BB9E "bebocho malo", de Sphero. pic.twitter.com/rm9O7HLZZq

— La Fortaleza Geek (@FortalezaGeek) August 22, 2017
A new photo has been posted online of what appears to be a Sphero version of a black evil BB-8-styled droid that will probably be released around Force Friday II. We had previously seen images of a First Order BB-unit droid, which was referred to as BB-9E. From the initial leaked toy images, we had assumed that BB-9E would be a black copy of BB-8, but this new toy packaging shows a different flat head, seen on various other R2 model droids.
In the leaked photos, the evil Droid was paired with a First Order Shuttle Pilot, and in the LEGO sets he's paired with Kylo Ren and Supreme Leader Snoke on a First Order Star Destroyer (although who knows if he'll actually appear in the film). Remember C2-B5, a R2-D2-looking Imperial astromech droid who got a line of toys and merchandising, but was only seen in the very background of a shot for less than a second? Yeah...