Will Ferrell To Play 'The 100-Year-Old Man' In An American Adaptation Of The Best-Selling Book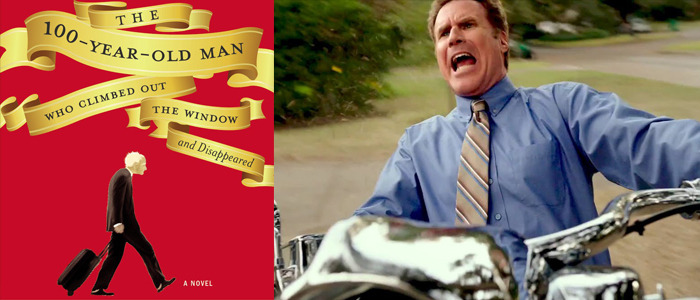 If you've wandered around a bookstore (yes, they still exist!) over the past couple of years, you've probably seen a copy of Jonas Jonasson's novel The 100-Year-Old Man Who Climbed Out The Window and Disappeared in the best-seller section. The 2012 book was already adapted into a Swedish movie back in 2014, but now American studios are catching up, and CBS Films has tapped Will Ferrell to play the lead role in a new version of the story.
The Hollywood Reporter has the news, saying that in addition to starring, Ferrell will produce the adaptation with Adam McKay and Jessica Elbaum of Gary Sanchez Productions. Jason George (Narcos) is writing the screenplay.
The book, which has sold over 10 million copies worldwide, tells the story of a former explosives expert who, on his one-hundredth birthday, decides to escape from his nursing home. I'll let the Amazon synopsis fill in the rest:
He climbs out the window in his slippers and embarks on a hilarious and entirely unexpected journey, involving, among other surprises, a suitcase stuffed with cash, some unpleasant criminals, a friendly hot-dog stand operator, and an elephant (not to mention a death by elephant).
It would be the adventure of a lifetime for anyone else, but Allan has a larger-than-life backstory: Not only has he witnessed some of the most important events of the twentieth century, but he has actually played a key role in them. Starting out in munitions as a boy, he somehow finds himself involved in many of the key explosions of the twentieth century and travels the world, sharing meals and more with everyone from Stalin, Churchill, and Truman to Mao, Franco, and de Gaulle.
If the inadvertent connections to historical figures reminds you of Forrest Gump, you aren't alone, but this is supposedly more darkly comedic. (The book's synopsis refers to the lead character as "if Gump were an explosives expert with a fondness for vodka".) I haven't read the novel, but Jonasson, the author, thinks Ferrell is a great fit for the part:
"My character, Allan, knows the art of being funny just by being. That is something Will Ferrell masters to perfection. Great humor with small measurements. I am happy that Allan is now in his hands."
Check out the trailer for the 2014 Swedish adaptation (which is all in English, by the way):
Felix Herngren and Henrik Jansson-Schweizer, who co-wrote the Swedish film's screenplay, will be executive producers on this version. No release date is set yet, but I can easily see this being positioned as an awards play for Ferrell, so a Fall 2018 release wouldn't be outside the realm of possibility.