'Tulip Fever' Red Band Trailer: Does This Movie Really Need A Red Band Trailer?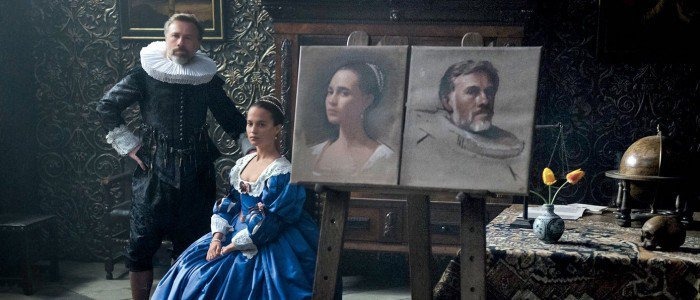 The Weinstein Company has allowed many of their titles to sit on the shelf and collect dust for years. One of their latest movies to be delayed more than once, Tulip Fever, is finally coming out after a year-long delay. Not only did The Weinstein release another trailer for the Dane DeHaan and Alicia Vikander-led film, but it's a red band trailer. Director Justin Chadwick's (Mandela: Long Walk to Freedom) movie isn't the kind of project that screams out for a red band trailer to show what kind of movie it truly is, but TWC definitely believes sex sells because that's exactly what this new trailer is selling.
Below, watch the new Tulip Fever red band trailer.
Legendary playwright and Academy Award-winning screenwriter Tom Stoppard (Rosencrantz and Guildenstern Are Dead) wrote Tulip Fever, based on Deborah Moggach's novel. Published in 2001, Moggach's story is about a young woman in 17th Century Amsterdam, Sophia (Vikander), who's married to a wealthy older man (Christoph Waltz). The artist hired to paint their portrait, Jan (Dane DeHaan), begins an affair with Sophia. The film co-stars Cara Delevingne, Dame Judi Dench, Jack O'Connell, Tom Hollander, Kevin McKidd, and Zach Galifianakis.
The tone of the new red band trailer is at odds with the previous previews. In general, it's just kind of silly. It shows shots from what's clearly one sex scene more than once. I think the audience that would go see this sort of movie opening weekend would maybe scoff at the red band trailer, which debuted on Vanity Fair.
This sort of red band trailer is maybe in poor taste. On the one hand, red band trailers for action movies show blood and guts and all sorts of graphic violence, so why can't a red band trailer for an R-rated relationship drama show its more graphic sequences as well? On the other hand, it seems awfully misleading based on past looks at the film, and it's questionable to sell a movie based on its stars' nudity. There's a way to show sex in a trailer tastefully, but this probably isn't how to do it. A red band trailer like this for a 50 Shades movie would make sense, but not so much in the case of Tulip Fever. Even if this red band trailer is an accurate reflection of the movie, it's not well done. The music alone is enough to make you smirk.
Here's the official synopsis:
Set in 17th century Amsterdam, Tulip Fever follows a married woman (Alicia Vikander) who begins a passionate affair with an artist (Dane DeHaan) hired to paint her portrait. The lovers gamble on the booming market for tulip bulbs as a way to raise money to run away together.
Tulip Fever opens in theaters on September 1, 2017.