'Xena: Warrior Princess' Reboot Axed By NBC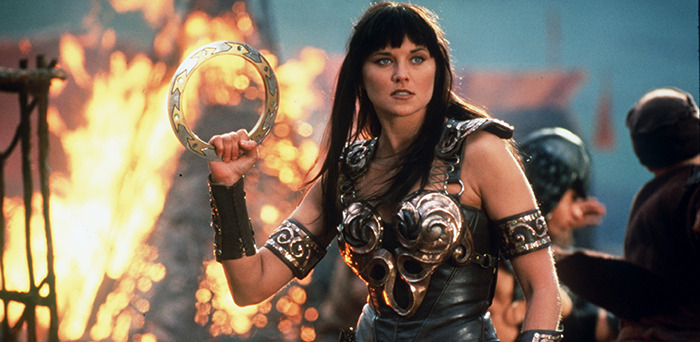 Two years ago, we learned that a Xena: Warrior Princess revival was in the works, which would explore a subtextual relationship between Xena and her companion Gabrielle that was rapidly becoming text in the original series.
In fact, writer Javier Grillo-Marxuach had said last year that he planned to fully explore the relationship between the two female heroes. But a few months after Grillo-Marxuach departed the project, NBC has canned the modern-day update of the Chakram-wielding female warrior.
NBC Entertainment president Jennifer Salke told The Hollywood Reporter: 
"Nothing is happening on that right now. We looked at some material; we decided at that point that it didn't warrant the reboot. I'd never say never on that one because it's such a beloved title, but the current incarnation of it is dead."
The revival series was going to feature a new actress taking on the role originated by Lucy Lawless, with Xena co-creator Rob Tapert and Sam Raimi on board to oversee the production. Grillo-Marxuach (Lost) was originally slated to pen the series, but exited in April due to "creative differences." He was adamant that his version of the reboot would feature a greater exploration of Xena and Gabrielle's (Renee O'Connor in the original series) relationship, possibly pushing them into being an official lesbian couple. Grillo-Marxuach said in March 2016:
"There is no reason to bring back Xena if it is not there for the purpose of fully exploring a relationship that could only be shown subtextually in first-run syndication in the 1990s."
I feel like you'd have to be blind to think of it as even just subtextual in the original series. I mean, just look at them!
Perhaps it was because NBC didn't want to pursue a project that had a lesbian couple as the two main characters of the show, or because they couldn't hire a new writer after Grillo-Marxuach left. Nevertheless, the network said that they are still open to doing a Xena revival at some point. "I need someone to come in with a point of view about what they want to do," Salke said.
Xena: Warrior Princess was going to be part of a slate of reboots that NBC is bringing back to prime time, including The Munsters, Will & Grace, and Roseanne. A particularly pitiful interview with NBC Entertainment chairman Bob Greenblatt suggested that the network had even more in mind, with Greenblatt approaching the creators of their hit mid-aughts series like The Office, 30 Rock, ER, and The West Wing, only to be met with polite rejections.
Sadly, it doesn't seem like Xena is one of the shows that the network is so eager to bring back — probably because it didn't quite capture the ratings of those aforementioned shows, despite its ardent fanbase. Just look at Uproxx's old Heroes vs. Villains bracket competition, in which Xena would consistently beat out popular characters like Breaking Bad's Walter White and Hannibal's Hannibal Lecter (which had a similarly passionate fanbase of "Fannibals").
It's unfortunate that Xena won't be getting off the ground soon, as it seems like an optimal time for a wisecracking female warrior based in Greek mythology to grace the small screen after the runaway success of Wonder Woman.